In recent blogs, we have discussed the stages of contract lifecycle management and the definition of contract lifecycle management to unpack exactly how critical it is to strategize your business is contract lifecycle management (CLM) initiatives.
Today, we are going to discuss the top 11 contract lifecycle management best practices. Here at Dock, we are leaders in contract lifecycle management and are partnered with Microsoft to help empower businesses in their contracts management objectives. Now, let's learn how we can optimize contract lifecycle management by taking a deep dive into these top 11 clm best practices.
Content-
#1 Use a centralized cloud-based repository for tracking and managing your contracts
A digital contract repository helps to security track, manage, and store your company's contracts. Rather than storing contracts across various shared drives and files or in physical storage, a centralized repository allows you organize documents in a single place where you can use filtered searches to locate exact contracts and clauses within seconds. Secure contract storage results in risk mitigation, as you'll reduce the likelihood of contracts being accessed by the wrong people.
Several Microsoft integrations and apps like Microsoft Teams, SharePoint, Power Automate, Dynamics, and Power BI help streamline contract management processes. Collaborate on contracts in a centralized contract lifecycle management (CLM) solution with Microsoft integrations and apps with Microsoft Teams so you can review and approve contracts faster. Productivity apps like Flow allow you to create automated workflows to increase efficiency of your contract processes. Drive results with business applications provided by Microsoft Dynamics 365s so you nurture leads and close deals faster.

With electronic signature integrations like DocuSign, Adobe Sign, and Sertifi, you can send off contracts for signature with a simple click to you can sign and execute contracts within minutes. Speed up approvals and allow clients and vendors to sign contracts at any time, any place, on any mobile device. Increase the security of your contract's by implementing e-signatures that ensure the authenticity and validity of every signature.
#4 Enable automated notifications to avoid missing contract expiration and renewal dates
Mitigate against legal and financial risks by enabling automated notifications to remind you of every incoming contract expiration and renewal date. Customizable automated alerts allow you and your team to stay on top of obligations, tasks, and everything pertaining to critical deadlines. Tracking dates and obligations via Gmail, Outlook, or on spreadsheets is a risky an outdated approach that only increases risk potential.
With CLM software, you can easily associate these customized notifications to each contract and tag appropriate contract stakeholders so you can manage risk and stay proactive. An automatic contract renewal can cost your company thousands of dollars, so why not use automated notifications to keep your whole team aware and in-the-loop.
#5 Standardize

contract authoring

with preapproved template and clause libraries
By standardizing your contract authoring process, you increase contract accuracy and the speed of contract life cycles. Pre-approved contract templates and a library full of pre-approved clauses allow you to mitigate risk and prepare contracts quickly so you can send them off for approvals and negotiations faster. By easing contract authoring for your company's legal department, you increase organizational efficiency and productivity by using pre-approved legal language that creates standardization in all of your company's contracts.
#6 Automate contract collaboration and communication
With a cloud-based CLM solution, you can collaborate and communicate on a centralized platform and conduct contract negotiations and reviews in real-time. This allows you to reduce risk and boost the efficiency of your processes. Your cloud-based centralized repository allows multiple users to access contracts simultaneously so you can discuss contracts easily and stay on the same page. Version tracking is an additional benefit of CLM software that creates an easier process of editing your contracts. Audit trails document all collaborative efforts of your team that help with contract accuracy and version control.

#7 Conduct regular audits and review compliance
With a centralized repository, you can review key contract data and contract history profiles to achieve better compliance rates. In addition, automated reminders of contract expiration and renewal dates as well as automated workflows allow for a systematized auditing procedure. We also highly recommend generating detailed contract reports so you can analyze areas of improvement in your systems.
Review all areas of compliance routinely – federal, state, and compliance to contractual terms. The majority of organizations are required to follow strict compliance policies and procedures. Failure to do so will result in financial penalties, fines, or even the loss of your business license. By taking all of these key actions to mitigate risk and ensure compliance, you protect your company from unnecessary penalties.
With an automated contract approval process, you can eliminate bottlenecks and increase the efficiency of your organization's contract lifecycle management. Various CLM software features give contract administrators the ability to enable automated reminders to send to contract approvers to speed up this process. In addition, the development of electronic signature integrations also helps with getting your documents signed quickly and processing them through their lifecycles faster.
An optimized contract approval process provides companies several key advantages. For example, you can save time and money by receiving contracted services at an expedited rate – simply due to streamlining approvals. In addition, reduced contract lifecycle times (from contract request, to executed agreements) helps improve relationships by increasing the convenience of your contracting process. Lastly, the faster your turnaround times are, the faster and easier you will attain opportunities.
#9 Configure customizable

contract workflows

to boost compliance and automate systems
Create flexible and customizable automated contract workflows so you can improve productivity and contract accuracy and compliance. Now, you can send-off your contracts in a pre-configured workflow consisting of a standardized sequence of steps that notifies the right people to take the right actions at the right times. From contract requests, to drafting and approvals, to contract execution and renewals, every stage of the contract's lifecycle is efficiently managed with a CLM system that you can rely on. Your business can customize every workflow according to your unique needs and objectives so you can ensure that your business is optimized through your contracting process every time.
#10 Leverage SSO, data encryption, and permissions features for increased security
Keeping security in mind is one of the most important elements of effective contract lifecycle management. You want to keep your business protected at all costs and keep client and vendor data confidential. Single Sign-On (SSO), data encryption, and permissions-based accessibility features all contribute to the security of your business's contracts. With the right contract lifecycle management (CLM) software, you can configure role-based permissions so only authorized individuals have access to your contracts. Keeping data secure and keeping contracts accessible to the right people are keys to effective and reliable contract lifecycle management.
#11 Report on contract progress with a comprehensive dashboard
With a proactive and all-encompassing contract dashboard, you can access valuable contract-related insights on-demand so you can measure contract performance and assess where bottlenecks might be occurring. Develop detailed contract reports so you can inform your team of the how's and the why's of your contract strategies and business initiatives. In this manner, you can collaborate effectively and determine which KPI's are most critical to the future success of your business's contract lifecycle management processes.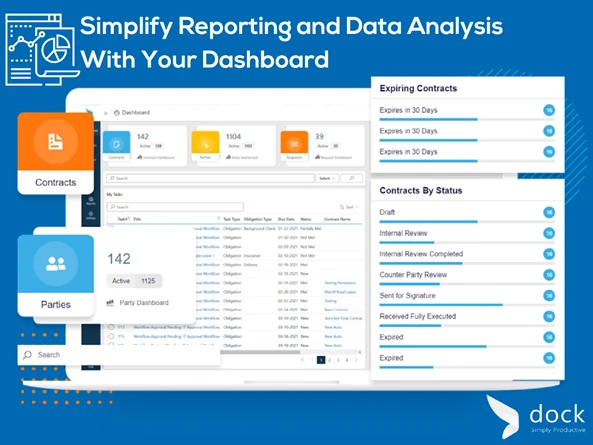 Conclusion
Contracts are essential to every organization, business, and enterprise – no matter the size of the company. Effective management of the entirety of contract lifecycles is crucial to organizational efficiency and to reaching key business objectives. By reviewing these 11 contract best practices, we hope you will have learned perhaps where you can improve your own contract lifecycle management processes. These contract best practices will aid in many improvements for contract lifecycle management success across your organization in all phases of contract lifecycles. Today, you can begin to enhance business productivity and mitigate risks by partnering with Dock 365 for all of your contract lifecycle management (CLM) needs.
Learn more about our Dock 365 Contract Management System here.
Learn more about Contract Lifecyle Management (CLM) Software here.
For more information, we welcome you to schedule a free demo with us today.