Ever wonder why organizations often fail to process the vendor contract process efficiently and effortlessly?
Streamlining the vendor contract management process may seem complex and challenging. Organizations and management find it a difficult and cumbersome task thereby slowing down the entire process. Not knowing the exact hidden reasons at the precise time can stop you to reach the final point of the entire contract process. Here we have discussed the 3 pitfalls in vendor contracts: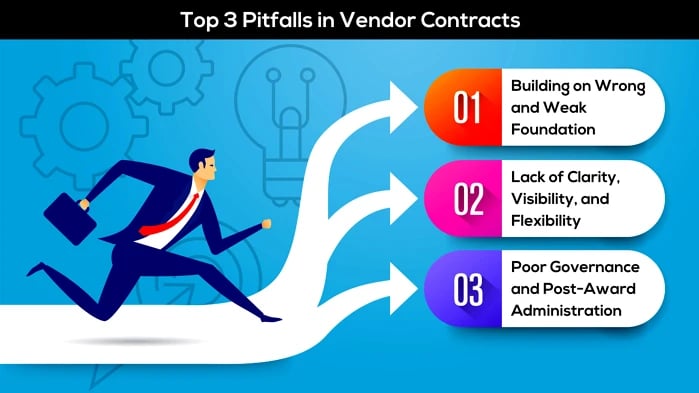 Building on Wrong and Weak Foundation
How Does a Vendor Contract Foundation Go In?
Staring on the right foundation matters a lot for creating a picture-perfect vendor agreement contract. Any mere flaws can directly affect the bottom line and can even close the door to vendor contract business deals. Out of the several causes, the main two reasons that lead to a weak foundation are being discussed here:
The first reason for failure is not knowing what you need for a vendor contract. Creating, processing, and finalizing a vendor agreement contract moves through several phases. Understanding the accurate elements that need to be united to bring out the desired result is crucial in vendor contract management. Meticulously meet the vendor contract needs by communicating with all the stakeholders to essential to know about the tasks or requirements to be accomplished. These requirements are not a wish list but a significant list of needs to reach the final phase that you are expecting.
The second reason for a weak foundation is focusing on the wrong phase of the vendor contract. This happens, mostly when you do not have the right component or service in-house or when it is too expensive to procure. Even not having the right person with good know-how and proficiency to complete this process also leads to a let-down. This is where things go wrong. You depend on an external expert who can supply the facility and complete the process easily. Here focusing on the outcome instead of the process will not add value to both you and your supplier. Clearly describing your exact requirements to your suppliers can side-step uncertainties and help see what they can do to increase value for you and them.
Always make sure to detail your needs and leave the rest to your suppliers to avoid such mishaps and lay a strong solid foundation. Having an in-depth understanding of what worked and what didn't in your previous purchase needs to be analyzed. This gives you precise data about the changes to be made and thereby makes your supplier's tasks easy while processing a vendor agreement contract.
Lack of Clarity, Visibility, and Flexibility
Lack of clear clarity and prospect on the goal of vendor agreement contract where both the parties are entering can end up in contract failure. Significant clarity of the objective
before signing the agreement decreases the risk on both sides. Without a clear end goal, both parties will not be sure of every clause the agreement sets forth. An automated vendor contract management system systemizes and makes everything available in a single platform. The review process thus becomes easy as every opinion and comment from the stakeholder is available on a platform and taken into consideration for the contract review process.
Lack of constant visibility and communication smash-ups the entire vendor contract process. Relentless visibility to the whole process throughout the vendor agreement contract increases good communication among the suppliers and buyers. Key measurement statistics also need to be measured at every point to avoid difficulties. Implementing a vendor contract management system won't give you the desired result. Connecting all your vendors to the system and delivering all the data to them to let the process move forward without any uncertainties and obstacles is highly recommended. This also eases them to track and monitor and address the forthcoming issues instantly before they turn out to be critical.

Lack of flexibility and inability to fine-tune with unexpected circumstances can be a reason to terminate a vendor agreement contract. Rather than taking measures to prevent or avoid an upcoming issue, typically parties on both sides wait until something goes wrong. This a major roadblock in the vendor contract management process. Whereas automated vendor contract management can lessen this risk as this cloud platform can activate proper communication. A vendor contract platform can adapt, adjust, and accommodate to any unexpected situations, time constraints, loss-making factors that occur during the contract process.
Poor Governance and Post-Award Administration
Conclusively, poor governance and post-award administration are yet another reason that pulls back the entire vendor contract management process. Following-up and upholding the entire procedures efficiently in a vendor contract life cycle is obligatory, specifically for specific terms and requirements. Easy collaboration among both parties is possible only if all the agreements are met and maintained throughout the entire process. Proper governance of the overall cycle of procedures can boost the contract process till the end. Likewise, post-award administration plays an essential role as both the parties are connected instantaneously on a cloud platform and regularly receive alerts on status, time limits, and renewals for a contract.
Crossing the above 3 pitfalls is possible if an automated vendor contract management solution is implemented in your organization. Because such a cloud platform offers a single place to create, draft, process and finalize a vendor agreement contract without falling for any ambiguities and satisfying every stakeholder. Advanced technology offered by such a platform can thus make the process easy, error, and risk-free and can drive effective communication among the entire contract team to finally bring about a picture-perfect vendor contract agreement. Get to know more about vendor management system by booking a free demo here.