For a company that needs to sign and manage a large amount of contracts, there's a higher likelihood for minor (or major) issues to creep in. For example, in the manufacturing industry, companies that work in manufacturing and construction are required to sign multiple contracts. These include raw material contracts, vehicle contracts, labor contracts, technology contracts, and more. Working with these contracts opens up opportunities for challenges to interfere with and to interrupt the process.
Content-
To help companies navigate the contract management process better, we will examining 5 of the most common contract management challenges and explore ways to solve them.
Challenge #1: Contract Non-Compliance & Regulatory Compliance Issues
Companies are legally required to follow strict regulations and protocols to verify that factors including employee safety, environmental responsibility, data security, and financial honesty. Generally, attempting to navigate these factors can be very difficult. This is especially applicable to companies operating in multiple countries, as the rules and regulations can differ overseas.
Studies have shown that companies have spent more than $180.9 billion on financial crime compliance in the last year. Companies in the US and Europe were hit harder in spending money on financial crime compliance. Professionals work around the clock to ensure that their company and its employees comply fully with all relevant disclosure rules.
Sarbanes-Oxley (SOX) is another example of the many regulatory compliances that companies have to deal with in the US. Research has shown that companies have increased time spent on SOX compliance by up to 10% more than the previous years. SOX is an act that came into existence in 2002 with the purpose of protecting investors from fraudulent accounting activities by corporations.
Another important regulatory compliance term that companies must comply with is the EU's General Data Protection Regulation (GDPR). This regulation is aimed at personal data protection. It applies to all countries within the EU and foreign companies that enter into business terms with companies registered under countries in the EU.
Contract managers are responsible for ensuring that they have accounted for all of these required compliance clauses in the contracts. These should account for terms respective to the country or state laws that the contract operates within. Further, they must ensure that employees and executives in their organization stay compliant to these contractual terms.
The solution that we recommend for this is a contract management system. With a contract management solution, you can ensure that every time you draft a contract that these clauses are properly included in the document. Most automatic solutions are equipped with features such contract templates and clause libraries for faster and more efficient drafting of contract documents.
Additionally, a centralized contract repository can play a massively beneficial role here in compliance and risk management. In this way, any contract, agreement, or document can be easily tracked and found during the contract's lifecycle while the contract is active. This is key because you can refer back to the document to double-check that the actions taken are compliant and up to standard, ensuring that obligations are fulfilled. With all of these factors in mind, risk is automatically reduced.

Challenge #2: Lack of Standardization and Centralization of Contracts
For companies that deal with ad hoc contract drafting processes, one of the main challenges to overcome is that of the propagation of contract clauses and contract templates in circulation all around the organization. This is a great example of non-standardized contract management, where the legal department is required to review every contract drafted word by word to ensure that the company is not exposed to any legal troubles.
Standardization of contracts involves the standardization of packages offered to customers. There are several benefits in standardizing contract language, including cost-effectiveness and increased productivity. However, there are cons to standardization. It's important to note that standardization does not allow for variation from the initial agreement and that it prevents innovation in drafting contracts.
By using a contract management tool, companies can cut down on time spent on drafting/reviewing contracts and spend more time on strategic initiatives.
In the case of standardization and centralization of contracts, we suggest leveraging the capabilities of a cloud-based, centralized contract repository so you can have a birds-eye view of every single contract within reach in a single location. Within SharePoint, your company can easily manage, create, and store contracts.
Within the centralized contract repository is a customizable, filtered search tool so your employees can locate a single clause or contract instantly. The ability to rapidly locate documents, clauses, and contracts gives your organization a productive edge, helps mitigate contractual risk, and improves overall workplace effectiveness.
Challenge #3: Inefficient Supply Chain Management
Supply chains are the most important part of a company. The relationship between company and supplier is defined by the contracts between them. When the amount of the supply chain increases globally, the need for better contract management between these supply chains will also become necessary. A major challenge that can come up is fluctuating prices for raw materials involved in manufacturing. This means that cost of doing business can fluctuate roughly based on the current circumstances and factors which will not be in your control.
The solution that any experienced professional would recommend for the above scenario is to enter into a well-drafted contractual agreement for your supply chains. These contracts need to be continuously managed throughout their lifetime. The contract drafting features of a contract management solution will enable drafting up a solid contract for the company's supply chains and manage them throughout their lifetime efficiently.
Challenge #4: Disorganized Management of Expiry and Renewal Dates
Contracts can be a little tricky sometimes. Contract managers need to be very vigilant about the expiry or renewals of contracts in the organization. A missed expiry or renewal date could result in many problematic situations like not being able to bill for work done on a contract or paying for the renewal of a tool you don't use. What contract management tools do to tackle this solution is creating automatic notifications or alerts that are sent out to stakeholders. These alerts will work as a heads up for the stakeholders to be prepared for the contract renewal or expiry. Automatic workflows can be used for these customized notifications in a contract management solution.
Contracts could get delayed in the process, which is a very common mistake for companies. Such delays will result in a slow turnaround time for the contracts. Companies might even lose some business owing to this reason. The delays might be occurring for various reasons, someone could not find the contract templates in time to draft them, red lines sent back from the supplier could get lost in email threads, or even an approval bottleneck could be the reason why your contract has a slow turnaround time. What contract management systems offer in this situation are tools to speed up contracts and data to help identify any possible bottlenecks.

Challenge #5: Subpar Contract Lifecycle Management Tools
Last but not least, a major challenge facing companies is inefficient contract life cycle management tools. The truth is, most contract managers are still using conventional methods like Excel spreadsheets, email, and paper to manage their contracts. Many are either not aware of the existence of a dedicated contract management solution or have no clue what to look for in a contract life cycle management solution.
In a manual contract process, a contract manager or employee might use a contract template, complete the different fields within the template, then send the completed document via email to their legal department for review. After these steps, the document might be sent off to the counterparty engaged in the contract. The counterparty might make changes to the document and then email it back to the legal department, who then emails it back to the contract manager or employee.
This is a recipe for miscommunication and disjointed collaboration. With repeated emailing amongst several people, small details are likely to be missed or improperly relayed. This increases the likelihood for an inefficient negotiations step and lack of visibility.
We have discussed in the previous section why using such conventional methods could be a bad idea for contract management. For companies that deal with more than 20 contracts a month, a contract management solution could become the factor that boosts its business. Choosing a contract management solution could prove to be a great improvement for any growing organization.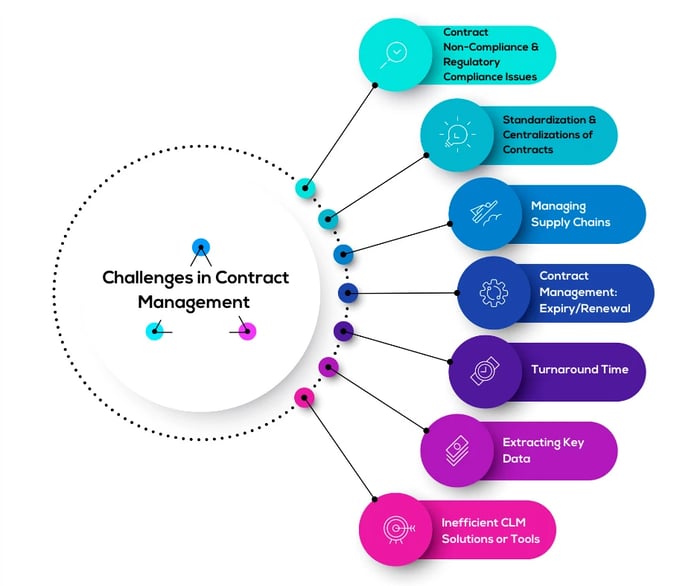 Conclusion
Contract management has never been an easy job. It has its risks and potential threats that affect the smooth running of businesses. But it does not have to be a painful process. It does not always have to end in litigation. With the right contract management tools and a well-planned strategy, you can achieve the best out of a contract management solution. We discussed in this blog the top 5 challenges facing in the contract management process and how a contract management system could overcome those challenges in a very efficient and productive way.
And when choosing a contract management system, you should know what features you should have in the solution. Because packed with features could also become an inconvenience. If you are still in doubt read this blog we wrote on our site about the must-have features for a contract management in the year 2021.