Contract lifecycle management is an essential business process that relies on several key business operations. A digital contract repository is employed to categorize, store, archive, and access digital contracts securely. If your approach to contract management isn't up to par, then you're leaving numerous opportunities on the table. Rather than rely on outdated, manual contract management processes, we highly suggest digitizing your contracts and adopting a cloud-based contract management system equipped with a digital contract repository. The manner you categorize, store, and control access to your company's contracts plays a major role in performance outcomes, risk mitigation, compliance, cost and time-efficiency, and obligations management.
Content-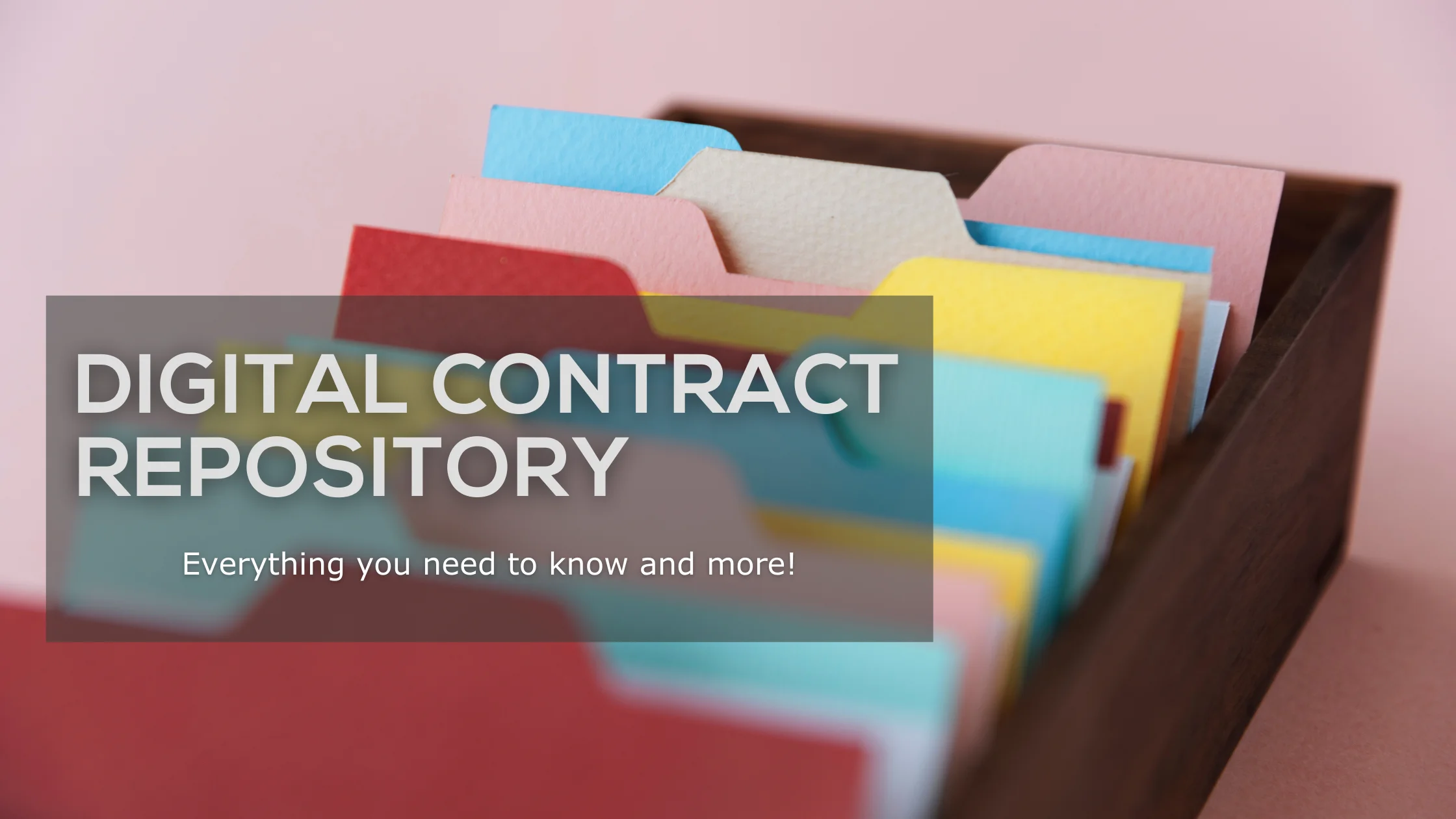 If you currently employ physical contract storage in your contract lifecycle management strategy, then it's time to veer away from this risky, human-error prone practice and implement a digital contract repository instead. Manual contract storage is not only risky, but it makes it far more difficult to access your contracts and supporting documentation exactly when you need them most in time-sensitive situations like negotiations.
Today, we'll dive into the in's and out's of a digital contract repository and how adopting one will support your organization's contract lifecycle management procedures with its increased security as well as searching and filtering capabilities.
What is a Digital Contract Repository?
A digital contract repository is often referred to as a "centralized repository" or "contract management repository". Contract management software has made some incredible advancements in recent years, and leading businesses and organizations are making the transition to digital contract lifecycle management in large numbers. A digital contract repository is an electronic contract storage system that allows users to tag, sort, categorize, archive, store, and retrieve their company contracts and associated documents in a cloud-secure environment.
How To Use A Digital Contract Repository
Contracts are the cornerstone of every business partnership, containing critical information and sensitive data pertaining to company performance stats and other business relationships. Your method of contract storage, accessibility, and organization is dependent on the contract lifecycle management solution you adopt. Today, digitizing contract management opens you up to increased opportunities to extract more value from your contracts.
Manual, paper-based contract management is clearly outdated, risky, and slow. A digital contract management solution allows users to easily access their contract and associated data to analyze trends and gain insights on contract performance and statuses. Within your digital contract repository, you can derive key contract information to help you make the most data-driven business decisions. In addition, you can rapidly and accurately search for exact pieces of metadata, clauses, and contracts within seconds with advanced text-based search capabilities and customizable, savable filters.
The Pain Points of an Inefficient Contract Repository
An ill-equipped contract repository will only make it harder for you to manage your current contract portfolio, and most especially, a contract portfolio growing in volume and complexity. If you currently struggle to manage your contracts effectively, then a poor contract repository certainly won't make it any easier – particularly when it comes to gleaning insights on your contract data.
6 Reasons To Ditch Manual Contract Storage
Here's a few reasons why manual, paper-based contract storage is a thing of the past.
Poor data accessibility
Keeping contracts filing cabinets, shared drives, desktops, email chains, and other disjointed locations only leads to an increased likelihood of data and contract loss as well as bottlenecks in retrieving your contracts when you need them.
Minimal security
Contracts include highly confidential data, and with a repository system lacking in security, you run the risk of a data breach and your documents being found in the wrong hands. A digital contract repository offers encryption in transit and at rest, user permissions-based access features, and other robust security capabilities to minimize risk exposure.
Forgotten obligations and key dates
Are you tired of letting auto renewal and contract expiry dates slip through the cracks? Say no more with automated reminders brought to you by contract lifecycle management software. A manual contract repository makes it difficult to collect key dates and track obligations directly from your contracts. Contract management software extracts metadata like milestones, obligations, terms, and key dates so you can easily monitor these items and plan ahead for them with your team.
Subpar version control
Collaboration and communication on your contracts become harder than it needs to be with a manual contract storage method. You'll often have people working on the wrong contract draft version, or the wrong version might find itself in the wrong place. The poor ability to control contract version histories only leads to decreased visibility and increased confusion. In more extreme cases, minimal version control can result in the deletion of contracts or losing your contracts entirely.
Struggle to monitor KPIs
Without instant access to your contract data, it becomes nearly impossible to use your data to effectively oversee and monitor contract KPIs – cutting into your ability to analyze contract performance and business achievements.
Expensive compliance outcomes
A manual contract storage method increases costs by incurring fines and penalties associated with contract noncompliance and failure to adhere to industry and regulatory requirements and policies.
How A Digital Contract Repository Supports Your Business
When adopting a contract management software solution, you want to select one that has a built-in digital contract repository that includes the three following characteristics:
It centralizes your contract data
It is cloud-based
It is data-driven
A digital contract repository that possesses these characteristics will empower your business to expedite accurate contract lifecycles with precision and ease. Your repository will support you in making data-driven business decisions by allowing you to glean insights on past contract performance. By implementing a cloud-based contract lifecycle management system, you can leverage numerous advanced contract management tools in addition to your repository to develop proactive, results-driven contract management. Collaborate productively, increase security, improve organization compliance, and develop customized reports on current and past contract performance data from a single digital location.
5 Things You Get From A Cloud-Based Digital Contract Repository
Centralization
Digital contract repositories provide business owners with a single source of truth regarding where their contract data is stored. Authorized users can access contracts without the hassle so they can attain accurate information relating to ongoing business relationships. Your contract management system and repository can additionally integrate with other digital business solutions such as electronic signatures and CRM platforms.
Accessibility
Contracts include a whole host of sensitive information, and a digital contract repository increases the efficiency of sorting through this information so you can retrieve specific datapoints whenever needed. Searching, reporting, and data analysis is simplified with the assistance of your repository, where you can take data points and develop KPIs and assess performance on proactive, comprehensive contract data dashboards.
Cost-efficiency
Ready to cut down on costs? Then adopting a digital contract repository is an excellent place to start. A contract repository allows you to find contracts faster than in a paper-based repository or one where you store contracts in multiple places (i.e., shared drives, emails, desktops, etc.). Text-based search and filtering capabilities allow you to retrieve contracts based on contract name, contact, organization, and other characteristics. In this manner, you can easily find answers to your contract questions rapidly without needing the assistance of your legal department.
Security
Maximize the security of your contracts with a digital, cloud-secure contract repository system. Create permissions-based access features according to user roles and features, configure custom authentications, utilize Single Sign-On (SSO), and data encryption to protect all of your information.
Auditing
Audit quickly within your centralized digital contract repository and generate accurate contract histories seamlessly. Now, you won't have to fret about which contract drafts are the most recently updated versions, and you'll also have access to all associated files per every contract.
Key Characteristics of a Digital Contract Repository
When choosing a contract management system, we suggest that you take a look at the digital contract repository's capabilities and features. The solution should adapt to your company's needs, branding, and objectives that works with your unique approach to contract lifecycle management. Implementing a proven solution like our Contract Management System here at Dock 365 will empower your business to leverage contract data to extract more value out of your contracts and improve your contract results.
Here are six features we recommend you keep an eye out for when selecting a digital contract repository:
Access controls
Configure role and user-based access controls to ensure only the right people can retrieve and use your sensitive contract data.
Workflow automation
Automated workflows support systematization of contract authoring, approvals, negotiations, and other phases of the contract lifecycle. You can even configure automated notifications to keep your whole team aware of time-sensitive contract responsibilities and tasks. Based on the contract type, you can design specific workflows to assist you throughout the lifecycle.
KPI monitoring
Analyze data and hit KPIs like a pro with the help of your repository. With performance dashboards and custom reporting, you'll always be well-informed on the state of your contracting practices.
Integrations
Integrate with other digital business solutions like CRM and DocuSign and Adobe Sign electronic signature integrations to automate signing and increase efficiency.
Text-based search and filters
Find what you need at the times you need it most due to text-based search and customizable, savable filters.
Collaboration-minded
Your contract management system should make it incredibly easy to communicate across departments and between involved contract stakeholders. This way, negotiations, reviews, and approvals are simplified thanks to in-document commenting and redlining, editing, and digital signing.
Gain the Competitive Edge with a Dock 365 Digital Contract Repository
Dock 365 empowers business owners and contract managers with a cloud-secure contract management system that allows authorized users to access critical contract data anytime, at any place, on any device. Customize your solution to your unique needs from the contract intake and request process all the way through contract execution and renewal. Dock 365 makes it possible to take back control of your contracts while increasing results.
Learn more about our Dock 365 Contract Management System here.
Learn more about Contract Lifecyle Management (CLM) Software here.
For more information, we would like to welcome you to schedule a free demo with us today.