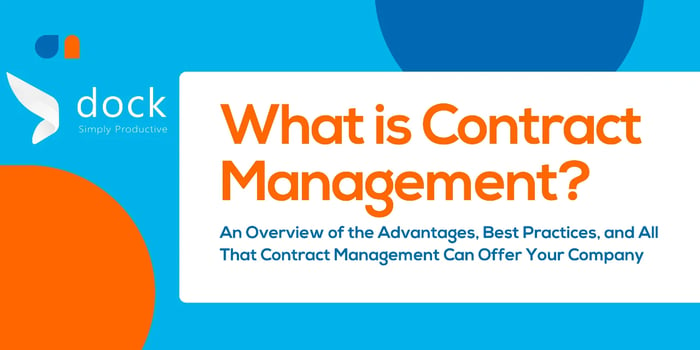 Content-
So… What is contract management?
Contract management is the procedure of managing legal contracts from contract request and authoring, to signing and execution, and through renewals or expiration. During contract management, business owners and contract administrators will oversee contract performance, statuses, and all other implications of the contract lifecycle to ensure all deliverables and contracted obligations are followed-through. By generating detailed reports and analyzing contract performance in comparison to contract terms, you can assess the performance of your operations and make the most of your contracts. In addition, contract management requires a dedicated risk mitigation strategy and heavy attention to detail regarding compliance to contract terms.
Contract management also involves clause and contract template management, where you will utilize a library of preapproved contract templates and clauses to increase the speed and efficiency of your contract management system. In this manner, you standardize your processes allowing contract authoring to be a rather painless process. Many companies today still use outdated contract management methods, only increasing the tendency for human error, bottlenecks, and long contract lifecycles. With a digital contract management system, not only will you gain the competitive edge, but you will mitigate risk and boost the customer and vendor experience.
The Advantages of Contract Management Software
Contract management software centralizes all of your company's contract data with the assistance of a cloud-based contract repository. This way, every piece of confidential client and vendor data is kept secure in a single source of truth. With advanced search and customizable filter features, you can locate exact contract clauses, contracts, and associated documents within seconds. Your centralized contract repository removes the bottleneck that manual searching brings, making it extremely simple and easy to find what you need, when you need it. With permissions features, you can customize who can access and view contracts and documents to ensure that your data is only kept in the right hands.
Contract management software also stands out for its ability to automate process and create a proactive environment. With the ability to configure customized notifications and reminders, you can keep your departments in-the-know of key deadlines, milestones, and contract expiration and renewal dates. In this way, you have the time to decide what next steps to take – need to cancel and agreement or renegotiate? You can now do so with contract management software.
It can be extremely helpful to be reminded of every upcoming contract expiration and renewal date so that you can determine if you should end an agreement so that you won't be kept under an auto renewed contract that might not be in the best interest for your company. Lastly, contract management software is incredible for monitoring vendor performance and tracking spending. You can integrate your contract management software with various solutions, such as financial software for increased insights on all of your processes.
What Can Contract Management Software Offer My Company?
Contract management software can help your company manage a variety of key elements associated with your company's contracts. For example, overseeing that products and services are delivered by vendors and suppliers is a feature that contract management software can track in real-time. In addition, strengthening business partnerships between purchasers and vendors is made possible by the efficiencies that a software solution can provide.
Collaboration and communication are kept in a single location on your solution, minimizing the tendency for miscommunications and email back-and-forth. Overseeing the entirety of contract lifecycles with automation, records management, and data analysis and reporting functionalities are all star features of contract management software that improve visibility and accountability. With ongoing monitoring of your contracts, you can guarantee that all obligations and tasks are completed in a timely manner and that your contractual terms are performed in full.
Finally, managing expiring contracts and terminating contracts is made possible with contract management software. At the time of a contract renewal, you can assess whether to renew, renegotiate, or terminate according to your business's objectives and the supplier's performance.

What Are Some Best Practices To Follow When Managing My Company's Contracts?
We highly suggest standardizing and systematizing your contract management process in order to reduce risk, improve operational efficiency, and create more accurate and professional contracts. Let's take a look at some best practices to keep in mind when managing contracts:
#1: Develop a comprehensive library of contract templates and clauses that include preapproved legal language that can cover the majority of your contracts.
#2: Determine contract management key performance indicators (KPIs) to track and communicate these objectives throughout your company (and especially to departments involved in the various stages of your contract lifecycle management processes).
#3: Monitor the duration of contract approvals. The faster your contract approvals are, the faster that organizations can receive their contracted products and/or services. And what does this result in? Better working relationships and faster response times. All of these items lead to an increase in opportunities down the line.
#4: Configure automated alerts, notifications, and reminders so that relevant contract stakeholders and parties stay proactive on essential contract tasks, eliminating the potential to let key items slip through the cracks.
#5: Audit your processes regularly and oversee financial data on a consistent basis so you can maintain a realistic view of your company's contract management performance.
#6: Review your company's compliance to protect yourself against legal risks.
#7: Leverage a centralized, cloud-based contract repository to keep all of your data in one place, making it easy to track, store, and manage your contracts.
#8: Use Microsoft integrations and apps including Power Automate, Teams, Dynamics 365, Power BI, and SharePoint into improve communication, collaboration, and drive business results.
#9: Expedite your contract approvals with electronic signature solutions like DocuSign, Adobe Sign, and Sertifi.
#10: Create automated, flexible contract workflows to ensure every stage of the contract lifecycle is standardized – helping you boost compliance and reduce risk while increasing efficiency.
#11: Employ various security and permissions features like Single Sign On (SSO), audit trails, data encryption, and more to keep your business compliant and protected.
#12: Report on your contract performance and progress with your proactive and all-encompassing contract management dashboard.

It's Simple: Traditional Contract Management is Outdated
Rather than using an outdated approach to managing your company's contracts with shared drives, email back-and-forth, physical storage systems (filing cabinets), and Excel spreadsheets, you can leverage a digital contract management approach that keeps all of your company's data secured in a single location that accessible anywhere on any device.
With data fragmentation, you'll find it increasingly difficult to effectively work and communicate ideas internally and to maintain a productive workflow. Tracking obligations, overseeing key due dates, and locating contracts also become major issues in manual, traditional contract management systems. With missed deadlines, obligations, and noncompliance, your company will encounter unnecessary negative implications like lost revenue, fines, breach of contract, and unfavorable contract renewals.
Gain the Competitive Contract Management Advantage with Dock 365
An optimal contract management system will assist your company in reducing risk, eliminating errors, increasing systemization, and creating a proactive contract management environment.
The Dock 365 Contract Management System offers a powerful and cost-efficient approach to contract lifecycle management using your Microsoft 365 and SharePoint tenant as the base for contract management. Dock's easy-to-use, aesthetic, and customizable contract lifecycle management software provides unique features and integrations that boost collaboration, efficiency, and productivity. Upgrade your contract management system today with Dock.
Ready to get started?
Learn more about our Dock 365 Contract Management System here.
Learn more about Contract Lifecyle Management (CLM) Software here.
For more information, we welcome you to schedule a free demo with us today.