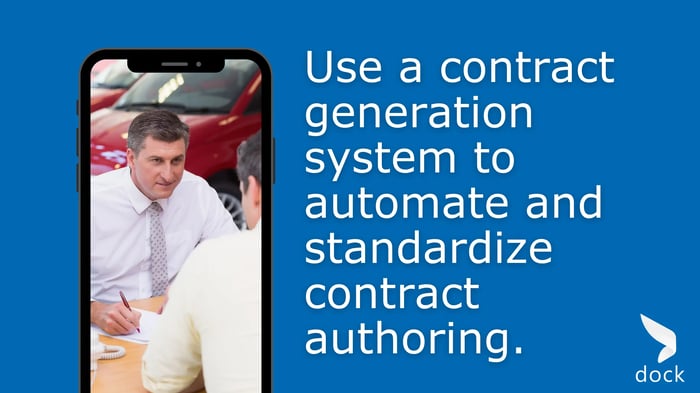 Businesses and organizations use contracts to outline formal business partnerships, oversee the purchase and delivery of products and services, and administer financial transactions. Depending on the industry you work in, it might feel like contract management is at the top of the priority list and is all you do! If you're in insurance, real estate, finance and banking, or law, you might find yourself constantly working through negotiations, contract authoring, signing and execution, and contract approvals due to the labor and time-intensive nature of these processes. However, with a contract generation system, you can streamline the process of building each contract that your organization processes.
Content-
Contract Generation Defined
Contract generation is the procedure of compiling client or vendor information and required contract metadata to build an accurate, compliant, and legally bound contract. This procedure necessitates a contract intake and request phase to start, where the organization receives a formal written request from the potential vendor or client to start a contract. Once the appropriate starting metadata and client/vendor information is collected, the contract can be built, formatted, and sent off for review. To manually author a contract, you'll likely start from scratch or from previous contract templates. However, it's difficult to mitigate and identify risks using a manual approach. Because contract generation is very repetitive, and particularly so if you typically work with common contract types, automating your contract generation is one of the best steps you could take for improving business outcomes and productivity. If you're familiar with document automation software, then shifting to contract generation software with built-in automation capabilities will feel like a natural transition. By taking away the guesswork and increasing efficiency with a starting contract lifecycle management stage like contract generation, you can empower your internal teams with greater efficiency, risk management, and reliability in your contract procedures in the coming stages of the contract lifecycle. We highly recommend automating contract generation for organizations that process and author numerous contracts on a daily basis. If your organization falls under the law, insurance, finance, or real estate category, then an automated contract generation system is absolutely something worth looking into.
Traditional, manual contract generation necessitates the assistance of both your internal IT and legal departments to support the accuracy of your agreement's format and included data, as well as helping to ensure that the draft is securely stored, shared, and collaborated-upon. In this way, it's evident that it pulls your teams away from their other strategic initiatives for a process that could easily be standardized and automated.
What can I expect from a contract generation system?
So you're ready to build a brand new contract. And you're wondering what's the first step to take.
A contract management system will guide you through contract generation, supporting you throughout your contract authoring. You'll start from the customized contract intake forms that potential clients and vendors complete, providing you with all the valuable information to get started on your new agreement. Our contract management system pulls the provided client or vendor information (i.e., company name, vendor or client name, date, payment deadline, addresses, phone numbers, etc.) and auto populates the metadata into your preapproved contract template. From your clause library, you can select preapproved clauses appropriate for the given contract to be placed within the draft. Many contract generation systems leverage a Q&A sequence to assist with filling-in contract data fields in the given template. Once the template is completed and properly formatted, your software routes the document, sending it off for approvals to necessary stakeholders, and then off for e-signature and execution.
Not to mention, manually authoring your contracts is simply a breeding ground for human error in data entry. It's also time-inefficient and the implications of a small error can result in some large repercussions. So instead of settling for an unproductive contract generation process, you can adopt a contract generation system to remove unnecessary hassles for your contract management team and associated departments (legal, HR, procurement, finance, to name a few.) You'll mitigate risks, institute standardization, and prevent legal and compliance issues with a software-based contract generation process.
Where Contract Generation Can Go Wrong
The process of generating contracts can present some pretty significant obstacles to the modern business depending on the volume of the contract portfolio and the complexity of the contracts. With "too many cooks in the kitchen," overseeing contract lifecycles can prove to be a challenging task. From designing contract templates, writing and approving clauses, to reviewing and amending drafts, the contract lifecycle can easily become disjointed and error prone. It's also likely that you've experienced your contract lifecycles come to a halt from an inefficient contract generation method, where time is spent needlessly on manual metadata entry, locating and retrieving necessary information from your system, and more. Rather than run the risk of your drafts becoming obsolete and a central target for risk and compliance issues, you can streamline contract generation with preapproved clauses, templates, and current legalese approved by your internal legal department.
Where Contract Generation Goes Right
An intuitive, user-friendly contract generation tool provided by top-of-the-line contract management software can assist you in all of your contract generation needs. Simplify the starting phase of the contract lifecycle with a solution that systematically develops your starting contract drafts, making it easy for your teams to get contracts started on the right foot. With standardized, rules-based document assembly, you can rapidly create compliant, accurate legal agreements within just a few clicks and just a few seconds. Many of today's contract generation systems are adaptable to your organization's unique objectives and needs, making it a perfect solution to help your company scale its contract management.
Top Benefits of Adopting A Contract Generation System
Unsure of what a contract generation system has to offer your business or organization? Take a look at some of the key highlights below!
Standardization of contract authoring
Save time with a faster approval process
Increased risk mitigation
Eliminate human errors and noncompliant contracts
Close deals faster at a lower cost
Enhance the client and vendor experience
Create more contracts in less time
Improved task management via automation
Seamless document delivery in various file formats
Proactive deadline tracking with automated notifications and reminders
With automated contract generation software, you increase the visibility and transparency of your contract activities with insightful audit trails. You'll additionally increase the rate of compliance, accuracy, and speed at which your agreements are completed. Clause merging in your preapproved contract templates, secure document storage in the cloud, version control, and flexible automated workflows make it possible to enhance the contract lifecycle from the jump during the contract generation phase. Experience more productive collaboration and better internal communication than ever before by adopting contract management software equipped with a built-in contract generation system.
Conclusion
Let us know in the comments section that follows what you learned about the contract generation process and contract generation systems.
We hope you gained value from this post about contract generation systems and can take some of this information into your daily practices to optimize your organization's contract lifecycle management strategy. With a contract generation system, you can standardize the beginning phase of the contract lifecycle with a solution that secures your metadata and supports a reliable contract-building procedure.
Dock 365 supports business productivity and efficiency with our contract lifecycle management solution. Get robust contract results, enhance internal collaboration and communication, and achieve a productive and proactive workplace environment geared towards contract success. Headquartered in Jacksonville, Florida, the Dock team is accessible and available to help you with your contract management inquiries and concerns. The Dock 365 Contract Management System is user-friendly with several Microsoft 365 tools that your team will likely be very familiar with. Because our solution is built on your Microsoft Office 365 and SharePoint infrastructure, you can stretch your Microsoft investment and get increased user acceptance. The Dock 365 Contract Management System is customizable, allowing you to design the solution for your unique branding.
Manage contract lifecycles like a pro from the contract intake and request phase, all the way to contract renewals and expiration. Here at Dock, we provide all the tools and features you need for rapid contract generation. These features include the following:
A secure contract storage system in a centralized,

cloud-based digital repository
A library full of preapproved contract templates
A contract clause library of current, compliant clauses
Metadata auto population capabilities
Customizable, flexible contract workflow automation
Rapid approval routing
Version control
On-demand contract insights and reporting
Sharable reports
Vendor performance metrics and scorecards
New AI features
Integrations with leading electronic signature providers (DocuSign, Adobe Sign, and Sertifi)
And much more!
For more information, we would like to welcome you to schedule a free demo with us today.
To stay in the loop of the latest contract management news, helpful tips, and updates to Dock 365, then we suggest subscribing to our YouTube channel and checking back on our blog each week!