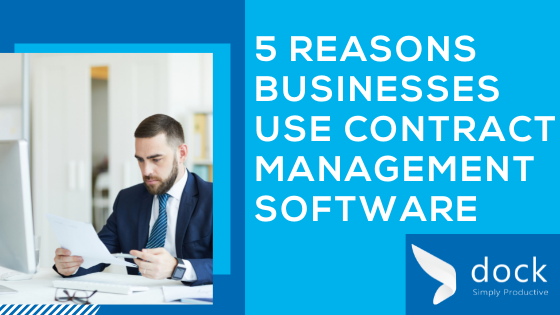 Contracts control business interactions and partnerships, outlining responsibilities, obligations, and terms pertaining to how parties must operation during a contract terms and business partnership.
Legal agreements oversee several items, such as employment policies and business operations, while simultaneously determining what clients can expect from your organization. To effectively manage all of your company's contracts, it's critical to implement proven contract management software that will assist you and your team in all contract-related activities.
Contract accuracy and compliance influences company productivity and efficiency in several ways, and contract management software supports businesses in authoring accurate, compliant legal agreements every time. In addition, contract management software assists businesses in attaining healthy business relationships that improve results while mitigating risks.

Why Businesses Should Transition to Contract Management Software
The business world is continually growing and becoming more and more complex. Companies are essentially forced to maintain competitiveness by developing internal operational efficiencies wherever possible. Contracts that oversee core business processes can be optimized by contract management software, streamlining every stage of the contract lifecycle from contract authoring to finalization and execution.
Accurate and compliant legal agreement are not sufficient for an effective contract lifecycle management process. Proper contract lifecycle management can positively impact a given business's bottom line, where appropriate contract execution methods can support companies in cutting the many costs that a manual approach to contract management would inadvertently bring.
Businesses that wish to maximize their contract management efforts and make the most of every legal agreement can improve upon their productivity rates and efficiency with contract management software.
Now, let's discuss why your business should use contract management software to optimize and automate your approach to contract lifecycle management.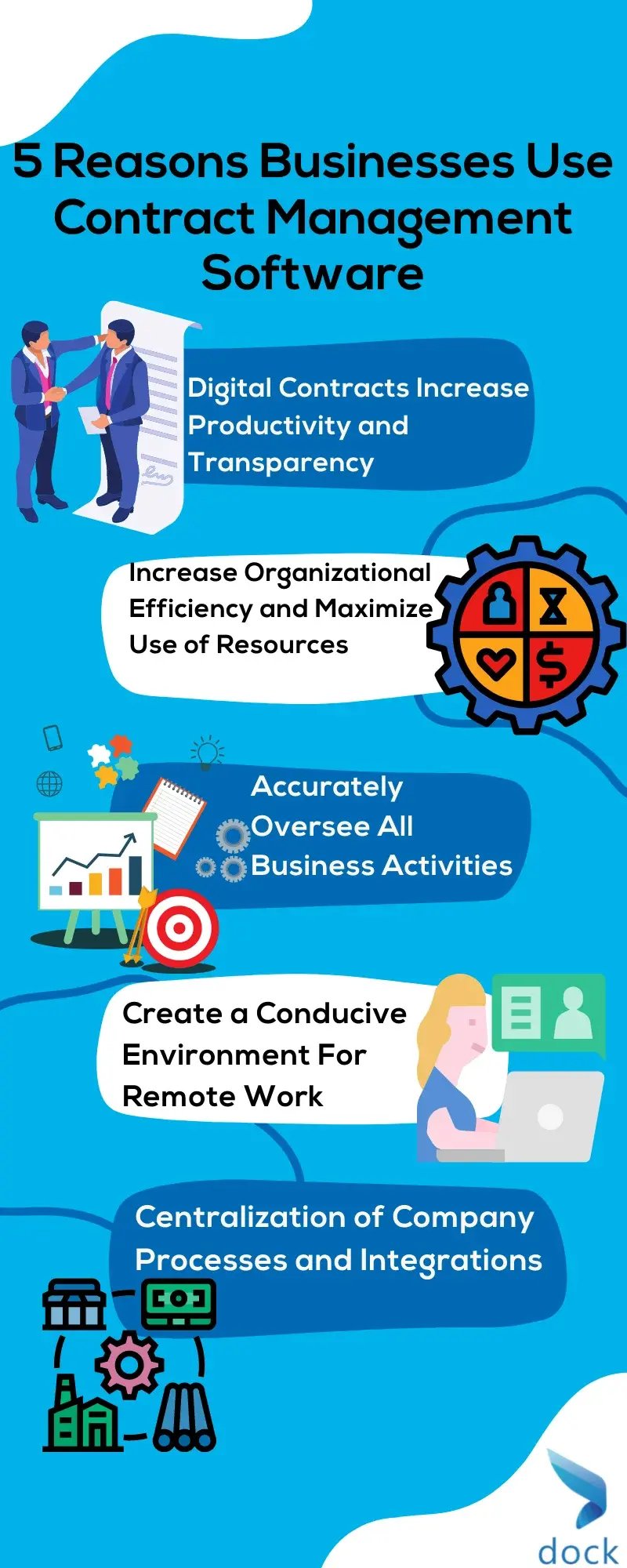 1. Digital Contracts Increase Productivity and Transparency
Contract management software digitizes your company's contracts, allowing you to capitalize on many technological capabilities that can reduce contract turnaround times and speed-up reviews, negotiations, and approvals. Rather than employ manual processes to complete contract tasks, contract management software automates several tasks and activities while eliminating the need for paper and increasing security and efficiency of document storage and retrieval.
In the case that your company must shift to a remote work environment, contract management software is there to make the transition rapid and painless. Digitizing your contract lifecycle management processes can assist multiple departments within your business by centralizing all contract data, offering a single source of truth and location for all of your agreements.
Organizations that maintain their contract processes in a traditional, non-digital format run the risk of noncompliance and lost documents. They also lose competitiveness against those who have leveraged contract management software.
2. Increase Organizational Efficiency and Maximize Use of Resources
The digitization and automation of your contract lifecycle management processes is a major step in the right direction that will lead towards business success and results. By leveraging a contract management software solution, you can easily monitor and improve upon your contracting processes during any stage of the contract lifecycle with features that increase transparency and accountability.
A cloud-based contract management software system empowers your team with robust contract authoring features, contract template and clause libraries, internal communication and collaboration capabilities for optimized negotiations, and vendor and supplier performance monitoring tools. Building compliant and accurate legal agreements is easier than ever with your templates created with preapproved legal language for a variety of contract types.
Automation allows your legal team to leverage their expertise and skills in more appropriate places, as automated reviews increase efficiency and accuracy while speeding up contract lifecycles. Furthermore, you can scale your business easier by saving time, energy, and resources thanks to contract automation.
3. Accurately Oversee All Business Activities
Effective management of contract auto renewal dates, expirations, and obligations are critical to business performance and optimization. For example, when a party fails to perform upon their contracted obligations, it's key to know then the contract term expires so then you can review incoming proposals from other parties and reduce the risk of an unwanted auto renewal.
With contract management software, you can monitor important deadlines in a digital calendar that syncs with your employees' accounts. Additionally, you can configure automated notifications to remind necessary stakeholders of contract responsibilities and tasks. By monitoring key dates, you can maintain a proactive approach to all of your company's contracts and review which contracts are contributing or inhibiting your business's growth and success.
Tracking the performance of your vendors and supplies is critical following contract execution. With a cloud secure contract repository, you can store and organize all of your contract data and associated documents, allowing you to make well-informed decisions according to data and current performance metrics.

4. Create a Conducive Environment For Remote Work
Contracts require effort from several different departments – be it legal, finance, sales, etc. In the modern day, it's important that all of your employees can gain access to contracts and related data at any time, from any place in order to maintain productivity levels. Especially considering the impacts of COVID-19 in recent times, a mobile approach to contract lifecycle management with secure cloud storage can help your entire team in all of your contracting activities at any time, from any geographical location.
In the case that employees work remote, they can access contract documents from your centralized repository. Contract management software additionally frees up time from legal and procurement teams due to the self-servicing nature of contracts provided by the software system, meaning other teams can get contract answers instantly instead of having to field their questions through legal or procurement.
A cloud secure contract lifecycle management system supports business in several ways. For example, SharePoint Backup and SharePoint Restore ensure that all of your contracts and associated data are safe in your system in the case of an unforeseen circumstance (power outage, natural disaster, etc.) In addition, cloud contract lifecycle management software supports businesses with a scalable, and cost-efficient approach.
5. Centralization of Company Processes and Integrations
The best available contract management system can integrate with other business solutions and software integrations to streamline various processes involved in contract lifecycles, such as signing, reviews, and negotiations. With software, you can increase interorganizational visibility which will assist in monitoring contract performance and the effectiveness of your business operations. Now, you can provide your departments with all the contract tools needed to make informative decisions based on real-time contract data.
There are many electronic signature and business integrations available that support contract lifecycle management. These include DocuSign, Adobe Sign, Sertifi eSignature, Jira, Microsoft Dynamics 365, Teams, Power BI, and many more.
Gain The Upper Hand With Dock 365
Learning a new contract management system can seem like a daunting task, but Dock 365 makes implementation and deployment of your new solution extremely simple. Built onto your existing Office 365 and SharePoint infrastructure, getting started on your new system is a painless process. Customizable to your branding, objectives, and needs, Dock empowers your contract lifecycle management processes with automation, cloud security, and contract repository that serves as a single source of truth. Contract lifecycle management doesn't have to be a source of frustration, lost opportunities, and delays. Gain a powerful and productive contract management approach today with the Dock 365 Contract Management System.
Learn more about our Dock 365 Contract Management System here.
Learn more about Contract Lifecyle Management (CLM) Software here.
For more information, we welcome you to schedule a free demo with us today.