Consider the numerous elements involved in healthcare. Things like transfers of care, telehealth services, experimental treatments, employment, confidentiality – each of these concepts involve a legal agreement in some capacity.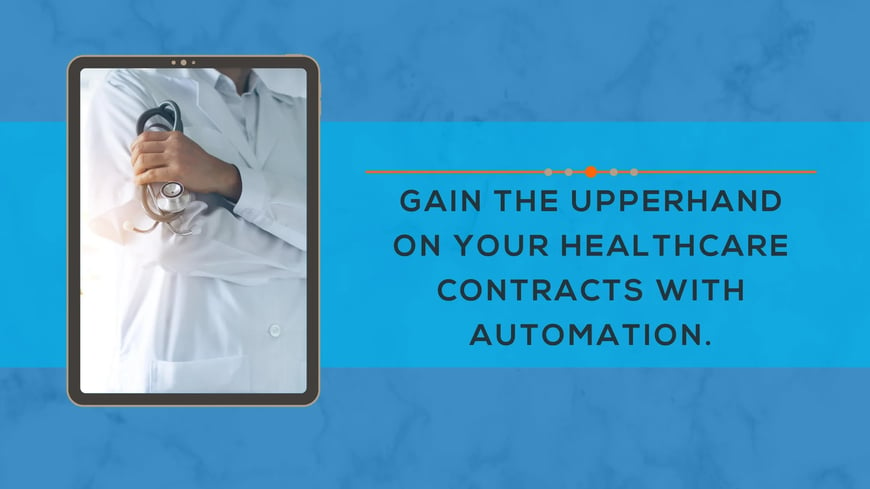 Suboptimal Contract Lifecycle Management Can Be Disastrous In Healthcare
Today, several healthcare organizations still manage their contracts with outdated methods, manually overseeing contract lifecycles. But unfortunately, a manual approach to contract lifecycle management is only destined for increased risk, noncompliance, disorganization, and misplacement of contracts. If you happen to store your contracts in shared drives or in saturated filing cabinets, then it's probably no surprise that your contract processes aren't the smoothest.
Subpar contract management leads to subpar results, meaning you could lose up to 9 percent of your revenue each year. However, there's a way to guarantee that you get the most out of your healthcare contract management: contract lifecycle management software. With a contract management system, you can automate several processes, allowing you to save time and money while increasing compliance and mitigating risk.
Contract Automation For Healthcare Contract Management
Contract automation is one of the most robust capabilities of contract lifecycle management software. Contract workflow automation can cut-down turnaround times and reduce the time it takes to complete a contract lifecycle from start to finish. Automating healthcare contract management is extraordinarily helpful, and this is due to how a contract management system functions synonymously to a whole healthcare team within one software platform. Similar to the dispersion of roles and responsibilities of those on your team, each function and feature within a contract management system performs different tasks to support your healthcare organization and successfully complete your contract lifecycles.
But you might be wondering, what exactly can a contract management system automate?
Pretty much everything.
We'll take a look at the following 7 processes that contract management software can automate:
We'll take a deep dive into each process and how automation contributes to operational efficiency.
Contract Requests and Contract Creation
During the beginning phase of contract lifecycle management, a legal department might take several hours to accurately build a single contract. However, introducing contract automation to your healthcare contracts can streamline the contract intake and request process for your legal department, expediting the process entirely. A dedicated contract management system can save your legal department time and energy, allowing them to focus more on tasks that are best suited for their legal expertise.
To add, contract management software automates contract creation with an entire library of preapproved, compliant clauses and contract templates. This simplifies your contract authoring process, allowing you to easily auto populate relevant data into your templates.
Negotiations and Approvals
The end goal of a contract negotiation is an agreement with favorable terms and low risk. The contract negotiation automation phase can take several weeks, especially if the contract at hand is particularly complex. A contract management system can offer your employees the ability to easily redline, edit, approve, reject, and comment on contract terms quickly in a centralized, digital location.
And no need to keep multiple written copies of a contract – version tracking capabilities make it easy to review every iteration of a contract going through reviews. The centralization of your contract management software simplifies contract monitoring so that you can identify exactly who made what change to a given document and at what time with timestamps.
Signing
By automating your contract signing processes, you'll save a serious amount of time and money. No need to print, manually sign, scan, and email your signed document back to the sender. With electronic signature integrations built into your contract management software, you can sign documents on your mobile device at any time, any place.
This utility eliminates several common problems that occur during the contract signing step, meaning you'll get more contracts executed at faster rates. Electronic signatures are also far more secure than traditional wet signatures, as they include audit trails and tamper detection alerts.
Workflows
A contract management software solution can be configured with defined rules custom to the needs and objectives of your healthcare organization. Flexible, automated contract workflows standardize system actions, increasing the standardization of each stage of the contract lifecycle. Many leading contract management systems leverage workflow templates so you can design exact flows for various contract management activities.
In addition, you can assign specific stakeholders within your organization to contract-related tasks within a customized flow. In your contract management system, you can view completed contracts, approve contracts, and enable task reminders so that your team maintains a proactive approach towards contract lifecycles. All of these activities (and more) can be included in an automated contract workflow.
Milestones and Obligations
Within the healthcare industry, a missed deadline or obligation can lead to some serious consequences. Failing to deliver on contracted obligations and commitments has the potential to dampen any rapport you may have developed with signees. And especially within the context of healthcare contract management, it's important to acknowledge that with an increased volume of contracts comes an increased quantity of deadlines and deliverables.
To successfully oversee all of your key dates, milestones, and obligations, you can leverage automated reminders to alert your employees of time-sensitive tasks and relevant contract activities that require immediate completion. Oftentimes, contract management software systems include proactive dashboards and filterable, digital calendars to increase awareness of these key items.
Compliance
Overseeing contract compliance is critical to the success of your healthcare contracts. Once a contract is active, you must ensure that your employees and signatories effectively hold their end of the agreement. In the case that an agreement's terms are left unfulfilled, the software will send you an alert of noncompliance.
Contract management software does an excellent job at tracking exact instances of noncompliance, allowing you to analyze the problem and decide on any corrective measures moving forward. And with your custom contract workflows, you add a layer of protection to your processes by automatically applying business rules to your contract lifecycle management strategy – supporting compliance throughout the contract lifecycle.
Reporting
Lastly, contract management software comes equipped with custom reporting features that make it easy to track results, analyze data, and share your finding with others in your organization. Now you can constantly maintain contract statuses and performance metrics in real-time, supporting you in predicting an estimated completion time for any contract's lifecycle.
The best contract management software solutions utilize comprehensive dashboards that display contract reports and current metrics in a single location. You can also generate custom reports and configure these reports to be shared throughout your organization on an automated schedule, ensuring that everyone stays in the loop of how your contracting processes can be optimized for increased efficiency.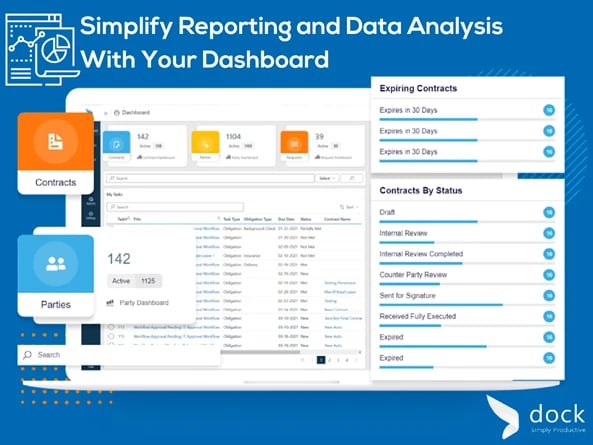 Automate Healthcare Contract Management Today With Dock 365
Given the tumultuous times of 2020, the healthcare industry is still playing catch-up on all of their processes – and most especially their contract-related activities. Time is a finite resource, and every healthcare organization should adopt a contract management system equipped with automation to save as much time and energy as possible. Contract automation optimizes the efficiency of the contract lifecycle – reducing turnaround times and risk potential while maximizing the value of each contract.
With the Dock 365 Contract Management System, you can ensure compliance to healthcare industry regulations while overseeing the entirety of the contract lifecycle. It's proven, cost-efficient, and user-friendly, giving your healthcare organization the time is deserves to dedicate energy towards other critical areas.
Schedule a free demo with us today for an in-depth and interactive overview of our Contract Management System.