Effectively overseeing contract activities and contract performance can be difficult when relying on outdated methods of contract management. Rather than lean on shared drives and spreadsheets, centralizing your contracts with a cloud secure system can support you in efficient, risk-mitigative contract management. Without the assistance of intuitive and user-friendly contract management software, it can be very challenging to keep up with growing demands placed on your business and the contract volume that results. To maintain efficiency and productivity, a software solution can support you with technology that strategizes and plans your contract activities.
Now, let's take a look at eight ways you can automate your contract lifecycles in 2022 to drive results.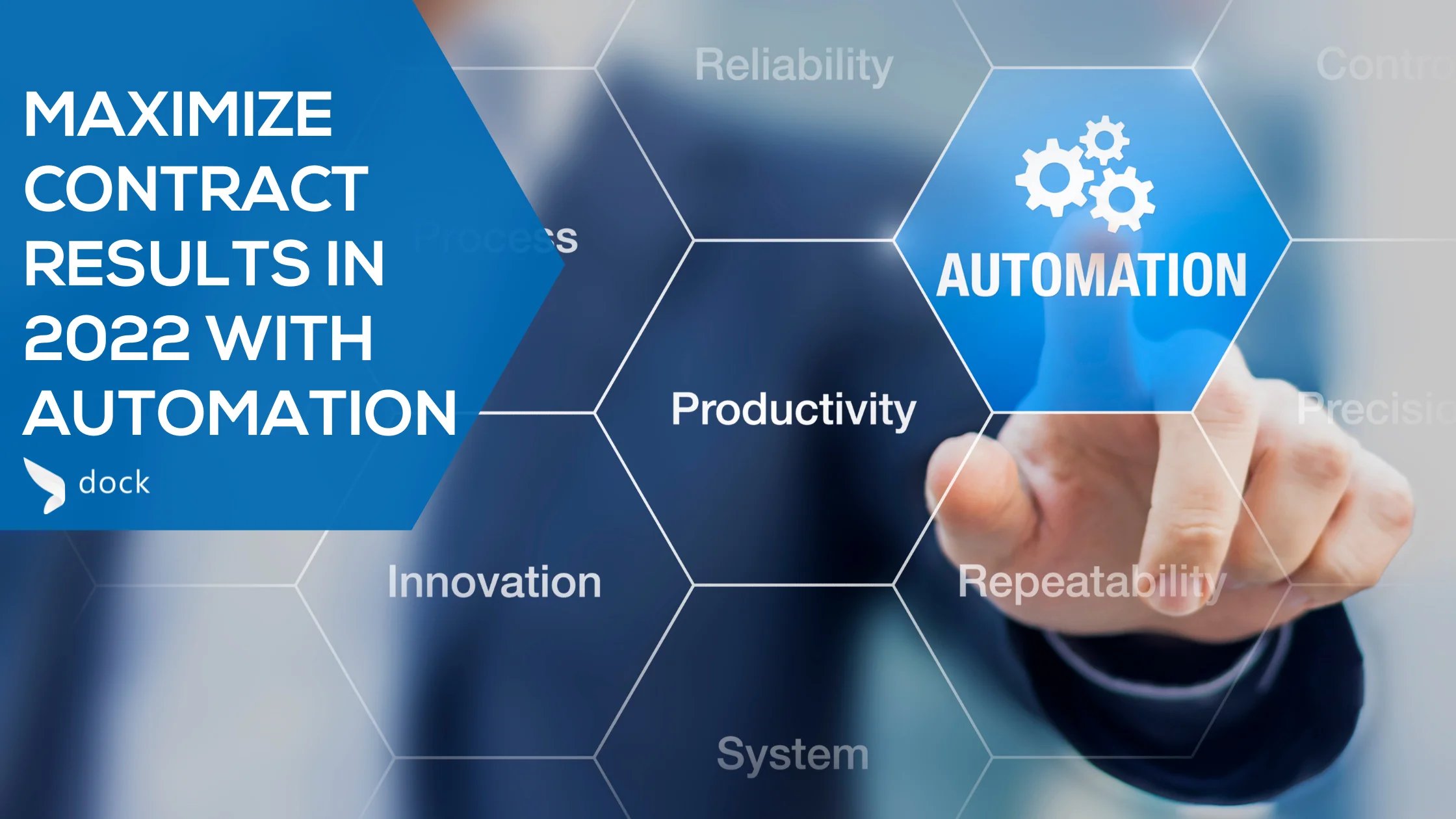 First off, contract lifecycle management relies on the completion of several key stages during the lifecycle. From the initial contract request form, all the way to contract termination or renewal, the contract lifecycle is composed of many essential activities for successful execution of any given contract. By automating several of these processes and activities, you can avoid many associated bottlenecks and delays that can seriously harm your bottom line.
Content-
#1 Automate Contract Requests
Streamline your contract lifecycle management starting with the contract request and intake process. By leveraging customizable contract intake forms, you can easily organize your contract requests with user-friendly questionnaires. Following the completion of each form, you will be automatically alerted of the form's completion, allowing you to get a head start on the contract lifecycle, moving onto contract drafting.
#2 Automate Contract Authoring
Accurate, compliant contract authoring requires appropriate legal language, counterparty data, deliverables, milestones, key dates, formatting, and other important elements. To automate your contract authoring stage, we suggest using preapproved contract templates and clauses in addition to version control capabilities and role-defined authoring rules in your contract management software. Without the support of contract authoring software, you'll only develop a disjointed and disorganized approach towards building your contracts. This also ensures that only the right hands have access to your contract authoring features.
#3 Automate Your Contract Negotiations
Contract negotiation is essential to the contract lifecycle. With user-friendly, collaborative portals, you can work with your counterparties on contracts in a secure location. Contract management software automates your negotiations with version control capabilities, clause ownership features, tracked changes and redlining, and other robust features. Contract negotiations can take a significant amount of time. However, automating your negotiation process can allow you to spend more time of contract management strategy rather than contract management functions and administration.
For more information on contract negotiations, click here.
#4 Automate Your Contract Approval Process
Contract approvals can be particularly challenging when you're required to attain information from stakeholders by phone or email to ensure they are ready to sign and execute the contract. With approval workflows, you can leverage all-encompassing audit trails to collect approvals and rejections form your counterparties in a single place.
#5 Automate Contract Signing
Many business and industry leaders have recognized the utility of the electronic signature. With an electronic signature integration, you can streamline your signing process and cut down on turnaround times. With contract lifecycle management software, you'll be able to sing legal agreements on your mobile device at any time, any place. Here at Dock, you can take your contracts on the go with the Microsoft Teams mobile app, allowing you to sign contracts at your convenience within minutes. Electronic signatures leverage digital signatures to uniquely capture and secure data regarding each signature. The digital signature will collect the time and date to ensure the signature is not altered or tampered with.
Electronic signature integrations also allow you to bulk-sign agreements within seconds, allowing you to save an exorbitant amount of time. You can also easily request signatures from third parties via email, where signers can rapidly open, view, and sign documents. Electronic signature integrations are equipped with secure signing portals so you can view the status of your signed agreements while storing documents in one place.
For more information on electronic signature integrations, click here.
#6 Automate Contract Obligations Management
Properly managing all of your contract obligations can be very overwhelming when relying on manual monitoring and tracking. Not only is this incredibly risk-prone, but it's a complete waste of time. However, you can gain control of your obligations and their timelines with automated obligation tracking. With tasks notifications, reminders of key dates (contract expiration and auto renewals), on demand reporting, user-friendly contract dashboards, detailed contract status and performance data, and a myriad of other advanced features, you can confidently manage obligations for all of your company's contracts. Instead of documenting contract obligations once to "set it and forget it," you can maintain a proactive approach towards your obligations in your cloud secure contract platform. This allows you to easily track and locate your obligations in one place.
#7 Automate Contract Compliance
Auditing contract compliance and reporting your findings with others in your organization can take a substantial amount of time and energy. However, contract management software offers users the ability to audit, generate custom reports, and share reports with detailed dashboards to oversee contract compliance. The best available contract lifecycle management solutions include key auditing and compliance management features like a proactive, user-friendly contract dashboard to assess contract compliance and customizable reporting with the ability to export to various file formats.
#8 Automate Contract Renewals
Automating your contract renewals can support you in optimizing your contract renewal phase. Enhancing your contract renewals with automation will help you gain the confidence you need to enter into negotiations with your counterparties. Without the help of contract automation during your contract renewals, you'll likely find yourself caught with a last-minute renewal or miss out on opportunities that allow you to extract more value from your renegotiations. Contract automation during contract renewals is key, with features including audit trails, contract drafting, calendar reminders, and much more.
Automate Your Contract Lifecycle Management Today With Dock 365
Contract management is absolutely essential to every business and organization, so why not automate and streamline where possible? Going into 2022, we recommend making the very most of each contract that comes your way by employing automation into your processes. With the Dock 365 Contract Management System, a comprehensive CLM solution built onto your Microsoft Office 365 and SharePoint, you can optimize and streamline your contract lifecycle management right away.
Dock's proven and trusted contract management system can completely overhaul the contract management experience for your company, making it more powerful and productive than ever. Cut down on turnaround times, increase contract accuracy and compliance, better manage risk, and execute high-value agreements on a regular basis by introducing Dock. As a Microsoft partner, we are dedicated to your contract management success with the support of Microsoft Office 365 and SharePoint. Our Contract Management System is intuitive, easy to use, and incredibly efficient. It's also able to integrate with leading business software solutions and electronic signature providers to boost the user and client experience.
Ready to learn more about our Dock 365 Contract Management System.
Interested in Contract Lifecyle Management (CLM) Software? Click here.
Schedule a free demo with us today for an interactive overview of our Contract Management System.