Contract management software has the power to transform the way your hospital oversees all contract-related activities. With a dedicated software solution that makes contract tracking, signing, and execution remarkably simple, you can spend more time and attention on your patients and less time and attention on managing contracts. By transforming your hospital's approach to contract lifecycle management, you can increase operational efficiency and offload repetitive administrative tasks to your software platform. From contract requests and generation to approvals and negotiations, a proven hospital contract management software solution offers all you need to optimize the most important parts of the contract lifecycle.
Content-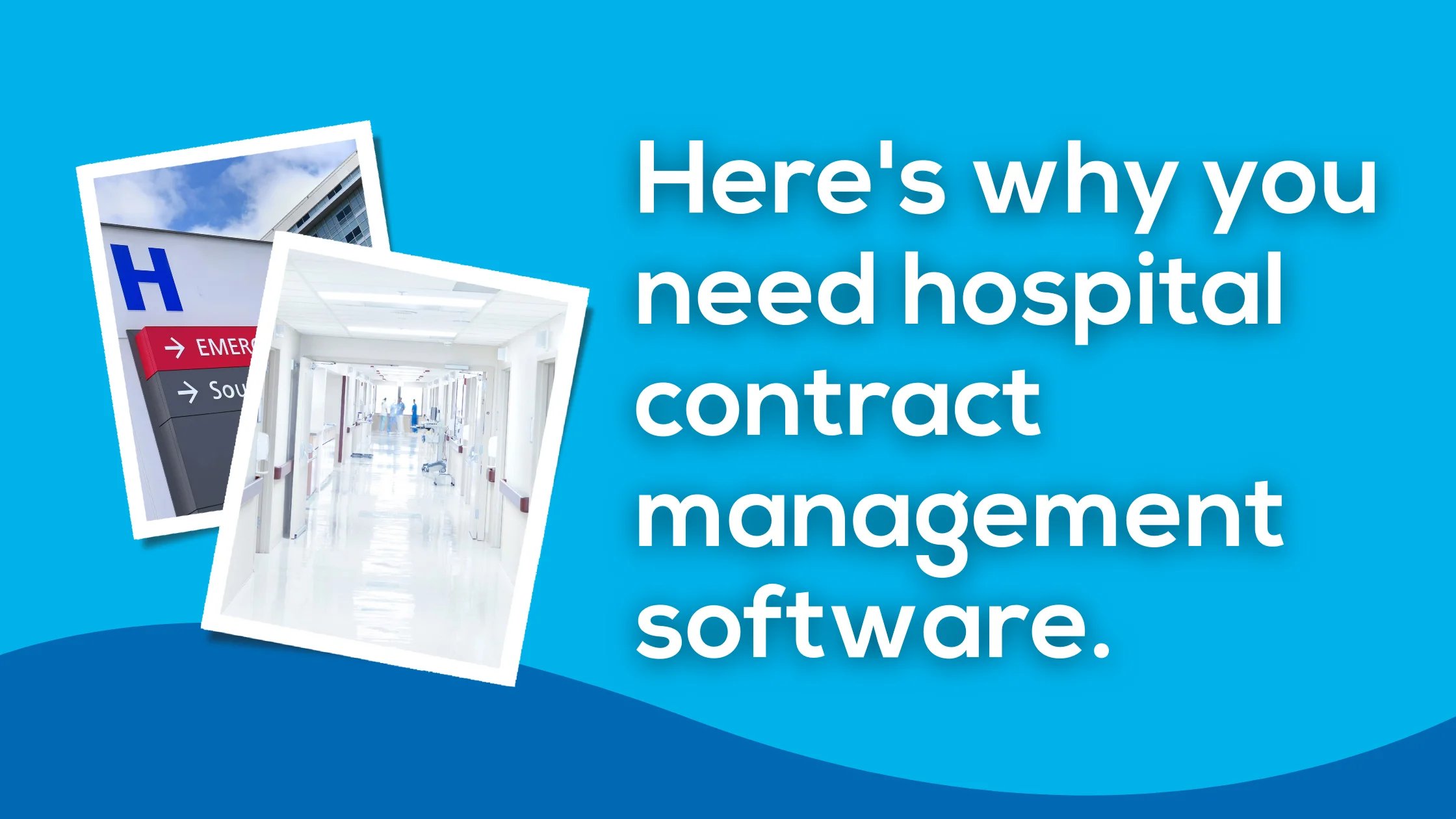 Hospital Contract Management Software Is Equipped For Any Challenge
Contract management software built with the unique needs of hospitals and healthcare organizations in mind can support you in centralizing contract data storage, keeping everything under one umbrella. In addition, your solution organizes your documents according to contract type, making it easy to rapidly retrieve them at the times you need them most. Custom searching capabilities and filters also simplify contract retrieval, so no need to rummage through filing cabinets and shared drives to find what you need.
Maintain Awareness Of Upcoming Contract Renewal Dates
Your hospital contract management software is equipped with automated reminders of key dates such as auto renewal dates and contract expiry dates. This empowers you to maintain a proactive approach towards all key dates so tasks are completed ahead of time. Because healthcare organizations typically function at narrow profit margins, failure to initiate a contract renewal can lead to severe losses in revenue. But there is a solution to this problem with the assistance of hospital contract management software. Tools like automated renewal alerts (as mentioned previously) can be assigned to specific stakeholders, where they receive alerts at defined points in the contract lifecycle. You'll find a drastic improvement in the efficiency and productivity of your contract lifecycle management by implementing auto renewals and associated reminders. An intuitive contract management dashboard also helps you to stay proactive, displaying all upcoming key dates in 30-,60-, and 90-day intervals.
Contract Monitoring Made Easy
Overseeing the progress of your contracts during their lifecycle is made possible with advanced reporting and data analytics capabilities. You can maintain contract control with real-time updates on the status and performance of your contracts – on demand. With all the contract insights you could think of at your fingertips, you'll ensure that nothing slips through the cracks and that your contracting strategies strengthen your organization rather than hurt it. Contract management software built specifically for hospitals allow you to collect all contract data and assess the performance of your contracts to determine areas of success and improvement. To save money and cut unnecessary costs from operations and administration, your hospital contract management software supports users in identifying underperforming contracts, empowering you with the knowledge to make the most well-informed and data driven decisions. In this way, you'll can choose to work with contracts that are conducive to your organization's end goals and objectives.
Overhaul Contract Collaboration For Better Results
Whenever you build a new contract, it's critical that you maintain proper control over every version, iteration, and change made to the document at hand. Your hospital contract management software is equipped with a collaboration-friendly portal that streamlines communication between counterparties and relevant stakeholders. Redlining, version controls, line-by-line commenting, and other features simplify document reviews and creation so that you can finalize your hospital contracts in the most streamlined way possible. Now, you won't have to worry about accidental duplicates of form data or if document collaborators accidentally edit already agreed-upon contract terms.
Gain Confidence In The Compliance And Security Of Your Contract Management
Security is an absolutely essential component to contract lifecycle management. This is especially true for hospitals and healthcare organizations with the myriad of stringent industrial regulations in place that ensure compliance and confidentiality of patient information. A contract management solution prepared for all the demands placed on hospitals will offer audit trail capabilities to provide exact timelines of various contract actions. In addition, such solutions will be ready, willing, and able to scale with your hospital so that you can support contract lifecycles with an organized approach that saves money and resources while optimizing patient care.
Cut Back On Administrative Costs
During contract lifecycle management, there are numerous administrative costs associated with every single contract at hand. If your administrative costs become out of hand, you'll find that they start to inhibit profitability. If you still employ manual contract management practices with paper contracts and wet signatures, you drastically decrease productivity rates while driving up risk potential. A manual approach to contract lifecycle management increases bottlenecks, wastes an exorbitant amount of time, and has a high potential for noncompliance. However, hospital contract management software can support your organization by automating contract building and other stages of the contract lifecycle to reduce human error and costs pertaining to compliance and document management.
Why Hospital Contract Management Software Is Essential
Healthcare is a dynamic and complex industry with so many moving parts – it can be seriously difficult to navigate. The costs involved in operating a hospital are extraordinarily high, and maintaining compliance is remarkably expensive as well. With all of the processes involved in the many relationships you develop with vendors and providers, a dedicated hospital contract management software solution is essential to provide the visibility you need into your spending strategy, allowing you to optimize your contract lifecycle management overall.
Increase Spend Visibility
Boost spend visibility with hospital contract management software. This means that you can view current spend data that is accumulated over all of your hospital contracts. By analyzing your spend visibility, you can actively cut costs and optimize supplier relationships and organizational efficiency. In this manner, you'll pinpoint opportunities where you can save while increasing buying power.
Provide Your Hospital Contracts The Security They Deserve
Our hospital contract management software has you covered. With our solution, hospital contract security is made a priority, so you can have the confidence that your documents and data are protected and compliant. Our technology leverages advanced risk management, user permissions, audit trails, and other security features that function to ensure all data is kept secure and confidential.
Simply Collaboration and Contract Accessibility
Hospital contract management software allows you to assign your employees and clients the ability to access select hospital contracts in a secure cloud-based repository. This can support your hospital in saving time and money by making your documents accessible to the right people at the right times, where they can access them in any location on a mobile device with internet connection. Here at Dock 365, we leverage the Microsoft Teams mobile app so that you can take your contracts on-the-go.
Leverage Autorenewal Capabilities
Many of your contracts are suitable candidates to be configured to autorenewal. This feature can save you an extraordinary amount of time, however we recommend considering the terms and performance of your contract prior to autorenewal to ensure that it is still a favorable agreement for your organization. Take the contract renewal process for example – this process supports you by identifying ways to develop increasingly favorable contract terms due to the additional opportunity to engage with your vendor or client. So, we suggest using the autorenewal feature specifically for the reliable contracts that you have a solid grasp on over a prolonged period of time – you don't want to miss out on better deals if the opportunities exist.
Optimize Hospital Contract Management With Dock
Is your hospital contract management subpar? Can you think of ways that it could be improved? What areas of opportunity exist? The solution to all of these questions can be found with a cloud secure, SharePoint and Office 365-based contract lifecycle management solution provided by us here at Dock 365.
Interested in our Dock 365 Contract Management Software? Click here.
Want to learn more about Contract Lifecyle Management (CLM) Software? Click here.
Schedule a free demo with us today for an in-depth and interactive overview of our Contract Management System.