Contract management is a crucial component to the procurement process. During contract management, an organization's legal agreements are created, stored, and negotiated to oversee the organization's activities (deliveries, purchases, etc.) regarding various goods and services.
With contract management, procurement departments can take care of a variety of responsibilities, from maintaining vendor relationships, to coordinating the delivery of purchased products, to negotiations, all while managing risk. Procurement and contract lifecycle management are dependent upon one another for success, especially considering how when procurement negotiates terms, those very terms are governed by a specific contract set in place.
Procurement departments typically use contract management software like Dock 365 to increase operational efficiency during contract lifecycle management and procurement. With a solution that simplifies contract management and procurement, you can save time and money for your teams by automating several redundant, low-level tasks. With these intelligent software capabilities, you can increase compliance, maintain a proactive approach to upcoming key dates, and keep everything appropriately ahead of schedule.
Content-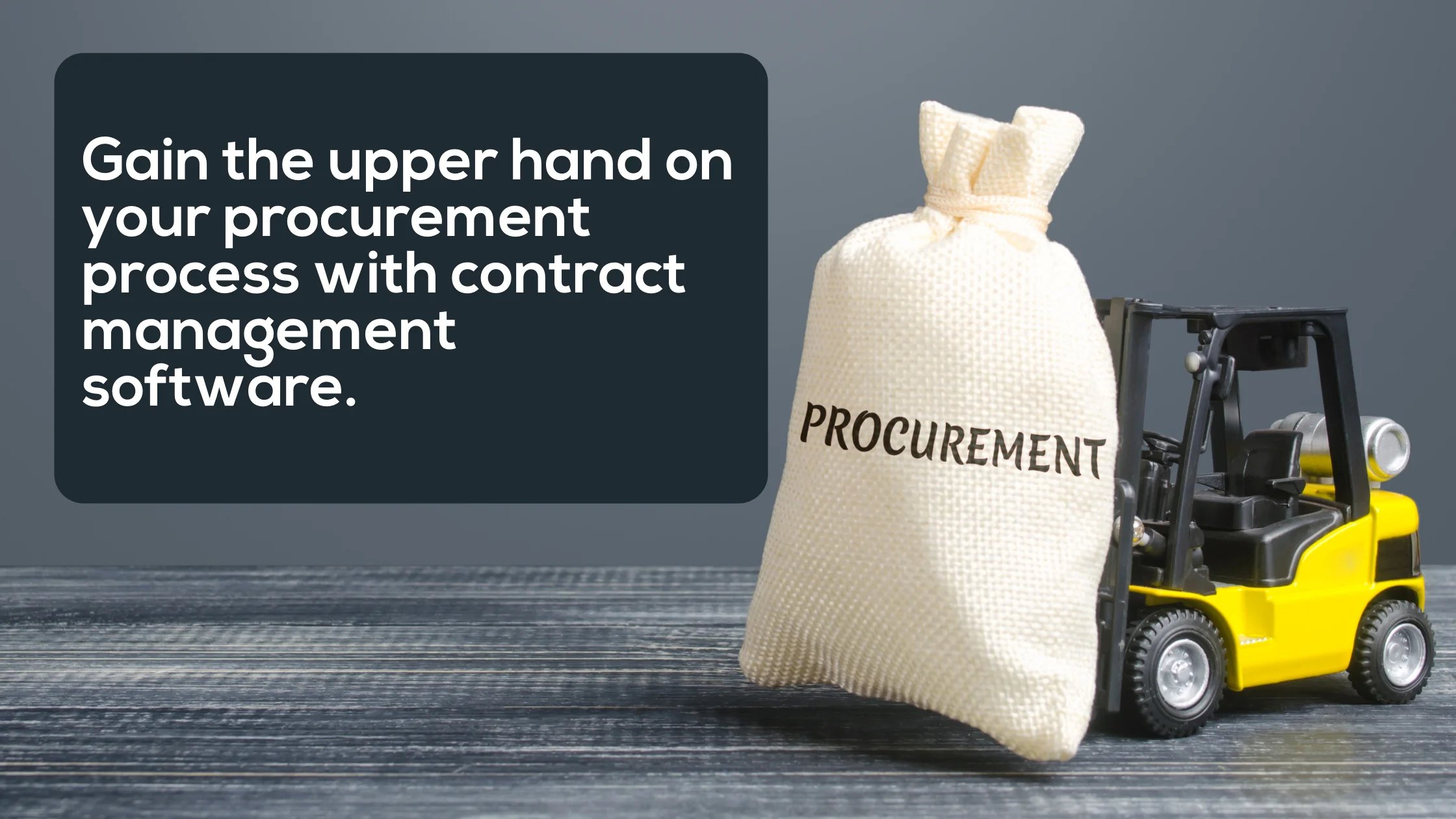 So, what is procurement anyway?
Many consider procurement in the context of purchasing, however, there's a few differentiating factors. Purchasing is part of the procurement process, where products are ordered, received, and paid for. Procurement is a much broader concept that must be carefully planned for.
During procurement, vendors are evaluated and selected according to the needs and requirements of the business. Procurement often involves market research as well as negotiating and executing contracts.
How Contract Management Software Supports Procurement
Results-driven and organized contract lifecycle management can create the opportunity to boost the efficiency of your procurement process. The procurement department works to source appropriately priced products and services while the contract management team works to optimize the contracts surrounding these procured purchases and deals. Contract lifecycle management software assists procurement teams by offering a digital, centralized way to store their contracts and associated documents, meaning they don't have to rely on costly, risk-prone, and time-consuming calendars, physical storage (filing cabinets), shared drives, and Excel spreadsheets.
Now let's take a closer look at a few ways that contract management software can support the procurement process:
How Contract Management Software Supports The Procurement Process
Risk Management
Risk is inherent in any business transaction with a third party. Contracts serve as the main tool to mitigate risk, as they hold each party accountable to contractual terms, protecting businesses from poor business dealings. However, inefficient, subpar contract management can result in the opposite effect.
With a solution like Dock 365, you can support your procurement department through their contract management, which will likely decrease human error and contract inaccuracies. With secure collaborative portals, your departments from legal and procurement, to finance and operations, can all cohesively contribute to agreement terms while mitigating risk with customizable user-based roles and permissions settings. In this way, you'll increase the security of your contracts with features like data encryption and backups.
Gain Efficiency
Leveraging a user-friendly, intuitive contract management system can support your organization in reducing contract lifecycle times. To stay on top of key dates, monitor several contract drafts, store and categorize contracts, and have filters available to search for and retrieve contracts, then going with contract management software is going to be your best bet. Completing these activities without contract management software is very time-consuming, so make sure you give your procurement team all they need to cut down on sourcing time and on manual tasks with a software-supported approach.
A contract management software solution can give procurement the assistance they need to manage contracts easier. For example, a cloud secure centralized repository means that your authorized users can access contracts in any location and take their contracts on the go. With text-based search features and customizable filters, users can easily locate and retrieve contracts and generate reports. Many of today's contract management software solutions offer the ability to integrate with leading business solutions and applications like Microsoft Office 365, DocuSign, and Adobe Sign.
Save Money
To execute a contract, it takes a ton of time and it takes a ton of people!
And what do they always say? Time is money.
With this in consideration, it's easy to understand how costly contract management can be. Effective contract lifecycle management can allow you to cut costs from several parts of the contract lifecycle. Leveraging automation can help you take care of the repetitive, low-level tasks so that your employees can spend their manual efforts on other high-level tasks that are better suited for them. This can allow you to increase the efficiency and speed of your contract lifecycles, meaning contracts are executed faster and goods and services are delivered at sooner dates. In addition, automated alerts will keep your teams in the loop of upcoming key dates like auto renewals and contract expiry dates so that key tasks are taken care of well in advance. When key dates are missed, you open yourself up to auto renewing unfavorable contracts, which can cost your business thousands. Contract management software comes equipped with proactive dashboards to simplify reporting and maximize contract transparency. This allows you to oversee key dates in 30-, 60-, and 90-day intervals as well as monitor contract performance and contract statuses in real-time.
Protect Sensitive Information
The legal nature of contracts makes them particularly sensitive, full of confidential information and agreement terms. When unauthorized users and parties gain access to a contract, a breach of contract can occur. In this manner, procurement should take contract security very seriously. Organizations with intelligent contract management software can be at ease knowing their contract data is protected by user permissions, audit trails, and role-based accessibility features. In transit and at-rest data encryption can support the security of your contract data. With additional tools like vulnerability scanning and penetration tests, you can ensure that your contracts are safeguarded against malware and hacking attempts.
Procurement departments are responsible for spend management and purchasing goods and services. Does your contract management team still use a manual method for contract storage by way of spreadsheets and filing cabinet? If so, then its highly likely that your organization is unable to effectively attain goods and services in at an appropriate speed.
What The Procurement Team Offers To Contract Management
Contract management is typically considered an activity for legal to take care of. However, there's several situations where other departments play key roles throughout the process of the contract lifecycle. When legal is taking care of monitoring and tracking contracts during the contract lifecycle, they will often ask for the assistance of their colleagues who possess knowledge of other key contract elements. Organizations with large supply chain operations can use the expertise of their procurement departments to gain insights on key information regarding their vendors and suppliers. This allows contract managers the ability to plan ahead for every agreement based on the needs and objectives of the business.
Procurement Increases Visibility of Supplier Performance
Your procurement team will have the most direct experience working with your suppliers and vendors. This means that procurement can easily identify which suppliers are and are not meeting expectations and delivering upon contracted terms. They can additionally pinpoint which agreement terms need to be renegotiated as well as if suppliers have modified how they fulfill their end of the agreement since the execution of the contract in question.
An essential element of contract lifecycle management is the ability to ensure that your employees have all they need to make well-informed decisions regarding your company's contracts. Depending on whether or not your procurement department oversees supplier and vendor agreements, they'll have insights and experience to glean from that can support your organization in making the best decisions.
Procurement Supports You In Cutting Costs
Your procurement team develops strategies to purchase products and services that support organizational needs and objectives. In this manner, procurement must constantly track their activities and assess how vendor agreements are propelling company success and increasing contract value. Procurement will also monitor supplier contracts to determine if products and services can be attained from other vendors at lower costs. With these insights, your procurement department can cut back on contract expenses by renegotiating and/or terminating contracts that no longer support business needs or contracts that will be replaced by more cost-effective agreements. We suggest that procurement departments and contract managers consistently meet to confirm that both teams are up to date on vendor performance, key contract dates, and other important information.
Conclusion
Procurement has evolved into a foundational business component, often used to assess performance within a company. Businesses that transition to a centralized, cloud secure contract management solution, equipped with technology that supports the procurement process, supports them in maximizing contract value while cutting costs, mitigating risk, and increasing results.
Companies that implement solutions such as the Dock 365 Contract Management System can see improvements in their contract management approach that also support effective supplier management, spend visibility, time- and cost-efficiency, and money other items. In this way, procurement professionals can gain several advantages that will boost their competitiveness in these specific sectors of business.
At Dock 365, we offer a cloud secure contract management system built of enterprise-level organizations and small businesses alike. Our solution is proven to assist business in cutting supplier expenses, manage risk, improve spend and sourcing management, boost productivity, and build positive vendor and supplier relationships.
Ready to learn more about our Dock 365 Contract Management System? Click here.
Interested in Contract Lifecyle Management (CLM) Software? Click here.