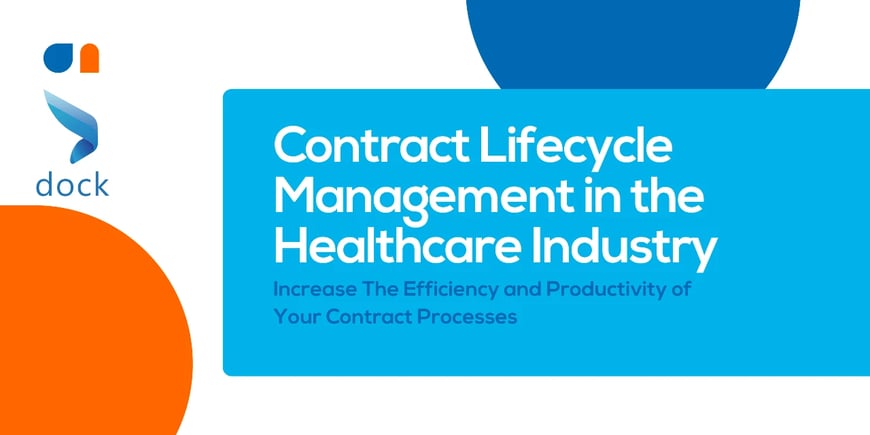 The healthcare industry is comprised of several different categories and types of business, such as medical device and equipment manufacturers, medicine developers, biotechnology, pharmaceuticals, medical services, healthcare providers, and medical insurance organizations. Such healthcare companies are continuing to grow, and they include nonprofits, for-profit companies, and not-for-profit companies.
However – you might be wondering where the connection lies between the healthcare industry and contract lifecycle management.
The Relationship Between the Healthcare Industry and Contract Lifecycle Management
With every business transaction, there is an associated contract. Contracts are legal agreements made between two binding parties that outline specified obligations. In the healthcare industry, some common contracts include service agreements, licensing agreements, employment contracts, and transfer agreements. And as the healthcare industry grows, contract complexity and contract volume will as well. This ultimately will impact your contract negotiations, causing them to be a bit more taxing than before.
In essence, with heightened contract volume in combination with an overall increase in the complexity of your contracts, adopting a solution that automates your contract lifecycles will seriously help so you can effectively keep up with the increased needs and demands placed on your organization.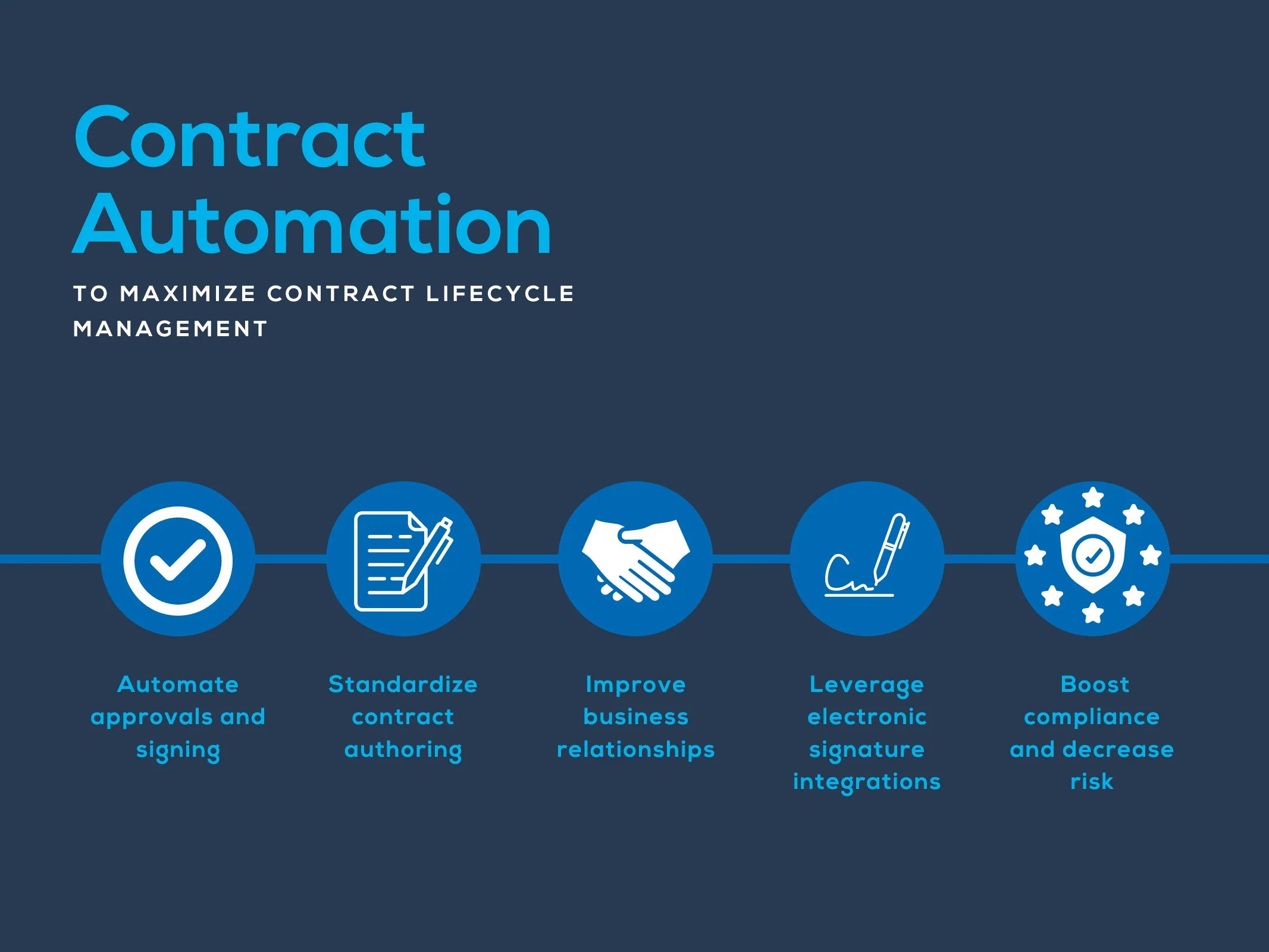 With more contracts, you'll have to utilize more resources, time, energy, and expenses to author and negotiate your contracts. Tracking contract terms, obligations, performance, and status in the contract negotiation and signing/execution stages becomes even more critical. And increased quantity of contracts additionally means that you'll be required to use more resources to successfully manage all of your contract obligations and deliverables once the document is executed. It's important to note that higher rates of regulation and contract complexity are associated with increased risk potential and noncompliance. Contractual risks and noncompliance present in different ways, like contract damages, penalties, and fines.
As the healthcare industry continues to grow, contract lifecycle management activities have increased in the deliverables, obligations, regulations, and complexity associated with every single contract. Breach of contract and declines in vendor and client relationships become that much more of a possibility with all of these factors considered. So, within the healthcare industry, the significance of risk is great because of penalties associated with noncompliance.
Why Contract Lifecycle Management (CLM) Software Can Help
Contract lifecycle management software is the ultimate solution to overseeing your contracts in the healthcare industry. A contract lifecycle management (CLM) software solution can provide support and standardization for the entirety of your contract lifecycles. From contract request to contract renewal or expiration, a CLM software solution will streamline every stage so that you can save time and money, and so that you can focus on other important business initiatives.
Prior to contract execution, a contract will undergo a few specified stages that are critical to the long-term success of the agreement. These stages include contract request, authoring, negotiation, approval, and signature. After a contract is executed, the contract will be stored in a centralized, digital repository so that you can easily locate and securely store your contracts. Post-contract execution, the contract will undergo the following stages: storage, records management, search and retrieval, reporting and data analysis, and contract renewal or expiration. A dedicated contract lifecycle management software solution will have several advanced features and integrations that you can leverage to effectively manage obligations, tasks, and deadlines. For example, automated alerts and notifications are a standout feature of CLM software that ensures that everyone stays proactive and in-the-loop of upcoming contract auto-renewal dates and expiration dates. Manage tasks, oversee contract performance and metrics, utilize self-service capabilities, mitigate risk, and collaborate cohesively and productively on a software solution that centralizes all of your key contract data and documents.

The Need for Effective Contract Lifecycle Management in the Healthcare Industry
Contract lifecycle management (CLM) software assists healthcare professionals in all contract-related needs so that they can efficiently adjust to increased demands placed on an ever-evolving and growing industry. With CLM software, contract administrators can manage increased volumes of contracts seamlessly with contract automation capabilities.
Many healthcare companies will standardize their contracts with preapproved contract templates to simplify the contract drafting process. With such templates, you can build accurate, compliant contracts rapidly with standardized legal language to boost CLM efficiency. Contract lifecycle management (CLM) software empowers healthcare companies by providing contract administrators with the ability to easily monitor contract statuses and to oversee all contract tasks and obligations with customizable notifications. Signing and contract storage are also made easy with your centralized contract repository, so everything stays in one location to avoid confusion and data misplacement. With a proactive dashboard, you can track contract performance and metrics to ensure things are being completed in a timely manner.
Manage The Complex Nature of Your Healthcare Contracts With a CLM Solution
As contract complexity rises, negotiations can become more tedious. With your contract lifecycle management (CLM) software, you can maintain a comprehensive library of compliant clauses and contract templates that will assist in your negotiations in addition to simplified contract authoring. Your software will also help you whenever you need to add alternative language provisions to your agreements.
In the case that language with considerably higher risk is suggested for inclusion in a document, your software can record such clauses for continued monitoring and risk management, increasing visibility and accountability. To help with your contract negotiations, CLM software stands-out in its ability to redline documents and maintain version control.

Get The Support You Need in Your Contract Obligation Management
Contract obligations and deliverables are critical to track, and an automated contract lifecycle management (CLM) system can seriously help your company oversee every detail associated with these obligations. Contract managers are greatly assisted by contract automation capabilities for the deliverables of contracts that cover long timespans and for contracts that are particularly complex.
With CLM software, contract managers can use flexible and customizable settings to create obligations and track their progress and performance. In addition, your CLM solution will also enable you to build a sequence of contract obligations and automatically update them according to the results of previous contract obligations.
Manage Risk and Improve Compliance With CLM Software
On demand access to important contract insights is a major advantage provided by contract lifecycle management (CLM) software. This capability can help you effectively manage your company's contracts and create detailed, data-driven reports. Your reports can be produced almost instantly based on a myriad of contract-related information – from financial data to risk markers, attaining valuable insights to share with others in your organization is made quick and easy.
Generating contract reports can be configured on a scheduled basis if desired, where you can share them with specific individuals within your company on predetermined dates. Reporting is an important part of contract lifecycle management, and instant access to the data that drives these reports is imperative to successful contract management – especially within the healthcare industry.
In Summary
In the context of the healthcare industry, contract lifecycle management (CLM) software supports in the authoring and continued management of high contract volumes while addressing the implications of complex contracts. Automated capabilities allow you to oversee contract obligations, boost compliance, and mitigate risk within your organization. Reporting also allows for increased knowledge organization-wide of the current state, progress, and performance of your contract lifecycle management strategies. Gain the competitive advantage with CLM software so you can keep up with the demands placed on your company within the healthcare industry.

Conclusion
Contract lifecycle management (CLM) software is one of the best investments you can make to improve business processes and transactions within your company in the healthcare industry. Dock offers an affordable and user-friendly approach to contract management that leverages your existing Microsoft 365 infrastructure. If you're in the market for a dedicated contract lifecycle management software solution, reach out and we would love to assist you with a complimentary demo of our solution.
For more information, we welcome you to schedule a free demo with us today.