Organizations devoid of such solution incur quantifiable losses in terms of productivity and business compliance issues. In a study it has been found that in companies that use Contract Management System, compliance management is improved by 55% .
Gone are the days when spreadsheets were combined with manual approaches. The age-old practices can no way fulfill the requirements of a present day digital workplace. They can't be integrated to other tools like ERP or CRM and also are a failure when it comes to organizational access, alerts and scaling capabilities to match a business's growth.
Efficient Contract Management Solutions contribute immensely towards an organization. Whether it is about eliminating unwanted renewals, automated reminders, curbing legal expenses or improving spend visibility. Gain better control over your business processes and improve productivity by eliminating manual work and centralizing your contracts repository.
Are you in search of a solution that will help you put aside all your Contract Management woes and focus more on core business activities ? All you need is Dock 365's Contract Management Portal. It is a comprehensive solution developed by keeping in mind the diverse requirements of customers. Dock is clean and intelligent intranet portal built on Microsoft SharePoint and Office 365.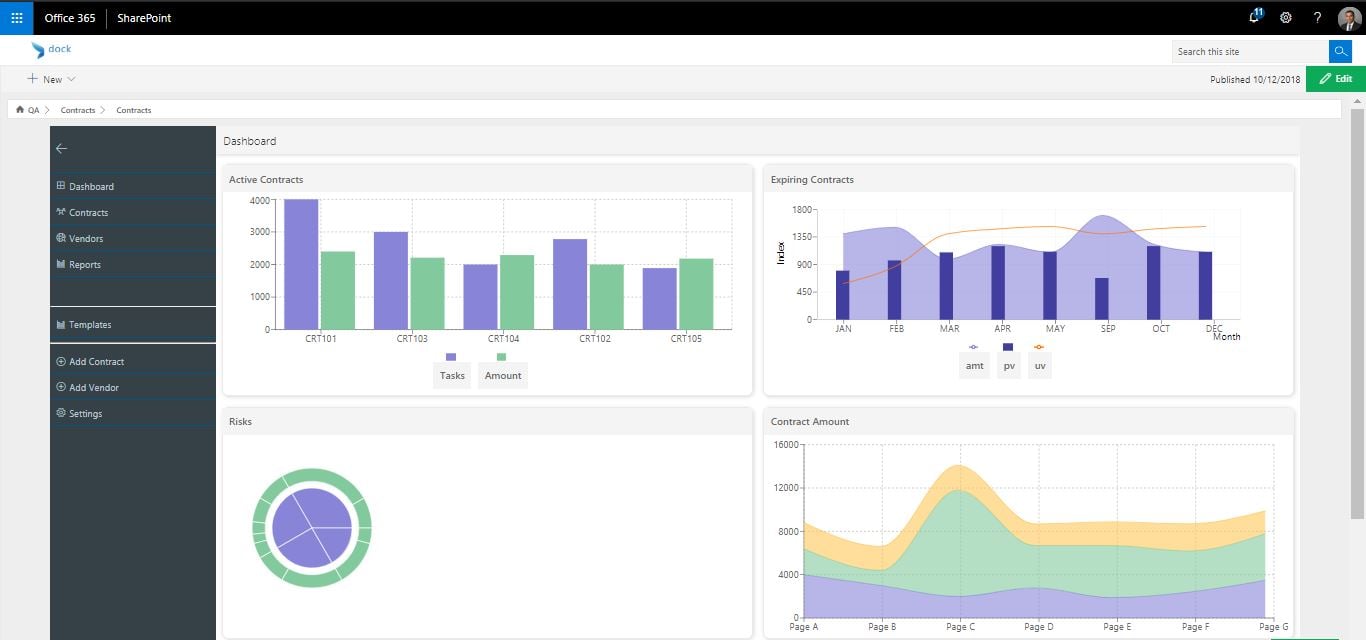 Dock 365-Contract Management Dashboard
As seen in the screenshot above, the dashboard offers you an all-inclusive view. You can easily view the active contracts, expiring contracts, risk involved and also the contract amount in just few clicks.
Features
Add Vendors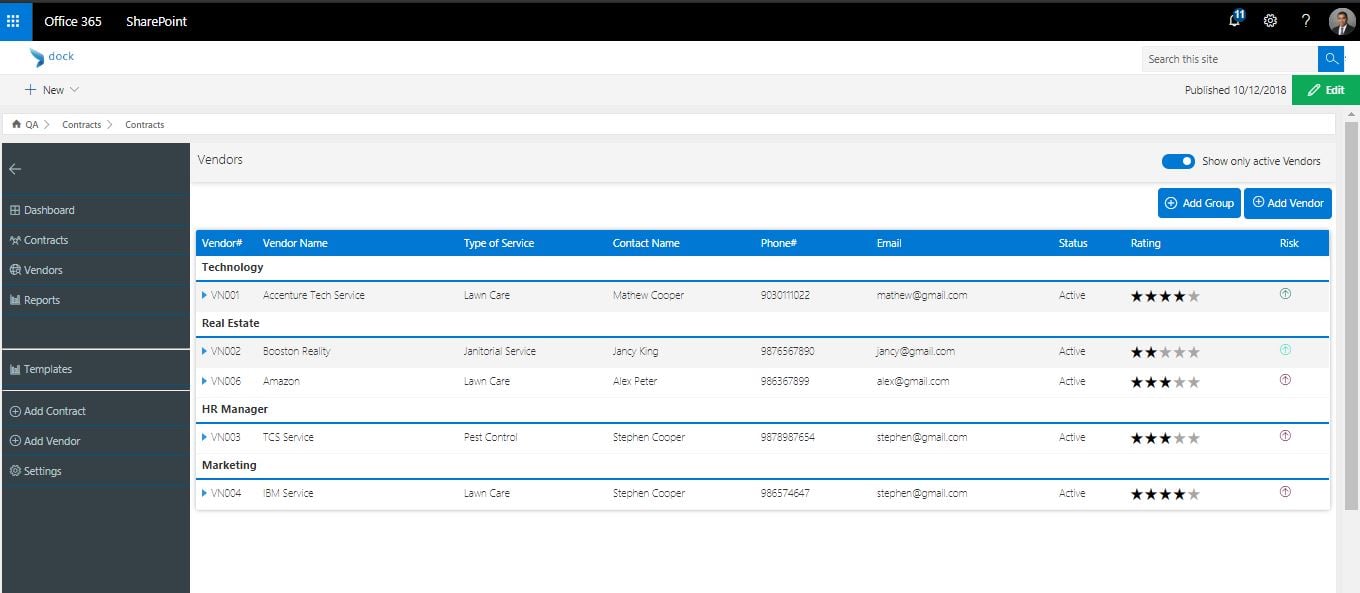 Vendors are an important part of your business. Now, easily add vendors along with their details like:
Add Groups

You no longer need to spend hours to find a vendor. Easily categorize vendors into different groups like Technology, Real Estate, Sales, etc.
Add Contracts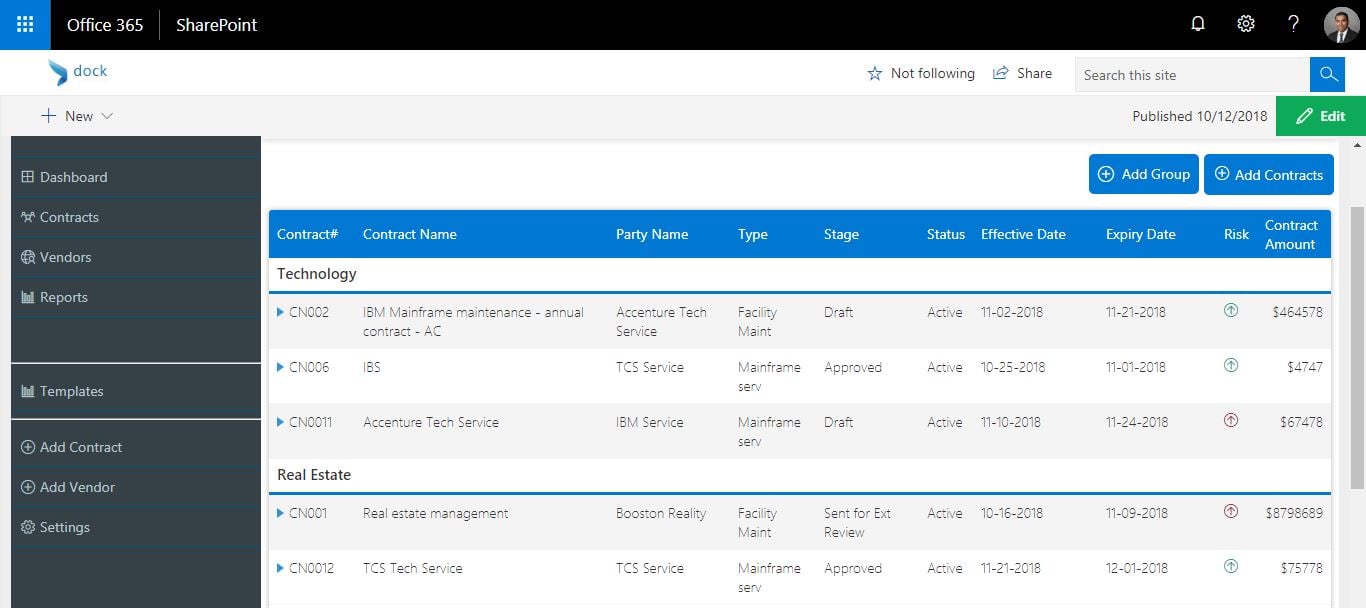 Easily add contracts with details like:
Contract Name

Party Name

Type

Stage

Status

Effective Date

Expiry Date

Risk

Contract Amount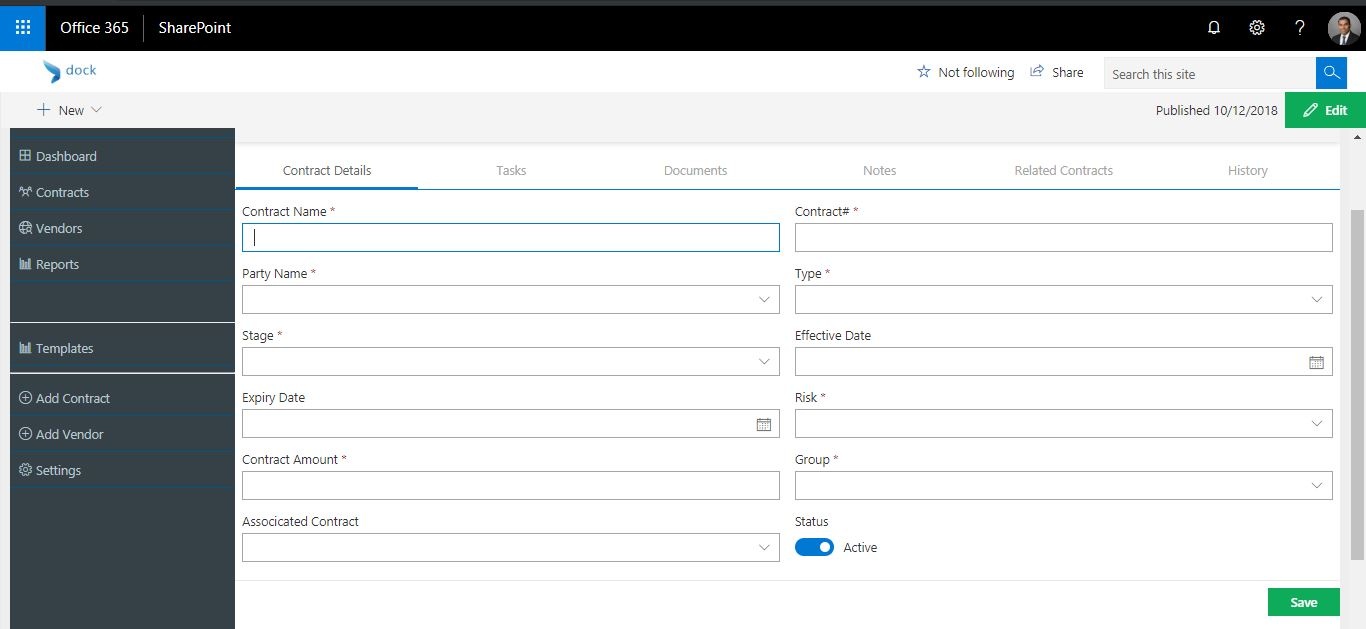 You can also assign different groups to the contracts similar to vendors.

As shown in the screenshot above you can add different
Tasks
Documents
Notes
Related Contracts
to a particular contract.
Further, you can also view the entire History related to a specific Contract.
What's more ?
With customization at its heart, Dock's Contract Management Portal is something your team will love to use. As seen in the screenshot below, you can decide which contracts should appear in the list using options like Show only active contracts or Show contracts expiring in ____days.

The same customization is available for the vendors section.
Stay tuned to our blog because we are soon coming up with all-new and exciting updates in the Contract Management Portal.
Bid goodbye to contract management hassles. Schedule a FREE Demo NOW!