Healthcare organizations and hospitals are required to oversee high volumes of contracts and doing so effectively can prove to be a challenging and highly detailed process. Here are some common contracts associated with the healthcare industry that you may be familiar with:
Employment contracts
Physician agreements
Transfer of patient care agreements
Medical device and technology contracts
With every contract is an associated level of risk, and to mitigate risk within your healthcare organization, we recommend leveraging some important strategies in your day-to-day operations with the assistance of contract lifecycle management (CLM) software. Because healthcare organizations and hospitals work with contracts that are exposed to many potential risks (i.e., compliance, legal, and financial risks), evaluating such risks and developing a plan for risk management is crucial. Begin by determining the likelihood of each risk and then leverage a software platform via contract lifecycle management software to assist your organization in mitigating identified risks.
Content-
4 Categories of Contract Risk
To effectively evaluate risk in your healthcare organization, it's important to first have a clear understanding of four common types of contract risk. These four categories include compliance, financial, legal, and operational risk. We especially recommend taking each of these risk categories into account when you undergo contract negotiations.
Compliance Risks
Health care organizations are required to comply with several administrative policies and regulations. These include HIPAA, ACA, HRRP, and many others. Furthermore, healthcare organizations and hospitals must maintain compliance to the standards and rules determined by health insurance providers and by programs like Medicaid and Medicare. You might be wondering what the consequences of noncompliance might be – consider fines, reputational damage, legal action, and revoked licenses, just to name a few. So, to protect against these negative impacts, it's easy to see that maintaining compliance by way of your organization's contracts is absolutely essential.
Financial Risks
What comes to mind when considering the financial risks of contracts? Most likely, you'll think of failure to deliver on contracted obligations from the counterparty. Or what may come to mind is missed or late payments. Perhaps you've experienced these yourself during your own contract management experiences. Another key factor that heightens financial risk is when the other party does not deliver upon contracted products, goods, or services. All of the above also works vice versa, where your party fails to deliver upon obligations or services – all of which results in increased financial risks.

Legal Risks
Similar to financial risks, you may encounter legal risks when your organization does not follow through on contracted obligations. In addition, you may incur legal risks with poorly authored contracts or when contracts result in disputes.
Operational Risks
Operational contract risks are oftentimes the result of employees deliberately disregarding contracted rules or when they do not receive required approvals on contracts. This means that contracts will not align with internal organizational regulations, making it far more complicated to properly deliver upon contracted obligations.
The Necessity of Contract Lifecycle Management (CLM) Software for Risk Mitigation in The Healthcare Industry
Assessing contract risk and then developing a proactive risk management plan is made simple with contract lifecycle management (CLM) software. Today, many leading healthcare organizations and hospitals leverage such software solutions to oversee every detail in all stages of the contract lifecycle. In addition, CLM software allows these organizations to save time and money by automating several processes. Now, let's discuss the various ways that contract lifecycle management software can help manage risk for healthcare organizations and hospitals.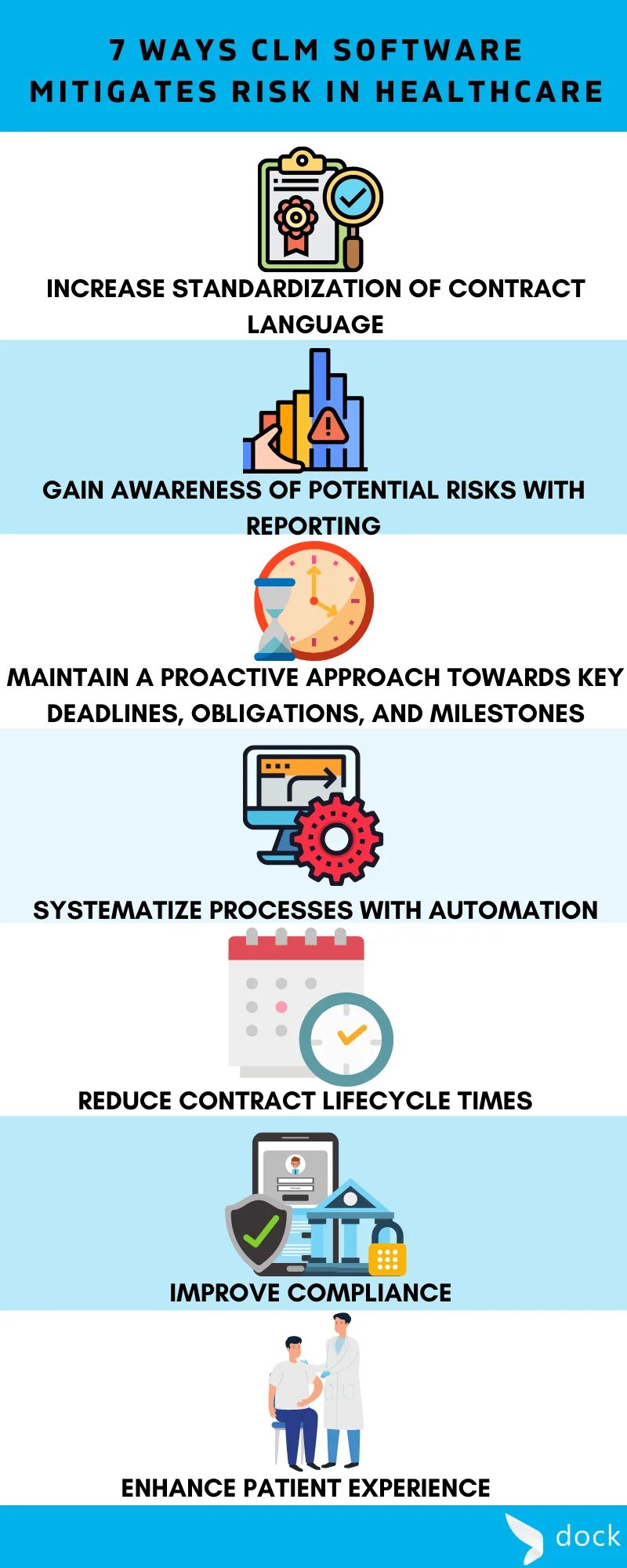 Increase Standardization of Contract Language
Contract lifecycle management software offers companies the ability to easily draft and author contracts and other legal agreements with the assistance of preapproved contract templates and entire library of preapproved clauses. In this way, you will have a myriad of preapproved and compliant contract language and terms at your disposal, ensuring that your company's contracts only contain accurate words and language that are standardized and risk-free.
Gain Awareness of Potential Risks With Reporting
Equip your team with real time insights and data relating to the progress, performance, and potential areas of risk for all of your company's contracts. With an intuitive and proactive dashboard, you can easily access contract details and oversee the history of your contract lifecycles, allowing you to leverage a more visible and transparent approach to contract management. In addition, you can generate customized reports on current contract data to assess where risk is present or where it may occur in the future.
Maintain a Proactive Approach Towards Key Deadlines, Obligations, and Milestones
Configuring automated reminders and alerts to be sent to the correct contract stakeholders is easy with CLM software. By keeping key dates top of mind, you can prepare effectively for upcoming contract auto renewal dates, expiration dates, and other dates like opt-out windows. Keeping track of approaching milestones and obligations is simple too with automated notifications, and by ensuring you stay on top of these key dates, obligations, and milestones, you inherently mitigate contractual risk.
Systematize Processes With Automation
Contract lifecycle management software allows users to automate several processes and tasks that were traditionally completed with a manual, hands-on approach. Automation allows your organization to save time and money while mitigating risk by systematizing your process. For example, automated contract lifecycle workflows can be configured with specific rules that ensure that contract intake and requests follow a system that ensures organizational compliance (contract intake forms play a role here, for example).
Reduce Contract Lifecycle Times
By developing a process that speeds up contract lifecycles, you reduce the overall duration of your contract lifecycles which allows you to finalize more contracts in a shorter amount of time. Dock 365 offers several advanced tools to enhance collaboration during contract reviews and negotiations, allowing contributors to easily track versions of contracts, redline, and comment on documents for a streamlined negotiations process – meaning contracts can be executed at faster rates. All of these factors help organizations finalize their contracts quickly in a manner that reduces risks and delays.
Improve Compliance
You won't have to waste time worrying if your contracts are poorly authored with clauses that don't follow compliance standards. With the help of CLM software, you can auto populate contract templates with preapproved clauses and client data for a simple, accurate, and compliant contract authoring process. In addition, you can utilize workflow automation to improve the rate of organizational compliance because you will be setting your contracts off on a predetermined and systematic sequence of actions in the customized workflow.
Enhance Patient Experience
Lastly, optimizing your contract lifecycle management and effectively mitigating risks allows your patients to have an improved experience across the board, and this is often considered the most prominent advantage of leveraging a CLM software solution for managing your healthcare organization's contracts.
Conclusion
Dock 365 offers a robust approach to contract lifecycle management that leverages your existing Microsoft Office 365 and SharePoint subscriptions for user-friendly and cost-efficient contract management. Today, several healthcare organizations and hospitals have partnered with Dock in all of their contract management needs. If you are looking for a solution to overseeing your company's contracts, reach out to us here with any questions.
Ready to get started?
Learn more about our Dock 365 Contract Management System here.
Learn more about Contract Lifecyle Management (CLM) Software here.
For more information, we welcome you to schedule a free demo with us today.