With a contract management software solution, you can integrate several digital systems into one central place, making contracts and associated documents accessible to authorized users within your company. A cloud secure centralized repository supports your employees in locating exactly what they need at the times they need it most, due to advanced search and filtering features that make information accessible at all times. In addition, you'll find that preapproved contract template and clause libraries support rapid contract building and modification during negotiations.
Content-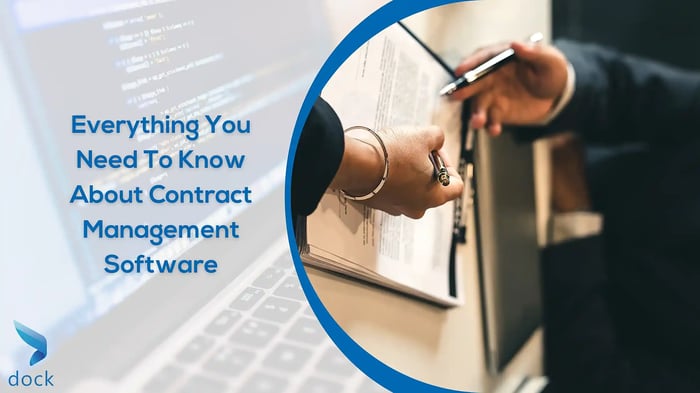 The majority of organizations stress contracts in the context of developing business agreements. However, they tend to forget about them once they have been signed and executed. The contract lifecycle reaches beyond simply attaining a signature, as contracts contain key details and required action steps that outline a given agreement. In this manner, contracts should continue to be referred to throughout the contract term to confirm that each party is upholding their end of the agreement.
During the contract lifecycle, a contract typically passes through the hands of several departments – from HR, to finance, to procurement, to sales, and more. And being passed along to many places means the possibility of contract misplacement or loss – which can be very expensive to fix. With contract management software, you'll ensure that necessary documents are accessible and that your agreements are on the right track throughout each stage of the lifecycle.
How Contract Management Software Simplifies The Contract Lifecycle
Contracts can be complex, but the contract lifecycle doesn't have to be. Contract management starts with the contract intake and request phase, which then develops into contract authoring and signing, which then ends at the final date of the agreement's term. This repeats with contract renewals.
At the beginning of the contract lifecycle, you'll typically search for a vendor or business partner, and the characteristics of your chosen partner will significantly influence your agreement. After you gain a substantial understanding of your options, then you'll work with your employees to develop your beginning contract draft.
Once you've begun negotiations with your vendor, you'll create guidelines like deliverables, contract terms, price structures, and payment timelines. Following the agreement to and signing of the contract, the contract is fulfilled by each party according to the required actions as outlined in the agreement. In the case the contract needs modification, any editing is completed during this phase.
Now, the contract renewal phase eclipses a new term of the contract. This means each party is responsible for renewing their contract and maintaining the current conditions of the agreement or negotiating new, updated conditions. This is essential to fine-tuning the contract for each party. However, auto renewals can cause a problem here, where companies fail to remember the projected auto renewal date and end up letting this phase go by without making any changes to their contracts.
Contract Management Software Supports Each Phase
Pre-Award
During this phase, contract management software reduces time spent drafting your contract thanks to preapproved contract templates and clause libraries. In this way, you won't have to spend any extra time revising specific types of agreements that you use on a regular basis. Contract building can also be automated with rule-based features and auto population of saved metadata. In addition, you can optimize cross-department collaboration.
Award
Throughout the Award phase of the contract lifecycle, contract management software will simplify version control and enable each party to edit and comment on the same file within the cloud. This supports a collaborative contract environment and makes sure all communication is clearly conveyed, which can help cut down on turnaround times. Contract management software typically includes integrations with leading electronic signature platforms to streamline signing.
Post-Award
During Post-Award contract management, software can consistently monitor and track the ongoing progress, performance, and status of your contracts. With milestone and obligation tracking features, you'll ensure that actions are taken proactively so that your contracts stay on the right track throughout their lifecycle, notifying the right people at the right times along the way in the case of approaching auto renewal dates or requests for approval. With contract management software, you can configure automated notifications to alert select stakeholders of upcoming deadlines and obligations.
Renewal
With contract renewals, a software solution assists you in preparing for a new and improved agreement by keeping you up to speed with automated reminders and readily available data analytics. In addition, you can leverage audit trails to assess the lifespan of the contract and how it may have changes between each renewal.
Departments That Contract Management Software Can Support
Contract management software provides accountability and visibility into contract activities, which can greatly serve companies throughout their departments involved in the creation and ongoing management of each contract. Contracts are the foundation of any business relationship, so optimizing your contract management process wherever possible is necessary. This can start by taking a look at each department involved in contract lifecycle management.
The Procurement Department
Procurement works to identify and build relationships with suppliers and vendors, where they work at negotiating contract terms. Contract management software supports the speed and efficiency of contract building by offering compliance monitoring, preapproved contract templates and clauses, and much more. Contract management software offers procurement the ability to gain increased insights into how a contract is functioning in relation to a company and its objectives. In this way, procurement can understand whether or not the business partnership might result in achieving business objectives.
The Legal Department
Legal works to review the accuracy and compliance of your organization's contracts. With a software-supported approach, you can cut down on risk and increase compliance rates because software allows users to rapidly pinpoint areas of concern. To add, software gives users the ability to analyze their contracts business-wide and generate risk assessments and reports, as well as monitor compliance.
The HR Department
Contract management software supports HR departments in streamlining hiring and employee onboarding by centralizing employee contracts (i.e., NDAs and offer letters.) Contract management software improves organization and accessibility to key contract data and materials. Company guidelines and handbooks can also be stored in your contract management software.
The Finance Department
Contract management software helps finance identify services with below-average performance as well as unpaid revenue. With digital automated workflows, you can maintain a proactive approach to your contracts and mitigate missed due dates and payments. Software can also help you build terminations and addendums on demand while confirming each party works from the most current draft version.
Why Businesses Leverage Contract Management Software
Managing a high volume of complex contracts can prove to be a daunting task for any company. Outdated methods to managing contracts can stunt the growth and profitability of your business, so to prevent against a steep decline in productivity and performance, many businesses have offloaded their contract tasks and activities to software capable of automating many of them. The majority of companies employ a contract manager. If you're considering doing so, then your business will likely benefit from the addition of contract management software.
The myriad of activities and tasks that compose the contract lifecycle are typically manual, intricate processes that are prone to manual errors. To ensure accuracy and consistency in your processes, contract management software can help. Now, you can scale your business without spending time and resources on hiring additional team members.
The Advantages of Contract Management Software
Contract management software helps you generate more business by systematizing and standardizing your contract activities and lifecycles. Contract management software offers what you need to understanding contract performance, allowing you to make data-driven decisions on how to optimize your practices.
Save Time During Contract Drafting
Contract management software cuts down on time spent creating each agreement from scratch. With preapproved contract template and clause libraries, you can standardize each contract type and build accurate, compliant contracts rapidly every time. In addition, you can automatically refine contract clauses and terms by updating across your whole software system.
Improve Cross-Department Collaboration
Document version control is a key feature of contract management software. With version control, multiple collaborators from different departments can work on the same contract, where they can edit and comment on the document simultaneously while ensuring the contract at hand is the most current one.
Secure Contract Sharing
Thanks to the cloud, authorized users can access contracts and associated documents within your system at any time, any place, on any device. With secure links, users can access, view, and edit documents. Electronic signature is another incredible capability that streamlines contract management, where you can send off documents for signature and receive a signed and fully executed contract back within minutes.
Advanced Search Capabilities
Contract management software is equipped with customizable filters that can be saved for repeated use. This helps users locate contract types within their digital repository that they regularly work with. Text-based search functions also support rapid contract retrieval, sorting through a massive volume of contract data in seconds.
Enhanced Security
The legal and confidential nature of information contained in contracts make these document especially sensitive. With audit trails, encryption at rest and in transit, and several other security features, you'll ensure the most risk-mitigative approach to managing your contract portfolio.
Cloud Storage
Digital contracts aren't the end-all be-all. You can lose these just as easily by storing them on shared drives. However, with cloud storage and security, you won't have to fret about your contracts being found in the wrong hands.
Digital Repository
Over time, you will have created an exorbitant number of contracts. Contract management software can support you in efficiently storing and continuously managing them over time. Want to review a past contract to glean insights on how it performed? You can easily do so, as every contract is stored and archived in your digital repository.
Scalable
Stay up to speed with the demands placed on your organization by leveraging a contract management system. Contract management software is conducive to the modern-day growing business, as it can support your company in maintaining (or improving) contract speed, accuracy, and productivity. A growing business means a growing contract portfolio, so adopting technology designed to streamline contract activities can give you the competitive edge.
Faster Signing
DocuSign, Adobe Sign, Sertifi eSignature, and other leaders in the electronic signature space can support your company in rapid and secure contract signing, leading to cuts in turnaround times and faster contract execution. You can build, edit, approve, and negotiate contracts in real time across the globe, allowing your business to grow its reach and build more meaningful connections with vendors, clients, and suppliers in any location. Signing a contract with a client thousands of miles away becomes just as simple as signing a contract with someone within your city.
Conclusion
Contract might feel like one of the most complex aspects of your business. And they might be! However, overseeing the activities required by your contracts and completing contract-related tasks can be much easier and far more standardized than ever before with the help of contract management software. By improving your contract management process, you support your company in building time and cost-efficiency and by improving resulting value of your legal agreements. A contract management software solution has the power to automate several mundane, low-level responsibilities.
Here at Dock, we offer a Contract Management System built onto your Office 365 and SharePoint for a cost-effective and easily implementable contract solution. It's also accessible to all of your employees with no added costs per user. We also provide unlimited user support and training so that the implementation phase is also seamless as possible.
For more information, we would like to welcome you to schedule a free demo with us today.