Digital contract management has become the norm for many businesses. In the vast majority of businesses today, implementing a digital contract management system is the key to solving several contract-related problems.
For example, a digital solution can help manage high contract volumes, decrease risk, increase organizational control of contracts, reduce unnecessary costs, and increase time-efficiency within a business' contract management system. In essence, a digital contract management system can mitigate against a myriad of problems simply because operations are conducted over a user-friendly, secure, and centralized interface.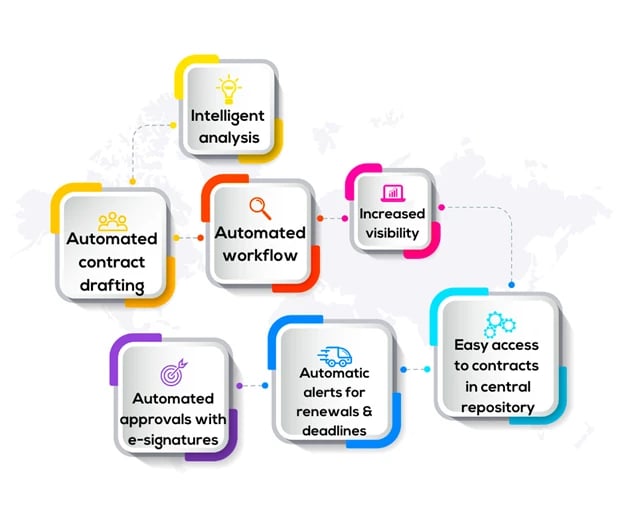 Let's take a look at 5 key reasons why businesses are transitioning from manual contract management to digital contract management instead.
Content:-
Reason #1: Contract Accessibility
In a manual contract management system, it can be difficult and time-consuming to locate contracts within the system. This is because storing contracts amongst emails, desktops, filing cabinets, and shared drives is inherently risky and disjointed.
Storing all of your company's contract data in a centralized location is the key here. In a manual contract management system, even if you think you know where a contract is, it'll most likely take a bit of effort to locate and access the contract.
By utilizing a digital contract management system, you can store your contracts in a highly secure digital software system that allows your employees to access contract documents at any time no matter where they are geographically. A few clicks on a centralized repository screen is way faster than rummaging through a filing cabinet or shared drive to find a single document. And because your contracts are always accessible, your employees can remotely obtain contracts when unforeseen circumstances present themselves – which would prevent access to documents in a manual contract management system.
In this way, a digital contract management system can ensure that business is always on the move, no matter where business operations are occurring. Remote access is often a highly underrated feature of digital contract management, but it's proven to be one of the most phenomenal and sought-after features when compared to manual contract management.
Reason #2: Boost Visibility and Transparency
Departments such as legal and leadership are often heavily invested in the contract management process and are typically expected to oversee and control contracts constantly. In this way, you can find the answers regarding contract information instantaneously and also receive feedback from these departments if you don't have the answer immediately on hand. For your own success on a professional level, having an appropriate level of organizational visibility and transparency in terms of contract details can be extraordinarily helpful when it comes to demonstrating your understanding of certain contract terms. Conversely, if your organization uses an outdated manual contract management system, then you most likely won't be able to answer certain contract-related questions in the moment.
Manual contract management systems can make things unnecessarily difficult for everyone involved, and it can be incredibly frustrating to gain information based on contract portfolios. Without a centralized system that every person can resort to find critical contract information, then your company risks making misguided decisions because they simply don't have all the details. With a digital contract management system, you can use specialized reporting functions to keep track of all contract data so you can have transparency and visibility over your contract management system at all times.
Storing contracts digitally is the solution to disorganized and time-consumptive contract management. Managing contracts in online portfolios is helpful because documents can be stored amongst various departments, offices, and computers while being fully accessible at any time. Additionally, digital contract management is great for providing you with an immediate reference for exact clauses, contract terms, and more. Whenever you need to manage ongoing agreements, you can find and refer to archived contracts to guide you with previous information that can prove to be more than helpful when building new contracts.
Reason #3: Save Time
It's simple – digital contract management saves time, and manual contract management takes way too much time.
So why not streamline right off the bat by using a digital contract management platform?
You can automate several parts of your contract management processes and increase efficiency overall, which will definitely be well-received by your employees. Digital contract management software includes numerous tools that allow you to free-up time spent on tasks that could be automated instead. When managing a large portfolio of highly complex contracts, using manual systems make it disorganized, time-consuming, and completely incohesive to track deadlines and oversee the legal standing of agreements.
Manual contract management systems also make it hard to access contract details during a manual contract review process, taking an unnecessarily long amount of time. As the demands increase on your business, managing deadlines, obligations, and overseeing contract reviews just become more and more challenging. A digital contract management system makes it easy to accomplish the repetitive daily tasks due to automation capabilities.
For example, locating exact clauses, getting current contract status updates, and overseeing incoming due dates all are simplified with search features, dashboards, and automated notifications and alerts – making the contract management process easier and more time-efficient for your entire team. In this way, you can allocate more time, resources, and brain power to initiatives that can help scale, optimize, and drive business results.
Reason #4: Increase Cost-Efficiency and Risk Mitigation
Manual contract management is very risky. You might miss important deadlines or lose contract data, which can negatively impact your business' reputation and internal operations. With a digital contract management system, you can monitor contracts at all times and gain insights on each contract, allowing you to make the most informed business decisions moving forward (i.e., to renew or not to renew). Manual systems make it easy for contracts to automatically renew without giving you a proper heads-up, meaning you miss out terminating or renegotiating terms in a timely manner.
Be in the loop of all contract due dates and effectively track obligations with a digital and filterable calendar. Physical calendars don't have the ability to send off automated reminders and are susceptive to human error. By having expiration notifications and reminders of renewals and other critical due dates, your contract management team will mitigate risk by being prepared for the events come ahead.
A digital contract management system allows you store, manage, create, edit, and collaborate on contracts in one place that serves as a single source of truth for all of your organization's contract management processes. These software solutions are equipped with automatic notifications, detailed reporting and data analytics, and digital calendars. For example, in a manual contract management system, you might have all the contract expiration dates and renewal deadlines written on a physical, paper calendar. Once you transition to a digital solution, you can shift all of these dates to a digital format that allows you to filter dates by type and enable notifications to be reminded of any upcoming date. The more preparation, the more you mitigate risk.
Reason #5: Digital Contract Management is Conducive to Growth
Scale your business successfully with the help of a digital contract management system so you can store and track contracts effortlessly as demand increases. Digital contract management is optimal because it allows you to save time, increase visibility, automate processes, access contracts instantly, and so much more. To conduct contracting processes manually, it can become overbearing to maintain a contract portfolio as both demands and the level of complexity of contracts increase. Maintain control in the best way possible by transitioning to a digital solution.
Do you find it hard currently to maintain an organized, accurate, and productive contract management system?
Are demands steadily increasing on your business in terms of contract management?
Then, it might be time to make the switch to a digital contract management system.
To be fully prepared for growth, you need to be able to support your contract management processes and make the necessary changes that are conducive to that growth. By transitioning to a digital contract management system, you gain a stronger level of accessibility, control, and visibility over all contract management processes. You'll be put at ease knowing everything is stored in a single, secure place, and that even as your contract portfolio and demands increase, that you'll be more than ready for the challenge.

Conclusion
Today, you can give your business the best tools possible by transitioning to a digital contract management system. Here at Dock, we are experts in SharePoint and Office 365 and want to help business utilize their features to revolutionize and streamline contract management. Our Contract Management System is equipped with several amazing features that will help improve the quality of your contract management processes with the help of a SharePoint and Office 365-based collaborative software interface. Improve business dealings, increase contract compliance, reduce bottlenecks and turnaround times, enhance risk mitigation efforts, and completely overhaul contract management team productivity for the better with our contract management software.
Ready to get started today? Reach out to us to learn more about our  Dock 365 Contract Management System.