Today, businesses recognize the utility of software to improve operational efficiency, sales, and business results. However, companies often underestimate the value of adding a dedicated contract management into their sales strategy. Let's discuss the advantages of integrating CRM and contract management technologies.
Content-
An Introduction to CRM and Contract Management Software
Customer Relationship Management (CRM) solutions have been used by business and sales professionals for many, many years. CRM applications support salespeople in monitoring leads, contacts, opportunities, and other key sales details. A CRM solution helps users track the status of opportunities with sales cycles to assist them in determining the likelihood of closing a deal. CRM apps outline monthly, quarterly, and annual sales provide visibility into the results of the current sales strategies. For monitoring, forecasting, and managing sales and customer data, CRM apps certainly standout, especially given their dashboards and reporting capabilities.
Contract Management Software supports business throughout the contract lifecycle by standardizing tasks, automating workflows, and increasing security. The contract lifecycle itself consists of the many stages that a contract undergoes from contract request all the way to contract execution. Take a customer contract for example – a given organization's legal, finance, and sales departments may be involved in different activities during the contract's lifecycle. When the request for contract is complete, the contract is then authored, negotiated, reviewed, approved, and signed. A proven contract management software solution can automate and standardize processes within contract lifecycles to save time, energy, and resources.
Why Integrating Both Solutions Is The Best Business Decision
Integrating these solutions can be majorly beneficial for most organizations. Even if you currently have a CRM and a contract management system in-house, integrating them will support your business even further. Whenever there is a new sale on the horizon, oftentimes salespeople leave CRM apps to calls and emails, or they might ask a colleague in the legal department to handle requests for contract drafting. In this common scenario, your business can fall susceptible to the following issues:
Reduced visibility – a lack of an integrated sales contract request means that tracking the status of a given contract in relation to opportunities and accounts becomes unnecessarily complicated
Inaccurate and duplicate data entry – without a standardized and integrated sales contract request process, opportunity and/or account metadata is often required to be manually duplicated (increasing chance of human error and risk) even if it is already stored in your CRM software
Decreased sales productivity – by working within an integrated CRM application for contract activities (progress/status tracking, contract generation, requests for contract, etc.) sales representatives can produce more results in less time due to increase efficiency

What To Expect From Integrating Contract Management and Sales
Say a company has adopted both CRM and contract management in-house software applications. How might integrating these solutions look to users on each system?
In the case of sales, when a potential sale is on the horizon, salespeople submit requests for contract drafting to their legal team via CRM application on an email, call, or message to legal. And with an integrated contract process, features of the contract management system will be available within the CRM solution – giving sales the ability to submit contract requests with minimal data re-entry without leaving the central business app. In addition, users can monitor approvals, search and filter through contracts, and make processes more efficient overall. In the same way, legal professionals and contract managers gain a comprehensive overview of all critical tasks as well as gain peace of mind knowing that several low-priority tasks are automated by the contract management solution.
5 Advantages To Integrating CRM With Contract Management Software
Let's unpack the major benefits of integrating these solutions.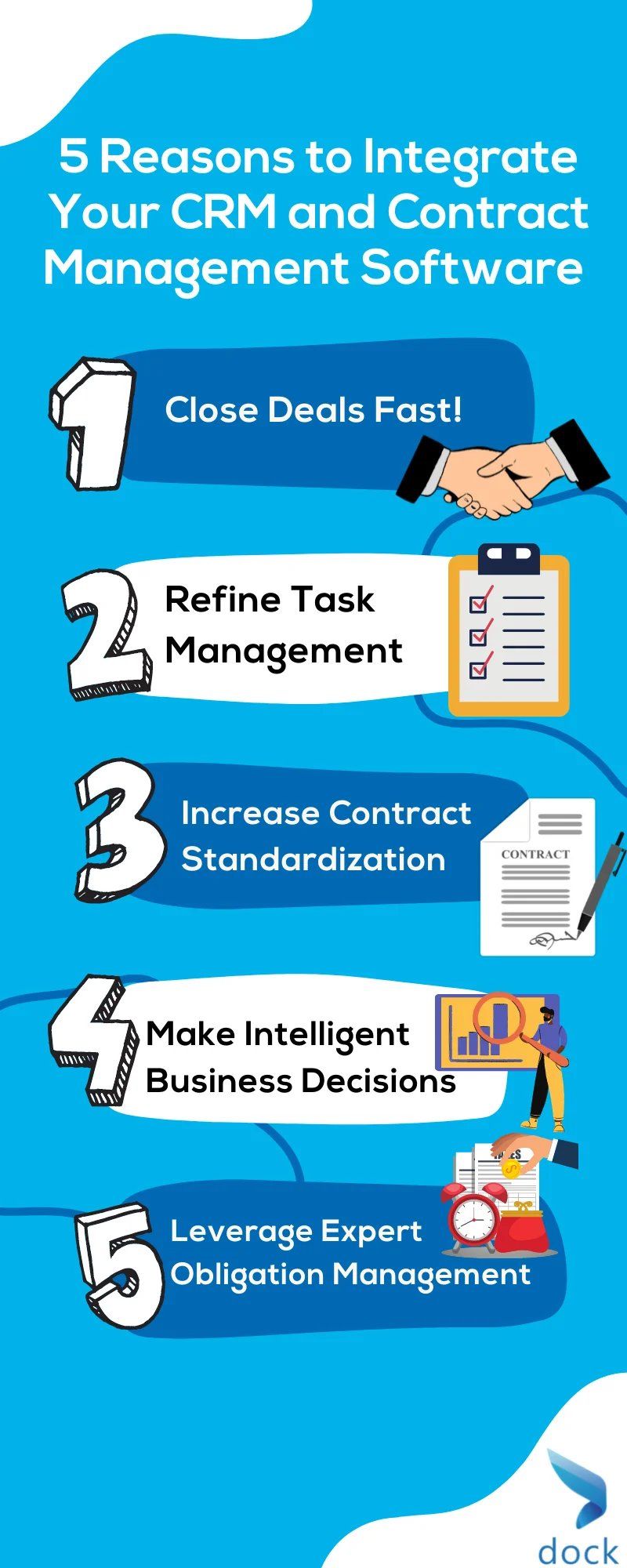 Close Deals Fast!
Integrating your contract management and sales experience will reduce sales cycles. Self-service requests make it easy to create contract drafts with preapproved templates, cutting down on time when sending the draft to sales reps. Contract management software automates several processes, creating a systematized and risk-mitigative business approach that allows you to save time in contract lifecycles and sales cycles. Ultimately, these advantages support sales in closing deals exponentially faster and in closing a higher quantity of deals in less time.
Refine Task Management
A company is only as great as its employees – and integrating these solutions can lead to a refinement in the expectations placed on your team. You can help develop increased focus among your team by simply leveraging software that takes care of several administrative tasks. In the case of sales, this might look like less time spend on contract status monitoring, emailing, and data entry and more time with customers. Features provided by these solutions including workflow automation, custom reporting and dashboards, automated approval procedures, and collaboration tools can help support your team so they can spend more time doing what they are best at.

Increase Contract Standardization
Mitigating risk and keeping client information confidential should be some of your organization's highest priorities. Oftentimes, companies will adopt contract management software to increase security and to protect their business. A contract management system can support your company by ensuring that approved, compliant contracts are authored and that drafts are appropriately approved prior to sharing documents or executing them. With an integrated contract management and sales process, you can ensure the right data is captured during the contract intake and request process on custom contract intake forms. Automation additionally allows sales to collect data on these request forms for simplified document assembly based on custom business rules.
Make Intelligent Business Decisions
With your integrated contract and sales experience, your system will automatically store your executed contracts in a cloud secure digital repository in your contract management system and/or in an account/opportunity file in your CRM for you to review at any time. Many business professionals are looking for a solution that allows them to rapidly access contracts in the stir of the moment during a negotiation. Having what you need on hand exactly when you need it most is possible with an integrated solution.
Leverage Expert Obligation Management
Gone are the days of lost, missed, or forgotten key dates, contracts, and documents. By integrating your CRM contracts and contract management system, you can enable automated reminders to be sent to the right people well in advance to increase compliance and improve customer experience. This way, you'll create a proactive and risk-mitigative approach to all of your company's contracts by making sure obligations are fulfilled according to contract terms every time.
Conclusion
Given all the incredible advantages mentioned previously, it's clear that integrating your CRM contracts with your contract management system is the way to go that will give you the competitive advantage. If you wish to reduce sales and contract lifecycles, boost productivity and workplace efficiency, standardize contract workflows, make the most out of your negotiations, and ensure all obligations are met – then this is exactly the step we recommend taking.
Here at Dock, we have a dedicated and cost-efficient contract management system that leverages your Microsoft 365 and SharePoint subscriptions. If you're looking to adopt a dedicated contract management system, reach out and we would love to assist you with a complimentary demo of our solution.
Learn more about our Dock 365 Contract Management System here.
Learn more about Contract Lifecyle Management (CLM) Software here.
For more information, we welcome you to schedule a free demo with us today.