Contracts are a foundational component to any industry's operational processes. In the context of contract management in the transportation and logistics industry, it's especially critical to keep your contract data protected from security breaches, as these can result in a myriad of financial, legal, and reputational damages. With contract management software built with specifications for the freight industry, you can safeguard against the chances security challenges and data breaches. And in today's digitally dominant business arena, a contract security breach can mean several major business consequences.
Content-

An Introduction to Freight Contract Management Software
Many leading transportation and logistics companies have turned to digital contract management solutions in efforts to cut costs, improve efficiency, and increase their return on investment within a highly competitive industry. Enterprise-level organizations have largely recognized the utility of contract management software, as it offers advanced features to ensure compliance, a positive client experience, and contract security. However, many businesses have yet to adopt contract management software, meaning they miss out on many benefits by way of collaboration, data centralization, accuracy, and accountability.
Freight contract management software allows organizations to effectively monitor and manage carrier relationships across several contract types in a secure, user-friendly way. Dedicated contract management software simplifies and streamlines contract lifecycles with on-demand reporting, real-time contract monitoring, automated contract expiration and renewal reminders, and comprehensive data analytics capabilities.
With a traditional manual contract management system, you'll encounter more risk potential than that of its digital contracting counterpart. For example, several transportation and logistics organizations store contracts in outdated ways via shared drives and filing cabinets, making documents both easy to lose and hard to retrieve. Freight contract management software allows you to increase contract security and gain confidence in your contract management, once and for all.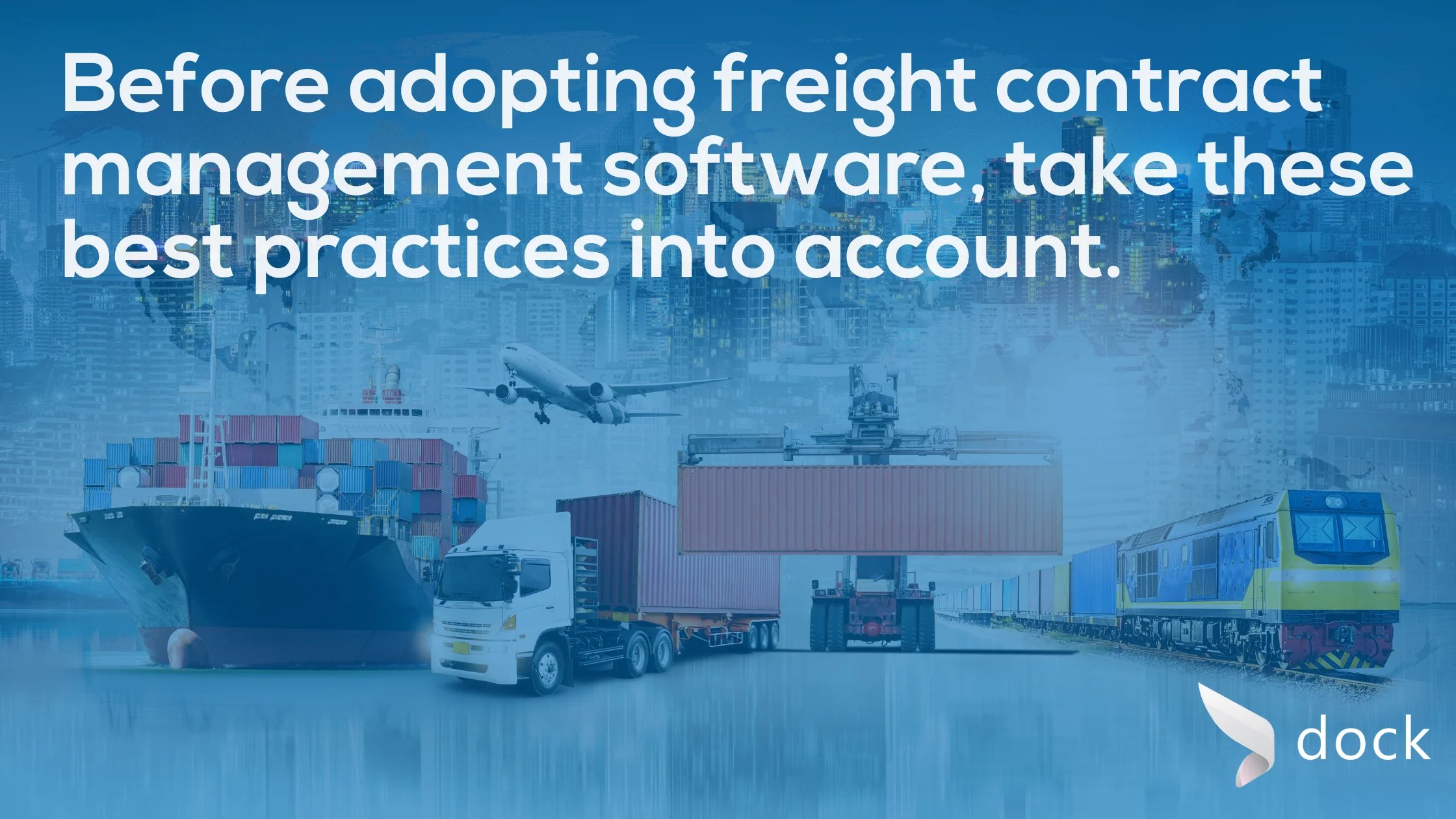 Now, let's go over some best practices when using freight contract management software:
1. Use a cloud secure centralized contract repository.
Oftentimes, transportation and logistics businesses will keep their contracts stored in shared files spread across several locations and in different digital formats. For the most secure form of contract management, storing your contracts in a private, cloud-based contract repository is the absolute most important action to take. A centralized contract repository makes it easy for you to filter, sort, store, and archive contracts for rapid retrieval at any time. In addition, authorized users can access contracts whenever they need from any place, on any device. You'll certainly be at ease knowing that your contracts are exclusively accessible to only the authorized employees in your organization.
2. Leverage role-based access features.
Freight contract management software allows you to store contracts in a centralized manner while maintaining control of exactly who is allowed to gain access to them. Role-based access allows you to determine the levels of access to select documents to increase security. With your role-based permissions, you control which users are and are not allowed to read, access, edit, and write specific types of documents or contracts. This means you can safeguard against unauthorized users from doing any of these activities with your contracts and associated documents.
3. Encrypt contract data.
One key best practice when using freight contract management software is to encrypt all of your contract data. This protects your contracts from being accessed by unauthorized users. It's also important to note that your data should be encrypted during transit and at rest as well. Unfamiliar with these concepts? "Data in transit" essentially refers to data that is sent externally to/from your organization's contract management software to an outside application or user. "Data at rest" is the data stored in your contract management software.

4. Use electronic signature integrations.
The contract signing stage is one of the most time-consuming components of the contract lifecycle. Luckily, freight contract management software offers integrations with leading electronic signature integrations like DocuSign and Adobe Sign to streamline this process and cut down turnaround times. Leveraging an electronic signature integration is a best practice that will keep your contracts secure and allow you to get more contracts signed at faster rates. Electronic signatures are legally bound, and thanks to the ESIGN Act, you can rest assured knowing that transitioning to e-signatures over traditional wet signatures has the advantage in terms of security.
5. Capture data with secure intake forms.
The contract intake and request process is one of the most critical stages of contract lifecycle management. With flexible and customizable contract intake forms, you can ease this process for your organization's legal team. Rather than using emails for contract requests, contract intake forms will help you capture the correct, accurate client information to minimize risk and save time when developing contract drafts. Predefined, encrypted contract intake forms allow your employees to rapidly collect contract data and then request contract authoring. In this manner, you increase the security and accountability of your contracts with efficient data collection – minimizing the need to reenter data and therefore reducing the possibility of human error.
6. Configure all security capabilities.
Many companies in the transportation and logistics space have made the transition to contract management software to both gain the competitive advantage and to keep their contracts secure. With freight contract management software, you can increase productivity and efficiency while saving both time and money. But, what's one of the most important contributing factors to these benefits? Security features. Prior to investing in contract management software, ensure that the solution you adopt is equipped with a cloud platform that supports freight industry-specific security standards. This way, you leverage a solution that maintains data privacy and integrity.

Conclusion
Is your transportation and logistics company ready to transition to an online contract management software that automates contract lifecycles, mitigates risk, and centralizes your contracts and data? The Dock 365 Contract Management System offers everything you need.
Here at Dock, we use your existing Office 365 and SharePoint investment so you can easily adopt your CMS and get the most out of your Microsoft subscriptions. As a Microsoft partner, we have extensive experience in supporting enterprises in streamlining contract management with the assistance of Microsoft tools and integrated business solutions.
For a cost-efficient and proven approach to contract management, we're here to help you at Dock 365.
Interested in our Dock 365 Contract Management System? Click here.
Want to learn more about Contract Lifecyle Management (CLM) Software? Click here.
Schedule a free demo with us today for an in-depth and interactive overview of our Contract Management System.