In recent years, enterprises and various organizations have devoted more time and attention toward strategic contract lifecycle management (CLM) initiatives in efforts to drive business growth and profits. With the objective of reducing contract lifecycle times, many have redirected CLM processes from manual systems (i.e., physical storage and shared drives) to online CLM software solutions. In this way, companies can get the most out of their CLM with contract automation capabilities that can improve workplace productivity, compliance, and risk management all while shortening contract lifecycles.
There are many contract lifecycle management (CLM) software solutions available today. However, what separates the best solutions from the subpar ones? A lot of these solutions have drastically long implementation times which can halt a lot of your key CLM processes. It's also important to note which features are most helpful for your team and which features you could see your team doing without. Understand your needs first so you can check-off key boxes when evaluating which CLM solutions is best suited for your company's unique needs.
Optimizing your contract lifecycle management means faster contract authoring, negotiations, approvals, and signing. The newfound efficiency and productivity of your contracting processes will not only ease internal operations but will also boost the client and vendor experience when working with you on contracts. Additionally, automating the mundane tasks that take up precious time is a key reason to add CLM software to your repertoire.
Today, we will discuss how to find the right fit when searching for a CLM solution for your business – so consider the following essential features below if you're on the hunt for an online contract lifecycle management software platform.
Content-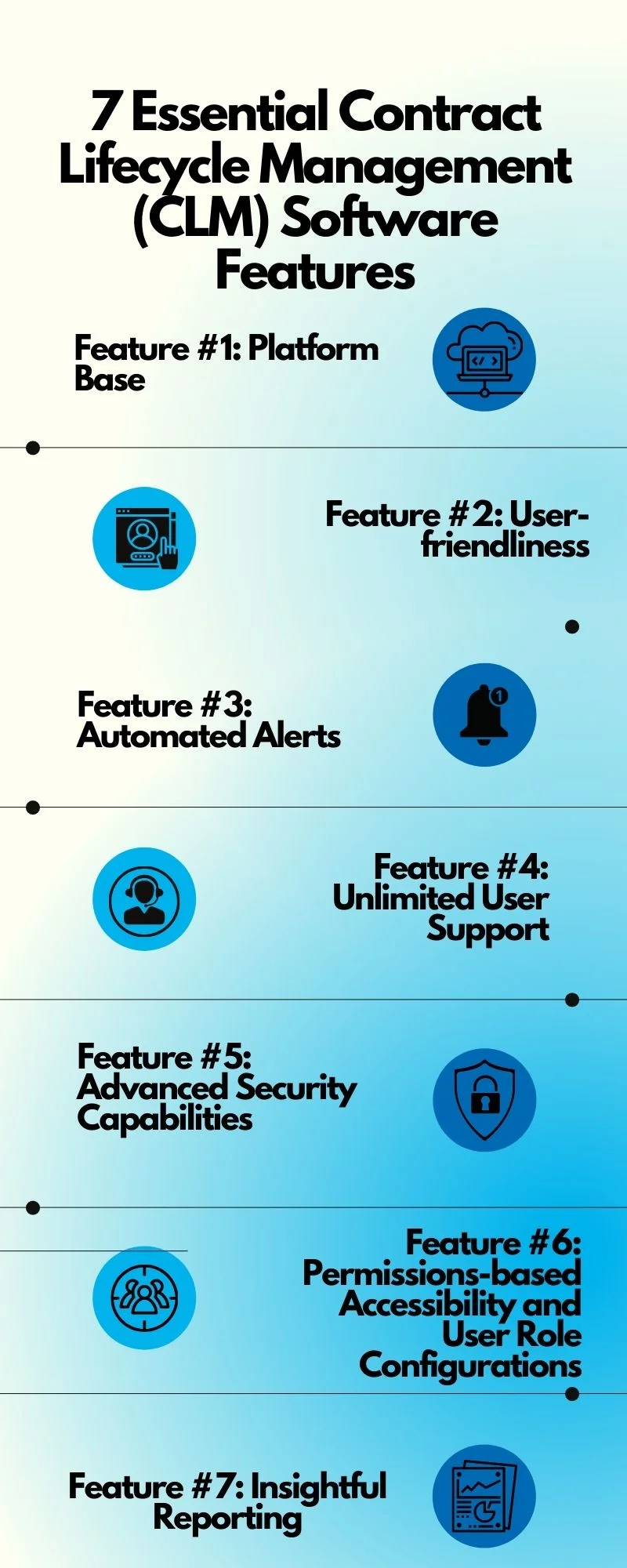 Feature #1: Platform Base
Contract lifecycle management (CLM) software platforms are designed for pre-signature, post-signature, or the entirety of contract lifecycles. Each solution will include various features, so first take a look at which part of your contracting process could use assistance so you select the right solution. For example, a pre-signature platform will assist in your contract authoring and negotiation stages. On the other hand, a post-signature platform is best for businesses that need help with storing, retrieving, and reporting on their contracts. We highly suggest going with a platform that can assist you in the entirety of your contract lifecycles so you can standardize contract management as a whole during every stage that a contract undergoes. Many of these platforms are created for select phases in contract lifecycles, so remember to assess where you need assistance most prior to selecting a given CLM solutions.
Feature #2: User-friendliness
Contract lifecycle management software will only improve your business's productivity if it's simple to use. With a software platform that isn't user-friendly, you might as well revert to a manual contract management system and save yourself from the technology-invoked headaches. Not to worry – there is an abundance of fantastic CLM solutions that offer an easy and user-friendly approach to managing your contracts. The reason why user-friendliness is so critical is because of how much time you can save. Software that's difficult to use will contribute to bottlenecks, missed opportunities, and time and money lost. No need to settle for a poor interface or complicated contract search and retrieval features – these items will only result in delayed contract execution and frustration for your internal teams. You additionally want to look for a platform with a fast implementation time so your employees can quickly and efficiently learn the new system and begin using it right away with ease. Before you make your selection of CLM software, demo the software, and see what the user experience is like and if you could envision the software being the key to improving your operations. We recommend keeping this simple concept in mind when looking for the right solution for your business: the more people that use the system, the easier the system should be to operate.
Feature #3: Automated Alerts
Organize your tasks, obligations, and key dates in a centralized system so you keep your entire contract management team and other involved departments and stakeholders in-the-loop. This way, you can enable automated notifications to remind your procurement teams of things like contract expiration and contract renewal dates so you stay on top of things. Now you'll never have to worry about missing a key date or accidentally auto renewing a contract you didn't want to keep. You can also use automated alerts to help track payment deadlines and project deliverables – adding an extra level of accountability and visibility for both your financial teams and project management teams. Centralization and organization are the name of the contract lifecycle management game, and alerts only help with these aims. You're going to want to employ a CLM solutions that allows you to customize these alerts and assign them to specific people so that the right people take the right actions at the right times. Email-based notifications will help keep everyone communicating and on-schedule. We also suggest using a CLM software that integrates with your online calendar so you can filter through key dates, deadlines, and tasks easily.

Feature #4: Unlimited User Support
One of the most key considerations when selecting a contract lifecycle management software platform is the level of user support provided. If the software requires hefty amounts of resources and times during implementation, the software provider should most definitely help with the beginning process. The best CLM software providers will go the extra mile to ensure your company's success when adopting their solution. For example, here at Dock, we help to import your data into your customized Microsoft 365, SharePoint, and Microsoft Teams environments so your entire team can make an easy, seamless transition to our CLM system – at no added cost. We recommend using a software provider that also provides unlimited, complimentary training so that all of your employees can get a handle on the software. Being able to successfully adopt the software is critical, so software providers should be more than willing to train your employees for free.
Feature #5: Advanced Security Capabilities
Secure contract storage is an absolute must-have to protect your business from risks and security breaches. With a cloud-based contract lifecycle management (CLM) system, you're going to want to look for how the software provider protects sensitive data by ensuring there are sufficient security features like data encryption and permissions-based accessibility. Audit trails and electronic signature integrations are additional features that can help keep your contracts and client and vendor information protected. When looking for CLM software, ask about backups, data recovery, intrusion detection, and other features so you can keep your company data safe from cyber security attacks.

Feature #6: Permissions-based Accessibility and User Role Configurations
Keep your contracts in the right hands by enabling permissions settings and user roles. Nothing is worse than an internal source accessing your contracts when it's not their place. With permission-based access controls and user roles, your contract administrator can control who is allowed to review and access certain documents. As mentioned previously, audit trails can help protect your company's sensitive information. However, audit trails also offer details regarding who accessed, viewed, and editing files with corresponding timestamps. This provides an added benefit of accountability and detail so you can troubleshoot when there's a mistake. what file at exact times. All of these items will contribute to the transparency and visibility of your contract lifecycle management processes while simultaneously protecting your business.
Feature #7: Insightful Reporting
Identify areas of improvement and capitalize on strengths by developing detailed contract management reports so you can increase productivity. A contract lifecycle management (CLM) software platform with reporting capabilities will allow you to evaluate all of your processes – from contract lifecycle management to sales and HR. We recommend leveraging a CLM solution inclusive of a proactive, comprehensive dashboard that provides you contract insights on-demand. This way, you can oversee the status and performance of contracts with just a few clicks and create detailed reports within seconds. With real-time updates, you can examine metrics like vendor performance, deadlines, and financial data to keep your whole team and tasks organized and ahead of schedule. The ability to generate accurate contract management reports is especially helpful for larger business operations and enterprises that oversee several departments working on contracts. Keep your internal parties in-the-loop of important contract metrics with your customizable dashboards and contract reports.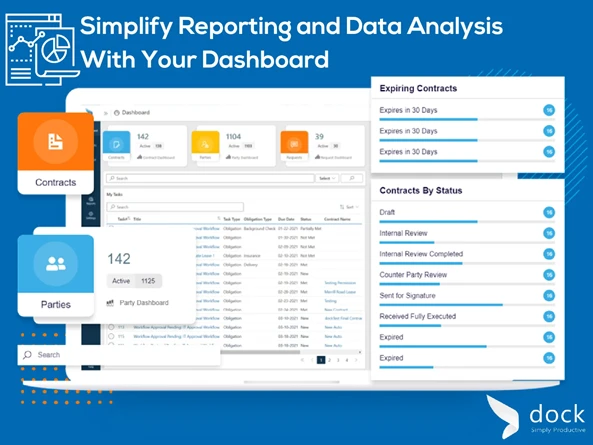 Conclusion
Contract lifecycle management (CLM) software features will vary from provider to provider. The optimize CLM solution for your company will ultimately depend on the size of your company, your needs, and your goals. However, these seven essential features are ones worth keeping in mind when you begin searching for a contract platform. If you're ready to learn about a Microsoft 365 and SharePoint-based contract lifecycle management (CLM) system, schedule a complimentary demo with Dock. Our all-in-one, user-friendly solution will boost the productivity and business results in your contract management processes.
Learn more about our Dock 365 Contract Management System here.
Learn more about Contract Lifecyle Management (CLM) Software here.
For more information, we welcome you to schedule a free demo with us today.