In this guide, we cover the following topics related to contract lifecycle management services:
Content-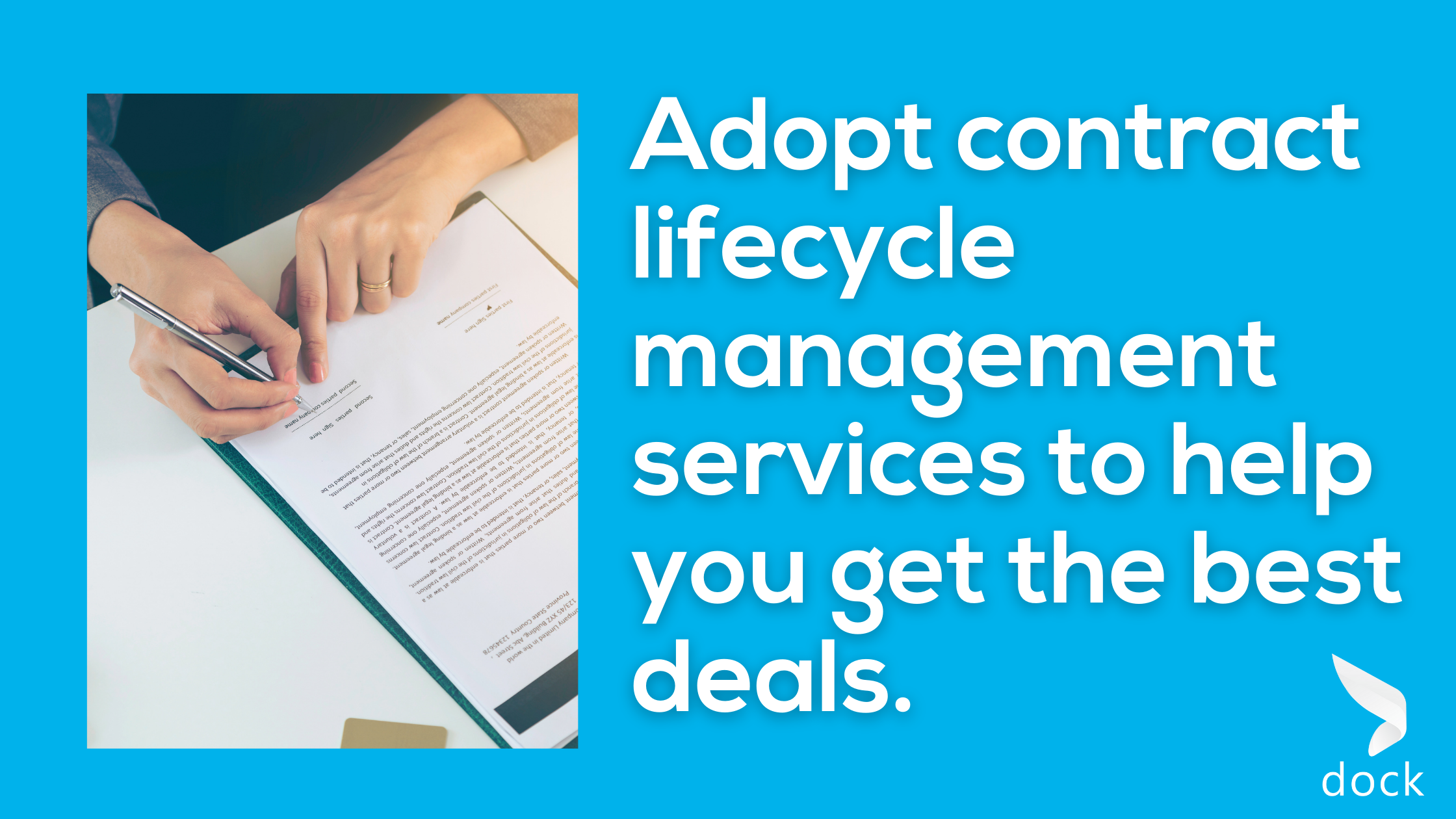 What is Contract Lifecycle Management?
Contract lifecycle management is the process of stages required to successfully create and execute a legally bound contract. Stakeholders from multiple internal departments are involved in the contract lifecycle. From legal and finance, to sales, HR, and procurement, every contract leverages the expertise of multiple professionals from different disciplines.
The Stages of the Contract Lifecycle
Contracts undergo several required stages for the completion of various tasks by select stakeholders to result in a finalized, compliant contract. Below, we'll take a look at every stage involved in the contract lifecycle and discover how adopting contract lifecycle management services can increase standardization and mitigate risks during the lifecycle of each contract your company executes.
In the contract request stage, the potential client submits a request for contract. Based on the information provided by the potential client (or vendor/supplier) in the contract intake and request form, the information is auto populated into an appropriate, preapproved contract template. Many contract management solutions offer customizable contract intake forms, where the potential client provided contract information like milestones, term dates, names, contact information, and more. Following this, a comprehensive audit trail is created, and the new information is securely stored within your system's digital repository.
During the contract authoring stage, the parties to a contract work collaboratively to develop a legally binding contract that includes terms, obligations, and other specifications that align with the objectives of each party. Details like counterparty contact information, business phone numbers and addresses, milestones, payment deadlines, term dates, standard clauses, and milestones are included in contracts. Information provided by your prospective client or vendor in the contract intake form is then auto populated into your preapproved contract template. This new contract draft is securely stored into your organization's digital contract repository. Leading contract lifecycle management services provide an intuitive, user-friendly repository that makes document storage and management seamless. These solutions often offer clause merging, metadata auto population, and centralization of all of your sensitive data and information to ensure a secure contract authoring phase.
The contract approval stage is where a contract is reviewed and then approved by specified internal and external approval parties. After the review is completed, the contract draft is approved and then routed to the next phase of the contract lifecycle. Certain contract lifecycle management services available today offer flexible and customizable automated workflows to take the guesswork out of the steps and tasks to be completed for each agreement. These automated flows can be saved for specific contract processes (i.e., a contract approval flow) and used repeatedly, allowing you to standardize and create reliability in your procedures. These flows ensure your drafts are sent to the right people at the right times to complete exact tasks.
Contract execution refers to the stage in which a contract is given its associated parties for electronic signature (or traditional wet signing). Once a contract is signed and fully executed, its terms legally bind the parties, activating the contract itself. For seamless contract execution, we highly suggest that you integrate with leading electronic signature providers for a rapid and secure contract signing experience that your clients and vendors will love! The signing party can sign any agreement within seconds on their own mobile device at their convenience, no matter the time or place. Here at Dock, we have integrated with DocuSign, Adobe Sign, and Sertifi eSignature.
Following contract signature and execution, the contract is then stored as a file in your digital repository system. A SharePoint-based contract repository is the best choice for optimal contract security within a cloud platform. In your digital repository, you can use advanced text-based search capabilities to find exact terms and clauses out of hundreds of thousands of metadata. You can even leverage customized filters for specific contract and clause types that you can have on hand for repeated use. If you need immediate answers to your contract-related questions, the search and filtering capabilities are phenomenal, allowing you to have the information you need at the critical times you need it most (think negotiations here!) Sift through all of your stored files by specifying party name, contract type, department, and more. An effective contract storage system is often overlooked and adopting one will certainly change the game for your organization's contract management. It's more than storage – it's a more productive and secure way to retrieve, manage, and continuously monitor all of the documents that your company keeps. In addition, cloud security offers a powerful layer of protection over all of your sensitive files and metadata.
Records management is one of the less commonly discussed stages of the contract lifecycle. This stage involved the continued tracking and monitoring of active and past contracts. It's critical that your system is equipped with document backup features, such as SharePoint Backup and SharePoint Restore. For constant security over your data and to gain confidence over your contracting processes, it's essential to adopt contract lifecycle management services that prioritize data security.
This stage of the contract lifecycle refers to how your organization finds contracts, clauses, associated documents, and key terms within its digital repository. By optimizing your organization's contract search and retrieval stage, you increase the ease of contract accessibility. Ever find yourself wasting hours or even weeks trying to find something specific from your contract storage system? Or have you ever lost a contract due to disjointed storage? Kiss these storage bottlenecks goodbye with a contract management system. In addition to enhancing contract accessibility, you'll improve your business decision making strategy because you'll have all the contract answers at your fingertips. In your cloud-secure environment, equipped with permissions-based access features, text search, and custom filters, you'll ensure that your contracts never go amiss ever again!
During reporting and data analysis, your teams extract key contract metadata to compile and share contract management reports and assess pitfalls and strengths of current processes and strategies. You will also review the progress and performance of your contracts during this stage. With your custom reports, you and your teams can proactively mitigate risks and manage current ones. You can assess which contracts performed well, and which contracts did not, allowing you to pull the data, learn from your processes, and develop better contracts moving forward. A contract management system empowers your teams with constant contract visibility, so you can view the status, progress, and performance of any contracts at any stage of the contract lifecycle. Examples of metadata used for analysis during this stage include, but are not limited to renewal figures, sales statistics, contract term data, contract term duration, monetary value of contracts, vendor performance and scoring.
And finally! Contract renewal. The last stage of the contract lifecycle. At the end of a contract's active term, it's necessary to keep the renewal deadline on hand so that you can prepare! Without proper preparation, you drive risk potential, meaning any party to the contract could incur financial penalties. Renewals must be completed on time so that contractual obligations with vendors and clients are legally protected. With dedicated contract management software, you can configure automated reminders to help manage key tasks and time-sensitive responsibilities to ensure you're ready ahead of time for renewals. This is particularly important for contract configured for auto renewal. If you're ready to cultivate a proactive, risk-mitigative culture surrounding contract management, then adopting contract management software is the best investment you could make.

The Modern Business Advantages of Adopting Contract Lifecycle Management Services
Contracts are the cornerstone of numerous business partnerships; however, many organizations fail to recognize the importance of prioritizing contract performance and standardization. Even if your business consistently delivers a great product and/or service, you should absolutely systematize your contract procedures and implement dedicated strategies to mitigate risks. In many instances, it's the businesses that overlook the important of contract efficiency that end up missing out of potential deals, business partnerships and opportunities, and ways to improve their bottom line.
It's no secret that contracts are important. They're used in sales processes, hiring, intellectual property rights, legal proceedings, and so much more. Defining the requirements for products and services to be transferred between contracting parties, as well as determining the obligations, conditions, and terms for the agreement, contracts mitigate risks for both sides.
Today's Contract Lifecycle Management Services
The contract lifecycle management solutions available today empower companies to oversee massive contract portfolios in a manner that is unique to their business needs and objectives. There are even contract lifecycle management services available designed specifically for small business support. Contract lifecycle management services assist companies by mitigating risks, streamlining signing with secure electronic signature solutions, and standardization of the contract lifecycle. All of these factors improve the client and vendor experience to keep them coming back to your organization.
The numerous advanced capabilities provided in contract management solutions today can enable more results from your contracts and support you in leveraging better deals and opportunities. You'll also increase the security of your contract data, prevent risks, increase compliance, and enhance workplace productivity and communication with these services.
Common Mistakes in Contract Lifecycle Management
Effective contract lifecycle management requires strategy, practice, and precision. To get the most out of every agreement, your team should be aware of the most common mistakes made during the contract lifecycle. Don't encounter common bottlenecks and delays when they're completely preventable. Instead, gain an awareness of what not to do during contract management so that you set your team up for contract success.
Let's take a look at the some of the most common mistakes made during contract lifecycle management.
1: Forgetting important dates and deadlines
Contracts contain critical obligations, deliverables, and payment timelines that must be followed and adhered to. With insufficient contract management, you fall prey to letting these critical deadlines slip through the cracks unnecessarily. An intuitive contract management solution can assist you and your teams with automated contract reminders, where you can configure these reminders to alert your teams of all time-sensitive contract responsibilities. This way, you have enough time to prepare ahead and get the best deals. Automated reminders are commonly used to keep teams up to date on upcoming auto renewing contracts and approaching expiration dates.
We highly recommend steering away from calendars because these are pron to mistakes and inaccurate data entry. For more information on what automated reminders can offer to your organization, click here
2: Using a manual contract storage system
How do you currently store your organization's contracts? Do you store them in more than one place? If the answer is yes, then it's time to change that! Keeping your agreements in a disjointed contract storage system will only make it more difficult to keep track of where your conetracts are at.
So instead of misplacing your contracts or spending hours or weeks searching for a specific document, keep all of your documents protected in a cloud secure digital repository. There's no need to store your contracts and associated documentation in local hard drives, shared drives, computer desktops, filing cabinets, email chains, and other methods. What a digital contract repository has to offer is more than just organization and security. You won't need to stress about backing-up your software because all contract metadata is kept in the most updated file formats and versions. Contract accessibility is also a star feature of a digital repository. The cloud infrastructure means that authorized users can read contracts at their convenience on their digital devices at any time, in any location. Some solutions, like ours here at Dock, store your contract data inside of your very own Microsoft 365 tenant so that you never have to give an outside vendor access to your private data.
Want more reasons why manual contract management is not the way to go for managing your contracts? Then give the link provided a read.
3: No contract manager
Does your company have a person dedicated to managing contracts and overseeing the success of your contract lifecycle management strategy? Many companies do not.
Assign a contract manager to take control over the many deadlines and responsibilities associated with modern contract lifecycle management. In this way, you have a dedicated point-person to go to when you have inquiries regarding contract statuses, performance, and other questions. The contract manager can be the key to confirming that every contract maintains compliance and is in good standing.
4: Difficulty in finding contracts when you need them
When it takes far too long to retrieve important contract to retrieve contracts from your storage system, then you run the risk of missing out on opportunities that might come your way. By keeping contracts stored in a variety of places, it takes up more time to locate and retrieve contracts at the times you need them most for immediate access. A digital repository allows you to find exact key words, clauses, contracts, and associated files within seconds using custom filters and text-based search functions. Now, you can have the exact information you need on-the-spot for your negotiations. Today, many contract lifecycle management services are fully integrated with text-based search features and customizable, savable search filters.
5: Minimal permissions settings and suboptimal contract access
Have you ever had someone on your team delete a critical file or contract that they shouldn't have? Poor user permissions settings are often the root of this common problem. To prevent this issue, determine which access controls need configuring to ensure that only users of a specified role are able to access your documents.
If your company still uses manual contract storage, then permissions settings are essentially null and void. Instead, you can control which individuals are able to access and remove documents from your contract storage system. Now, you'll eliminate unauthorized contract access and decrease the chances of your sensitive contract metadata and files being deleted or edited. In addition, contract lifecycle management software allows you to restore deleted documents, a commonly overlooked feature of these software solutions.
For more information on user permissions settings in contract lifecycle management software, then click here.
To learn all about the different security features offered by modern contract lifecycle management solutions, click here.
6: Forgetting contract amendments
Store your amendments along with their contracts so that when you prepare for renegotiations, you ensure that you have the most up-to-date contracts and associated amendments. Within contract management software, you can identify exact amendments and with which contracts they are associated with. Upon review, you'll see the master contract connected with specific amendments as well as the amendments that have been signed.

Contract Lifecycle Management Best Practices
Let's talk about some best practices in contract lifecycle management.
Use a digital contract repository
Improving contract lifecycle management starts with the platform you use to store and manage your contracts. We suggest using a SharePoint-based repository that keeps your contracts and associated metadata secure within a cloud. You'll be able to find your contracts swiftly by keeping them in a single location. Secure cloud software empowers contract managers with the confidence that all of their sensitive contract data is kept protected at all times. Because of the cloud infrastructure, your team of authorized users can gain access to any of your company's contracts at any time on their digital devices from any location.
Keep tabs on upcoming auto renewals, expiring contracts, and milestones with automated reminders
With the assistance of automated reminders, you'll cultivate a proactive environment for your contract management. Now, select stakeholders and team members can receive reminders so they are fully prepared for key dates and deadlines ahead. The right people will have sufficient time to review contracts and prepare for negotiations or renegotiations so you can get the best possible deals. On the other hand, by having adequate time to prepare ahead of key dates, you can terminate unfavorable contracts prior to auto renewal. In your digital contract management system, you can add important deadlines into a filterable electronic calendar that your whole team can use to stay on the same page.
Use preapproved compliant contract templates and clauses
Maintain contract templates and clauses that are with the times in terms of current legal language. If you consistently work with similar contract types on a day-to-day basis, then standardizing you contract templates and clause types with digital template and clause libraries is essential to increasing productivity and mitigating risks during contract authoring. The utility of contract templates and clauses allows you and your team to self-serve on contracts. In this way, you free up time that your legal department would likely spend helping to author contracts. Legal professionals are already busy with their own responsibilities that require the knowledge they were trained in law school for – so why add more on their plate unnecessarily during contract authoring? Your legal department will love the functionality of contract template and clause libraries so that others involved in the contract lifecycle can take care of building contracts without needing to lean on legal. Now, your legal department can solely focus on the tasks that necessitate their specified legal expertise.
Review contract performance with custom, sharable reports
Using customizable reporting features provided by today's contact lifecycle management services, you can generate detailed contract reports based on select contract metadata to be shared with your employees and higher-level management to give everyone a data-based view of the success (or lack thereof) of your current contract management strategies and initiatives. With these customizable reports, you can summarize contract performance markers, review KPIs, and assess the progress and status of all of your organization's active and past contracts.
Oftentimes, contract managers become entrenched in other contract responsibilities and neglect to create and share reports on their contracts. However, to ensure that your contract procedures are effective and align with the current business objectives, reports are absolutely essential to developing internal awareness of contract performance and strategy. A contract report is very revealing, detailing the ongoing pitfalls and strengths within your contract lifecycle management activities.
Unsure of how often to generate and share reports? We recommend that you discuss with your higher-level management the frequency at which reports should be created. From here, you can schedule your reports to be distributed on an automated basis. If your contract portfolio is rather complex and very high in volume, then generating more consistent routine reports is likely the best strategy. In this manner, all of your departments can gain visibility into contract status updates, contract performance, and the success of new initiatives and strategies.
To learn even more about all-things reporting in modern contract lifecycle management, then click here.
Automate the contract signing process with electronic signature integrations
Signing contracts manually using pen and paper copies of contracts is severely outdated. Not only does it take a significant amount of time to send and snail mail your contracts out for signature (and get them back), but it's inherently risk and expensive! No need to settle wet signing when there's a digital alternative available. Now with today's electronic signature platforms, you can integrate your contract lifecycle management services with leading electronic signature providers for the most robust, secure, and streamlined contract signing experience that will keep your clients and vendors coming back to work with your company on their contracts. DocuSign, Adobe Sign, and Sertifi offer electronic contract signature solutions to modern businesses for secure and fast signing and contract execution. This results in shorter turnaround times and faster execution of contracts, meaning you can get more deals going in less time! Signers can receive contracts to their digital devices and sign at their own convenience at any time, any place in seconds.
Electronic signature integrations give contract managers the ability to document which parties are due for signing, automatically routing signed agreements, and attached documents to the following signer for streamlined, automated signature workflows. Have you ever considered how adopting electronic signatures can also increase the transparency of your contract management activities? You'll be able to easily view the status of all of your contracts and determine who has signed exact documents and who needs to sign.
Want to see the bigger picture of DocuSign, Adobe Sign, and Sertifi and how these electronic signature integrations can support your company's contract lifecycle management strategy?
Conclusion
Let us know in the comments below what new information you learned regarding contract lifecycle management services.
Now that we've covered all-things contract lifecycle management services, from the definition of contract lifecycle management and the many stages of the contract lifecycle – to the modern business advantages of contract lifecycle management services, some common mistakes to be aware of, and best practices to adopt, you can take your new knowledge and implement it into your organization's contract lifecycle management strategy. With a dedicate contract lifecycle management services, you can increase the security and efficiency of your contract management in numerous ways.
Let Us Introduce Ourselves
Dock 365 is a Microsoft Gold Certified Partner that works to support business productivity and efficiency with our contract lifecycle management solution. Get robust contract results, enhance internal collaboration and communication, and achieve a productive and proactive workplace environment geared towards contract success. Headquartered in Jacksonville, Florida, the Dock team is accessible and available to help you with your contract management inquiries and concerns. The Dock 365 Contract Management System is user-friendly with several Microsoft 365 tools that your team will likely be very familiar with. Because our solution is built on your Microsoft Office 365 and SharePoint infrastructure, you can stretch your Microsoft investment and get increased user acceptance. The Dock 365 Contract Management System is customizable, allowing you to design the solution to your unique branding.
Manage contract lifecycles like a pro from the contract intake and request phase, all the way to contract renewals and expiration. Here at Dock, we provide all the tools and features you need for rapid contract generation. These features include the following:
A secure contract storage system in a centralized, cloud-based digital repository
A library full of preapproved contract templates
A contract clause library of current, compliant clauses
Metadata auto population capabilities
Customizable, flexible contract workflow automation
Rapid approval routing
Version control
On demand contract insights and reporting
Sharable reports
Vendor performance metrics and scorecards
New AI features
Integrations with leading electronic signature providers (DocuSign, Adobe Sign, and Sertifi)
And much more!
To stay in the loop of the latest contract management news, helpful tips, and updates to Dock 365, then we suggest subscribing to our YouTube channel and checking back on our blog each week!