Using a manual method for managing contracts could be practical for 3-4 contracts, but when it comes to managing a variety of supply chain contracts, with various workflows, due dates, expiration dates, and renewal terms, the manual method will likely fail to prove efficient. Studies have found that over 14% of businesses are affected by supply chain issues due to the ongoing pandemic.
Digitalizing the contract management system is an important step in achieving maximum efficiency in the process. Contract managers need to have an accurate understanding of every step involved in the contract management process. This will allow them to make informative decisions that could minimize risks and efficiently manage the process. That is why it is important to understand contract lifecycle management.
In this blog, we are going to discuss the fundamental steps in contract lifecycle management and how automation can streamline the contract lifecycle management process.
What is Contract Lifecycle Management?
Contract lifecycle management can be defined as the management of all contracts in an enterprise's organization. There are several steps involved in a contract lifecycle management system. These steps include authoring, creation, approvals, negotiations, execution, and periodical performance reviews.

An effective and streamlined contract lifecycle management can be achieved by using an automatic contract lifecycle management system. Especially for enterprises who deal with several contracts every month. It would be impractical to take on a manual contract management system to deal with a large number of contracts. That would make your contract management vulnerable to risks such as breach of contract, renewals without proper renegotiation, and more. 57% of companies believe that supply chain management gives them a competitive edge. Companies can manage supply chain contracts with contract management software. This strategy helps to keep your company compliant in this new business environment. Risks in contract management are not good for business.
Steps in Contract Lifecycle Management
1. Planning
Assign contract managers and subordinate users. Managers retain control of settings, contract approvals, authority to sign and execute contracts, etc. Subordinates create contracts and accomplish menial tasks as part of workflows.
2. Data Capture and Tracking
Data capture is putting all contracts into a database. Tracking allows the contract data in the database to be useful. First, create a central document repository (your contract management system should provide one as part of the software). Next, capture the data. Next, track workflows, dates, tasks, all of which make up the important milestones in each of your contracts.
3. Contract Template Authoring
Now that you have important data and milestones from all the active contracts it is time to author contract templates that would allow your contract management teams to create efficient contracts. You can use the clause library feature that is available in modern contract management solutions to add all the necessary clauses that are needed in the contract. The contract templates enable the contract management team to create new contracts in a fast but controlled fashion. Managers can control the contract template format, and subordinates can create contracts within the parameters governed by their managers. Managers can decide which subordinates have the authority to approve contracts, and which subordinates may need a second set of eyes to approve the created contract.
4. Create Contract
Once the templates have been authored, teams can use those templates to create new contracts. Since most companies have similar contracts, template use allows faster contract creation.
Negotiation is also part of contract creation, both parties need to negotiate and decide on all the clauses in the contract before it is approved and ready for signing.

5. Contract Approval
After negotiations, each contract needs to be approved by all parties. An approval workflow needs to be set in place beforehand with details on the approvers to make the approval process smooth. Automatic approval workflow features in contract lifecycle management tools allow automation of the approval workflow. E-signature capabilities eliminate the need for any paper-based processing in the approval workflow. Automatic notification features that come with workflow settings make sure that contracts do not end up in an approver's inbox unnoticed.
6. Contract Signing
Contracts need to be signed by the involved parties once it is finalized and approved. The e-signature capabilities can also be used in signing the finalized contracts. It is important to validate the signed document and make sure that nothing has changed from the last time it was reviewed. You should also store copies of the signed document.
7. Contract Analysis
Contract lifecycle management does not end at getting the contract document signed. After the contract is signed, contract management teams need to analyze and take strategic actions to address any risks that could happen in the future. The continued analysis of the contract gives time for teams to manage contract renewals and terminations smoothly.
Continued performance analysis enhances the efficiency of your contract lifecycle management system.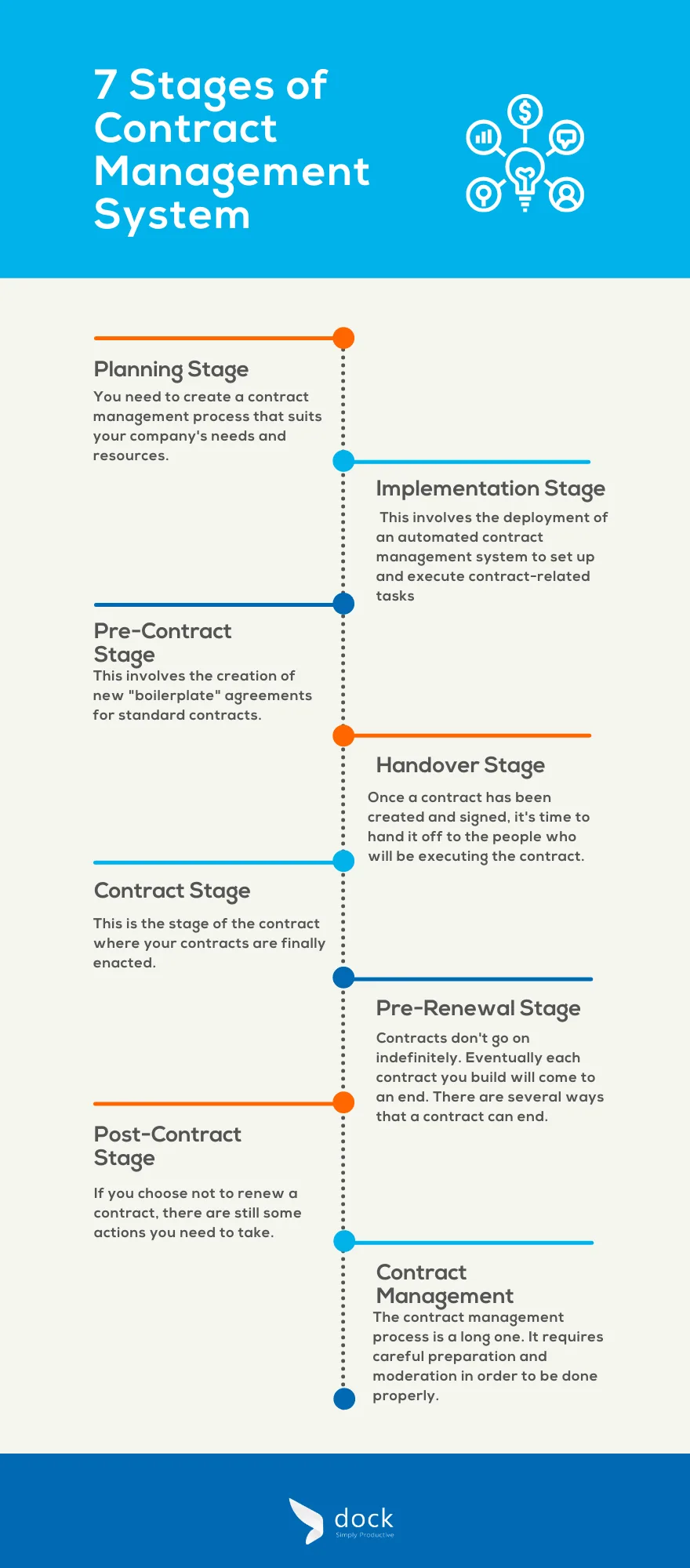 Takeaway
Contract lifecycle management is at the core of every enterprise business operation. If your team can efficiently manage the contract lifecycle you can achieve successful business relationships. For teams to be successful in contract lifecycle management they need to be empowered with the right contract management tool. The addition of automated contract management tools will be of great assistance to teams from template authoring to performance reviews. The digital contract management system will act as a central contract repository and streamline contract document storage and retrieval. Contract management tools equipped with report generation features can be of great help in the contract performance analysis during the post-execution period.
For an enterprise business operation to be successful in maintaining and growing business relations due to the Covid pandemic and the ripple effects it causes in the future, have a certified team of professionals empowered by the right tools to manage the contracts of your organization.