With legal contract management software, you can equip your employees with the best tools to optimize and streamline the legal contract lifecycle. In addition, you can count on reduced delays, risks, noncompliance, and increased organizational efficiency and productivity by leveraging a dedicated software platform.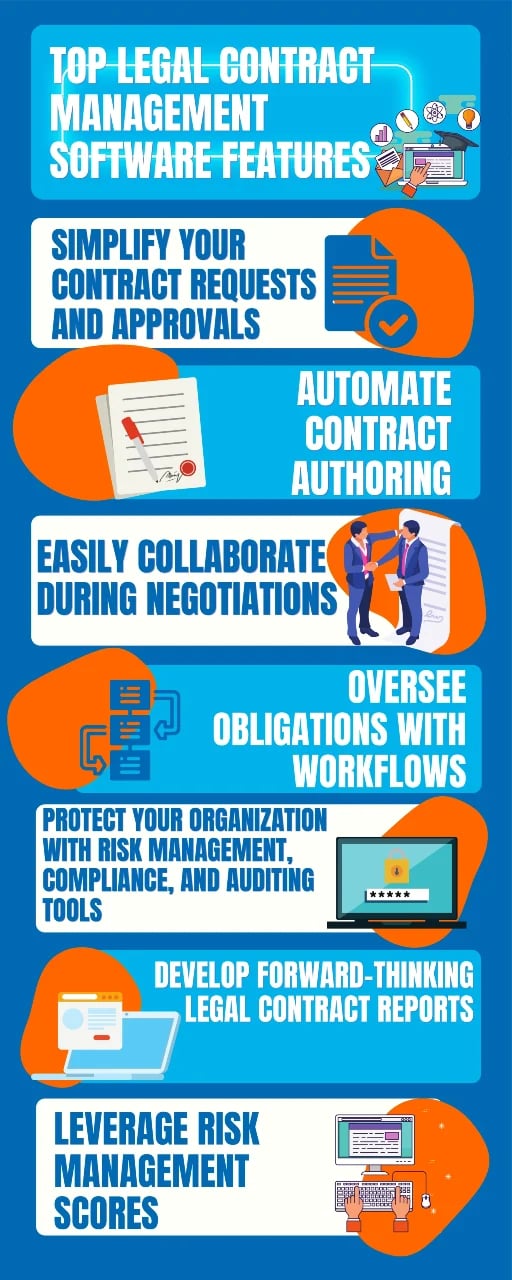 An Overview of Legal Contract Management Software
With legal contract management software, your legal department can effectively manage all legal agreements and counterparty contracts. Overseeing the entirety of your legal contract lifecycles becomes a seamless process with the assistance of a software solution. Custom reporting, performance monitoring, automated contract workflows, and several other features (discussed in further detail below), make legal contract management that much easier. By centralizing and automating several of your company's legal agreements and contracts, you'll find a solution to many of the bottlenecks and inefficiencies that currently exist within your process.
In essence, legal contract management software is an intelligent solution utilized by thousands of legal professionals and general counsel to manage client and vendor contracts between parties, ensure properly negotiated renewals, enforce compliance, and improve the overall value of their organization. In this manner, you can capitalize on your ROI almost immediately by supporting your company's legal contract administration systems. In addition, improving communication and collaboration on a centralized platform is made entirely possible by these software solutions.
Standout Features of Legal Contract Management Software

Simplify Your Contract Requests and Approvals
One of the most powerful capabilities offered legal contract management software is the ability to easily submit legal contract requests. Your centralized software uses customizable intake forms that save client and vendor intake data for later use when drafting the legal agreement. Your contract request intake forms create a way to efficiently gather, review, store, and approve automated requests for contracts.
To add, your software comes equipped with automated legal contract workflows that route your contracts and associated documents to the right people at the right times, ensuring that all required actions are completed during the contract's lifecycle. Attaching files and converting legal contract requests into various file formats or into records is made easy with auto population capabilities so you can save time rather than of have to re-enter data manually. Version tracking, document monitoring tools, customizable alerts, and other features allow for your legal department to maintain accountability, visibility, and transparency in this step of legal contract management.
Considerably the largest advantage gained by legal contract management software is how contract requests can be standardized and systematized, which gives your vendors and customers a sense of familiarity and reliability when working with your organization. With simplified contract requesting, you will keep clients coming back.
Automate Contract Authoring
Automating your legal contract authoring will help your company build compliant, accurate contracts rapidly. Contract automation gives users the ability to auto populate and merge data with pre-approved clauses. In addition, you can use contract templates, exportation features, and document versioning capabilities when drafting your agreements.
Easily Collaborate During Negotiations
Contract negotiations are one of the most critical processes within legal contract management. Maintaining version control, utilizing redlining, and effectively collaborating and communicating on select documents is central to the success of paralegals, general counsel, and legal professionals when overseeing their contracts. Legal contract management software can help you to automate your contract negotiation processes with document version control and time stamping, where you will be able to maintain be correct version of each legal contract so that every stakeholder is on the same page.
Collaborating with counterparties is easy with simple download/upload capabilities for the most current versions of your contract drafts – ensuring that version control is effectively maintained. A unique and robust feature of legal contract management software is clause ownership. Assign owners to select clauses so that editing and approving of such clauses can be managed efficiently during the negotiation stage with a rules-based system. By customizing a rules-based strategy for your contract negotiations, you can have productive communication between your internal and external negotiating parties. Leveraging your automated contract workflows creates even more efficiency, where your legal contract stakeholders can receive notifications pertaining to the contract's status.
Within your collaboration portal, accessing and reviewing documents is simplified particularly for negotiating external parties and for your company's employees that do not have access to your legal contract management software solution. In this manner, these specific groups are able to edit the contracts specifically assigned to them. Negotiations can be made remarkably simple, with automated reminders and notifications regarding contract negotiations and approval so that relevant stakeholders can be notified instantly.

Oversee Obligations with Workflows
A successful contract lifecycle is dependent upon the execution and fulfillment of key legal contract obligations. Strategic legal contract management is made possible with automated workflows that allow you to oversee all of your contractual obligations. Within your workflows, you can enable automated notifications and reminders, and assign tasks to ensure that all actions are being completed in a timely and proactive manner. Using an obligations workflow, you can customize specific triggers pre- and post- contract execution when certain rules are met. With effective obligations management, you will encourage a proactive environment for your contracts so that everything is completed ahead of time.
Protect Your Organization With Risk Management, Compliance, and Auditing Tools
Modern risk management, compliance, and auditing tools equip legal departments with the upper hand in terms of visibility of all of your company's contracts. Robust reporting capabilities and proactive deadline monitoring for automated renewals and contract expirations allows your business to seamlessly maintain compliance standards and ensure that unwanted contracts are not renewed automatically.
Develop Forward-Thinking Legal Contract Reports
Your contract management dashboard allows you to see key insights of all of your contract lifecycles, on demand. Assess contract statuses and performance instantly and generate contract reports so you can strategize your next move. By leveraging the reporting capability, you can encourage communication and awareness throughout your company regarding obligations, upcoming deadlines, and various tasks.
Routinely create your reports and schedule them to be electronically distributed throughout your organization to keep everyone in the loop on key contract-related initiatives and business developments. Your electronic report generator gives your legal department the ability to build and configure customized report outlines for key contract data. Exporting your reports is effortless with numerous exportation file format options available within your software solution. To add, your comprehensive system has monitoring features for your finances, as well as advanced search and filtering functionalities for your legal team to use for payment and spending tracking and review.
Leverage Risk Management Scores
Utilizing powerful risk management tools is crucial to maintaining a secure legal contract management system. Increase the accountability of your legal contract management team by developing risk scores so they can visibly see their performance in terms of risk feature utilization.
With these risk scores, you can analyze and assess your risk management strategies overtime organization-wide and develop improved processes as your business gross. Risk exposure tracking, risk mapping, and risk rating can help paralegals, general counsel, and legal contract management departments analyze how to move forward with specific contracts in a well-informed manner and action-driven manner.

Upgrade Your Legal Contract Management for Best Results!
With your new understanding of the many features that make legal contract management software such a standout solution for paralegals, general counsel, and legal professionals, it's plain to see that it's time for a legal contract management software solution suited for your company's unique goals and needs. With automated legal contract workflows, your company will effectively manage risk, reduce delays, and powerfully and productively oversee your large volume of highly complex contracts. The solution you need is Dock 365.
Dock 365 is equipped with all of the features and tools that your company needs to efficiently manage legal contract lifecycles in full. As a Microsoft partner, Dock 365 utilizes your Microsoft 365 and SharePoint infrastructure to assist your legal department and contract management team in all of your contract-related needs. With the assistance of a centralized contract repository, automated contract workflows, easy implementation, and a user-friendly software interface, Dock 365 is the best modern solution for the most powerful approach to legal contract management.
Don't waste any more time, resources, or money on a disjointed method of managing your legal contracts. Automate, centralize, and optimize your legal contract management system to increase results today with Dock 365.
Learn more about our Dock 365 Contract Management System here.
Learn more about Contract Lifecyle Management (CLM) Software here.