Contract Lifecycle Management Defined
It's necessary to have a basic understanding of what contract lifecycle management is. Contract lifecycle management refers to the administration of contracts and how contributors plan for each stage of a contract's lifecycle from contract request, to contract renewal or expiration. Effective contract lifecycle management results in the elimination, mitigation, or reduction of risks.
Content-

The Key Stages of Contract Lifecycle Management
During contract lifecycle management, a company's contracts are guided through very specific steps during each stage. Each stage requires detailed actions and oversight from specific stakeholders to ensure a contract's success.
To maximize the efficiency and productivity of a company's contract management process, it is ideal to implement contract lifecycle management software (CLM). CLM software improves both the time and cost efficiency of a company's contract lifecycle management process. In addition, CLM software offers automation capabilities that aid in risk mitigation, compliance, and task/obligation management and tracking.
Every stage of contract lifecycle management is critical to the end result of a given contract. By implementing contract lifecycle management software, you can refine your contract management processes by systematizing and automating tasks to aid in your management strategy. This will help you both reduce risk and create standardized contracts that your clients and vendors can rely on.
With advanced integrations and features offered by platforms such as Microsoft 365, SharePoint, and DocuSign, contract lifecycle management has been revolutionized in a manner where businesses can leverage all of these solutions to further their aims and reach business objectives where contracts are involved.
Now, let's take a look at each stage of contract lifecycle management and how contract lifecycle management software can create more efficiency, productivity, and standardization in the process.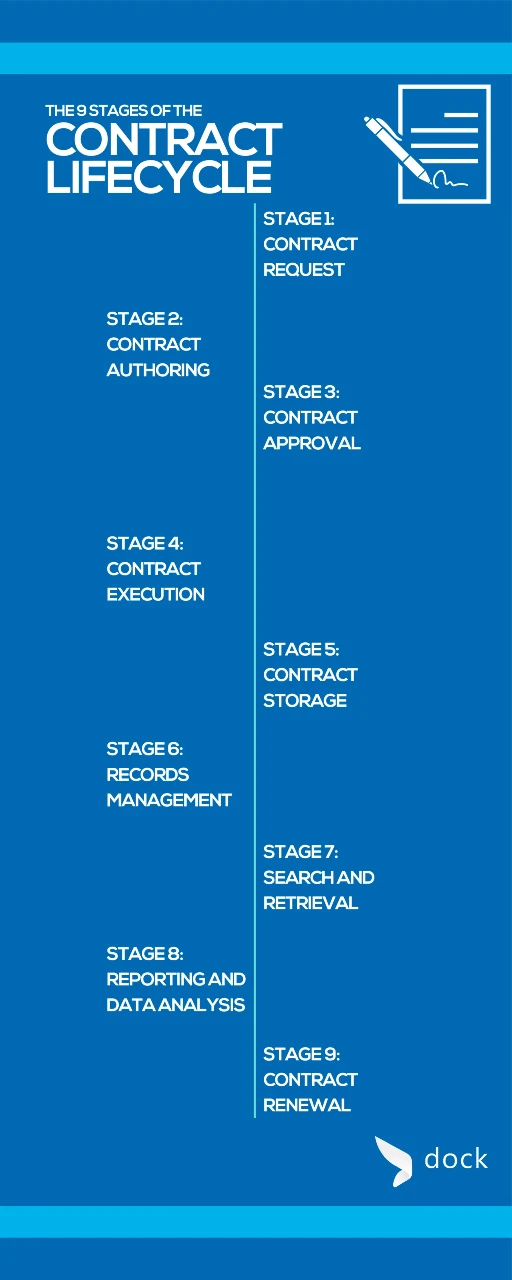 During this beginning stage, a given party will submit a contract request, launching the contract's lifecycle. The information submitted on the intake form is used for contract creation where the contract itself is authored. During this stage, clients provide relative information pertaining to the contract (i.e., contract start and end dates, milestones, etc.) Based on this information, audit trails are created and the information is secured within your software's centralized repository. This allows contract management administrators to use the data as needed by navigating to their contract lifecycle management dashboard.
Contract authoring is the process where contract parties create a contract to ensure it includes specified terms, standardized clauses, important milestones and dates, counterparty details, and other pertinent contract data. During the contract authoring stage, you will utilize the features provided by contract management software to generate an accurate, compliant contract draft. The information submitted at the time of the contract request is utilized when authoring the document, and the result is the completed contract draft that is then saved in your cloud-based, centralized contract repository. With a dedicated contract lifecycle management software solution, you can centralize and automate contract authoring. Intelligent clause merging and auto population of metadata into preapproved contract templates helps simplify contract lifecycle management and save time.
During the contract approval stage, a document is submitted to select internal and external approvers. Once their review is complete and the document is approved, the document moves on through the rest of the stages of the contract lifecycle. With contract lifecycle management software, you can design contract approval and review workflows to automate tasks and send-off document drafts to the correct stakeholders at the right times. This allows you to create efficiency by developing a sequential approach to sending contract drafts off for approvals. Here at Dock, we empower businesses to control contracts effectively during each stage of contract lifecycle management. You can be sure that you deliver the best documents to signing parties after legal reviews are completed.

During contract execution, the approved contract is delivered to contracting parties for signature. Once the contract is approved, authorized parties will sign the contract, causing the contract to activate and thus bind parties by the terms. This is because by signing and executing a contract, you are formally initiating the agreement's terms. Today, many companies use electronic signature integrations to streamline the signing process during contract execution. With an electronic signature integration in your contract management software, you can send off contracts to signing parties efficiently, allowing them to sign documents on any device, any time, any place.
After a contract is signed and executed, it is stored within a contract repository. Here at Dock, we utilize a SharePoint-based centralized contract repository to keep your contracts secured within a cloud. With the help of a centralized contract repository provided by your contract management solution, users can easily conduct filtered, customized searches to located documents and specific clauses instantly. With indexed searching functionalities, users can easily sort through numerous documents and find exactly what they need, when they need it most. Your Dock Contract Management System allows you to search through your contract repository's files with filters pertaining to contract type, party, department, and more. By having an accessible and efficient repository on hand, you can support the storage, monitoring, and tracking of all of your organization's documents. A cloud-based repository provides an additional layer of security that manual, paper-based contract storage methods lack. Managing documents and contracts is simple with Dock, as we offer a user-friendly and intelligent platform equipped with premiere storage, contract generation, workflow automation, reporting, and collaboration capabilities.
In the sixth stage of contract lifecycle management, the contract manager and other involved departments will focus their efforts on the continued management of contracts. The emphasis is placed on controlling all important documents and digital contracts by utilizing a storage system with backup capabilities (i.e., SharePoint Backup and SharePoint Restore) and various policies that ensure that your data is secured. In essence, this stage consists of the ongoing monitoring of compliance of contracts with the assistance of your contract repository.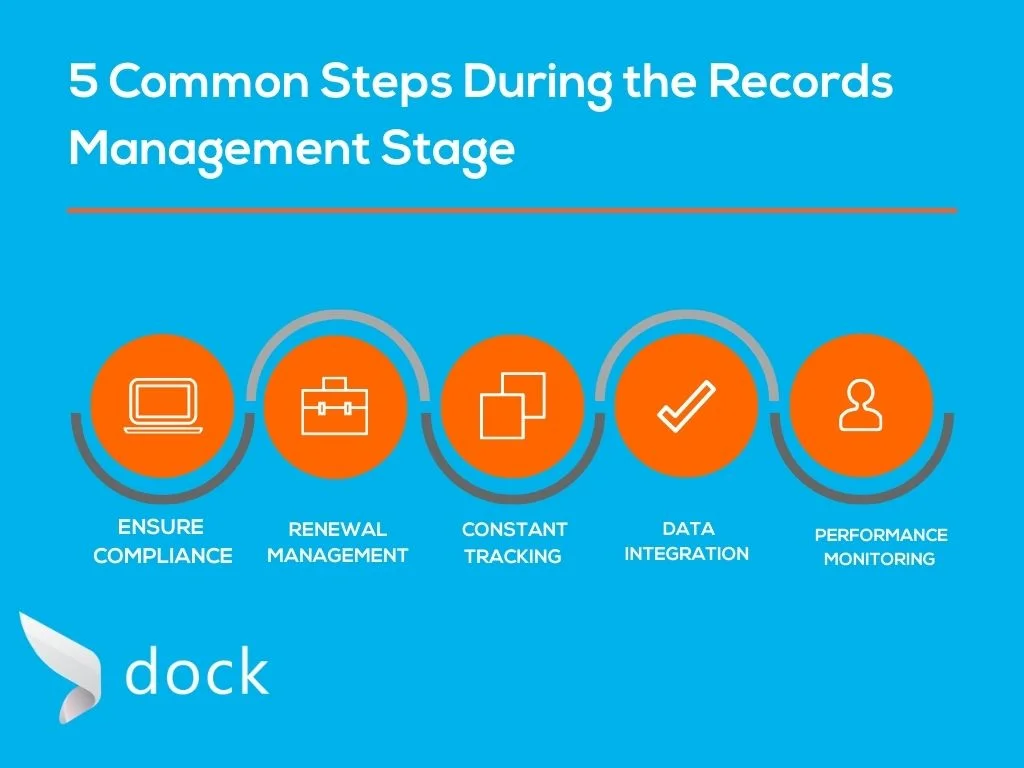 During the seventh stage of contract lifecycle management, your company's contract administrator and other involved departments will locate and retrieve digital contracts and related documents from their contract management software system. In the Dock Contract Management System, all of your company's contracts are securely stored in your centralized repository. The main objective of this stage is to be able to quickly locate digital contracts by leveraging advanced, filtered search features. In this way, you can easily retrieve digital contracts and documents at all times from your contract management system.
This stage of contract lifecycle management focuses primarily on the effective retrieval of digital contract data for the purpose of developing in-depth contract reports. Data is additionally analyzed to aid in decision making, risk mitigation, and contract optimization. Contract management software systems provide custom reporting and data analytics capabilities so that you can gain valuable insights on each stage of every digital contract's lifecycle. Managing contracts post-execution is streamlined with advanced software features, allowing contract managers to save time when creating reports and analyzing contract data pertaining to several departments involved in their lifecycles (i.e., legal, sales, etc.). With detailed and user-friendly data analysis features always available, you can view the duration of digital contract lifecycles, savings, renewal statistics, sales metrics, and other data points pertaining to the effectiveness of your contract management processes.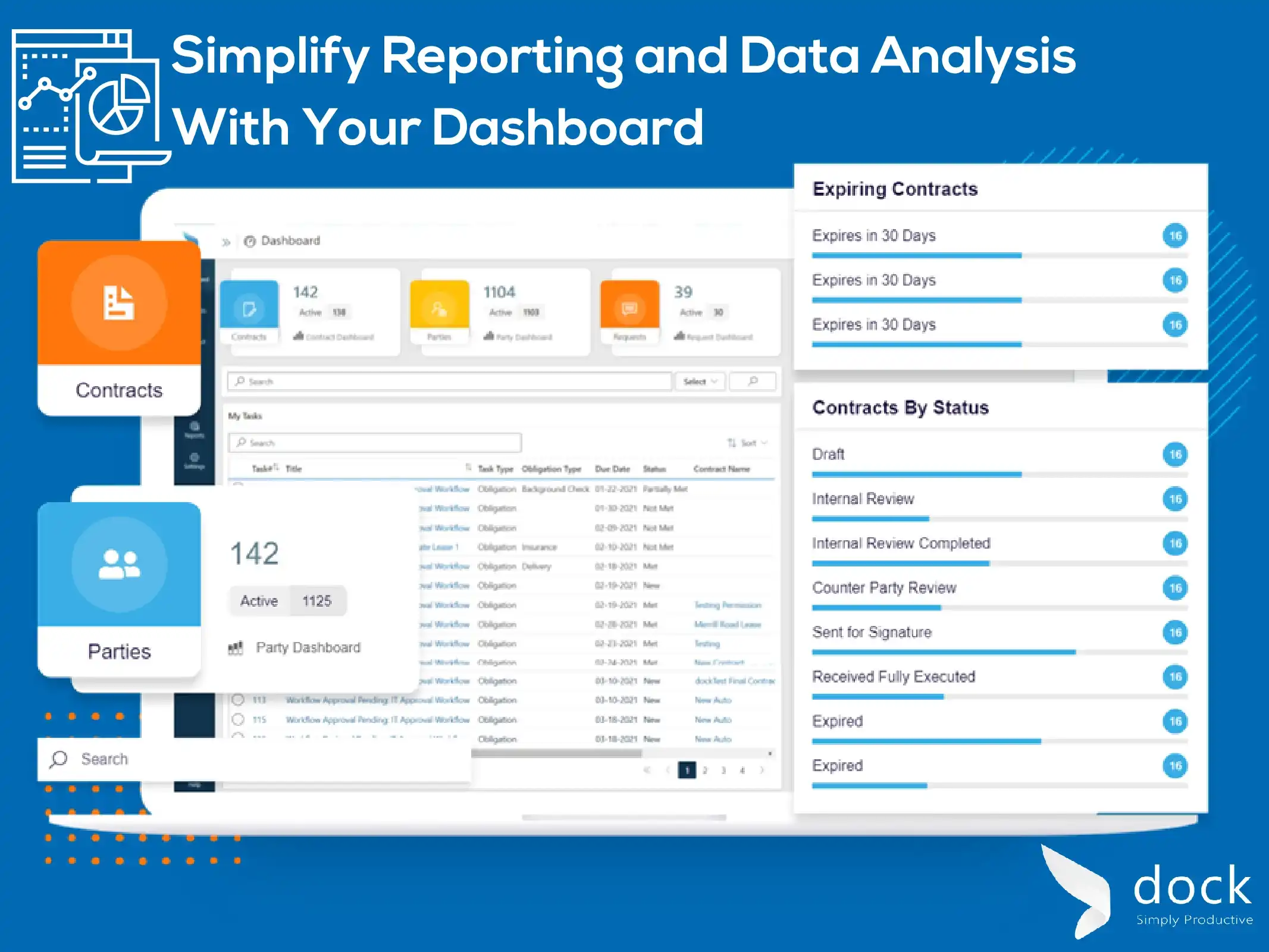 The last stage in contract lifecycle management is the contract renewal stage. When a contract approaches the end of its active term, you must keep the renewal date in mind so that you renew the contract and keep the agreement active. In the case that a contract is not renewed in a timely manner, you increase the chance of incurring financial risks for all contractual parties. Digital contracts must be renewed so that businesses can ensure that obligations with clients, vendors, and other parties are protected by law. Contract lifecycle management software can help you improve your contract renewals stage in several ways. For example, on your contract management software system, you can use automated alerts so that everyone involved can receive notifications regarding upcoming contract renewals. In this way, you can have a proactive contract management approach so that contract managers can ensure digital contracts are approved prior to renewal dates.
Contract Lifecycle Management Software Provides Competitive Advantages
The best contract lifecycle management (CLM) software solution will help reduce risk, eliminate human error, provide standardization, and automate processes so you can reach goals more efficiently. With contract information and insights available on demand, you can manage contracts with more knowledge than ever before so that you can make the very most of each contract.

Conclusion
The Dock 365 Contract Management System offers premier contract lifecycle management software with Microsoft 365 and SharePoint serving as the base for your contract management. Dock's user-friendly, comprehensive, and customizable contract lifecycle management software offers unique capabilities that improve productivity, efficiency, and results. Transform your contract lifecycle management today with Dock.
Ready to get started today?
Reach out to us to learn more about our  Dock 365 Contract Management System.
If you would like more information, we welcome you to schedule a free demo with us today.