Eliminating the need for physical wet signatures and paper copies of contracts, you can securely sign and execute contracts within minutes on any mobile device no matter the time or place. In this example, you cut costs and reduce the turnaround time of sending and receiving a signed contract. While digitizing the signature phase of contract lifecycle management is an excellent way to mitigate risk, increase security, and expedite processes, we highly recommend digitizing your entire contract lifecycle management strategy.
Content-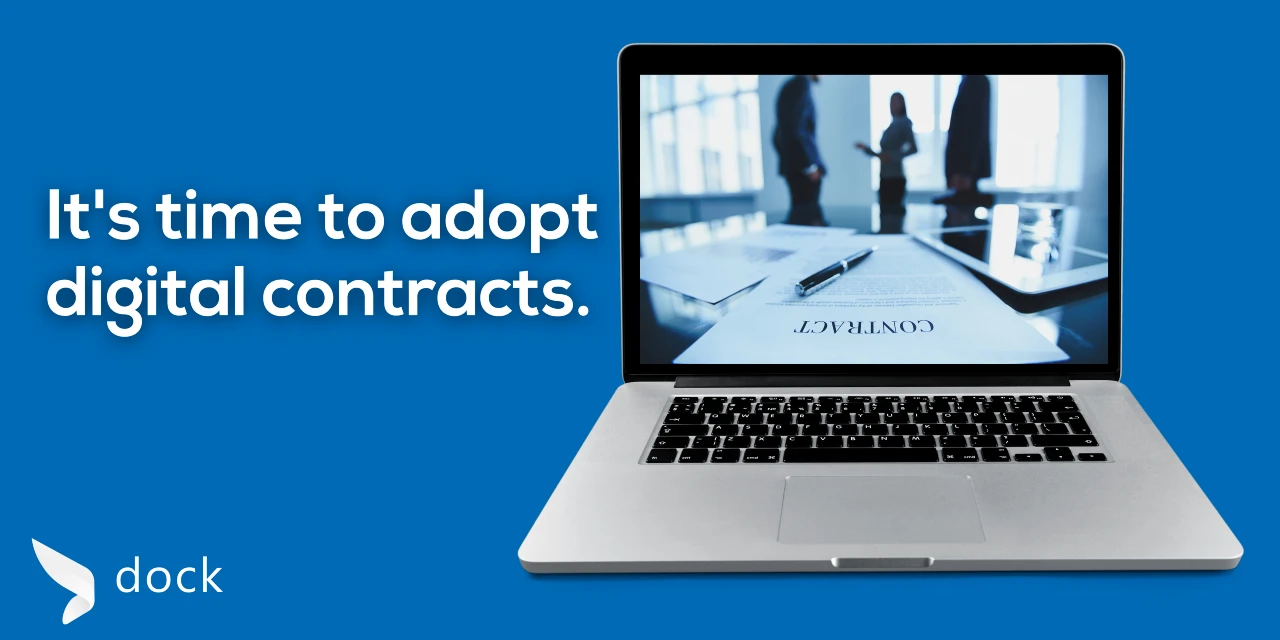 Today's businesses and organizations are optimizing contract management by adopting intelligent solutions that digitize contract creation, negotiation, and ongoing contract management and monitoring. Digital contract management software empowers business owners and contract managers with the ability to configure flexible, automated contract workflows to standardize the sequence of actions required throughout the contract lifecycle. In addition, you can integrate with other powerful business applications and electronic signature solutions for the most productive and user-friendly digital contract lifecycle management experience – meaning you'll deliver more value than ever while minimizing risks.
Today, we're going to take a look at six key reasons why adopting a digital contracting solution can drive revenue and business results in your organization. Digital contracts improve the deals you make and the opportunities available to you by offering a solution that reduces risk and increases operational efficiency.
First and foremost, transitioning to digital contracts will result in major improvements in your business transactions where each agreement becomes easier and easier to execute.

1. Close Deals Faster
Extract more business revenue in the same amount of time or less by closing more deals at faster rates. Simplifying the agreement process of your contracts can result in a higher rate of contracts completed and more deals closed. An optimized contract lifecycle management process that automates and standardizes agreements can cut down on manual errors and bottlenecks found within this phase.
The digital marketplace has transformed and evolved into what it is today, and your contract procedures must adapt and adjust to evolve with it, particularly by increasing the speed and productivity of each phase of the contract lifecycle. Eliminating delays and minimizing turnaround times can help you drive more value out of your business partnerships and land better deals.
2. Increase Employee Productivity
Digital contract management software allows users to save employees the time and headaches involved in traditional manual contract management processes. Drive business and contract value with digital contract software for robust improvements in pre- and post-reward contract activities by leveraging reporting and data analytics tools. We strongly encourage adopting a system that takes care of the entire lifecycle of your contracts so that you can automate and standardize the whole lifespan of your contracts.
The advantages of digital contracts go far beyond simply expediting the process. Digital contracts empower users to synthesize key contract metadata effortlessly and glean intelligent insights so they can make the best business decisions and develop improved agreements moving forward. The issues of human errors and discrepancies in manual entry of data for contracts are substantially reduced with the assistance of a software platform. Gone are the days of copying and pasting client information into your contracts. Instead, a contract management system can pull client data from secure records and auto populate it into your contract templates within seconds.
3. Cut Costs
Digital contracting is far more cost-efficient than traditional, paper-based contracting. From signing, storage, and ongoing management, a centralized, secure, digital contract approach is the way to go. According to your organization's pre-existing systems, you can seamlessly integrate your contract lifecycle management system with other online business solutions and applications to cut costs, save time, mitigate risk, and boost compliance. Digital contract software provides an easier way to complete and conduct contract reviews, one of the most time-consumptive contract-related activities. If your business works with a high volume of complex contracts, then adopting a digital solution is one of the most sensible decisions you could make.
Now we're going to take a look at some of the biggest infrastructure improvements that support your all-in-one contract lifecycle management and contract workflows. It's important to note that an efficiency and effective contract management infrastructure can lead to reductions in noncompliance and organizational risks due to its ability to monitor and track contracts with precision.

Here's three reasons why optimizing your contract management infrastructure can drive business revenue and contract results.
4. Leverage AI and Advanced Capabilities
Artificial intelligence (AI) has changed modern business and contracting strategies. Many contract management solutions have included AI capabilities into their systems to offer robust data analysis of contracts particularly during the negotiation phase to ensure that accurate, compliant contract terminology is included that aligns with company needs and objectives. In addition, you can utilize text-based search and customizable filters to rapidly locate exact terms, clauses, obligations, key dates, milestones, pricing structures, and contracts in seconds rather than parsing through shared drives and filing cabinets.
Digital contract software gives users several features to choose from to support the standardization of contract language, where comparing past and present contracts to ensure that terminology is current and compliant is remarkably easy. You won't have to fret about letting value slip away from your company's contracts – instead, you'll have everything within grasp to drive contract value prior to signing and after signing.

5. Improve Contract Compliance
It is vital to appropriately adhere to all compliance policies and regulations, and these will vary company to company, industry to industry. It can be expensive to ensure compliance within your organization's contract management procedures. However, the financial repercussions resulting from noncompliant contracts far outweigh the expenses of implementing software that ensures compliance. Digital contract software inclusive of audit trails and employee training guides can help prevent noncompliance while keeping your contract data secure.
Another way to increase the rate of compliance in your company's contracts is by leveraging preapproved contract templates and clause libraries so that only the most up-to-date and legally approved contract terminology and legalese are included in your business agreements.
6. Streamline Business Transactions
Creating a smooth experience for closing deals and providing a pain-free business experience is central to improving your business partnerships. Who wants to work with a company where making an agreement is always extremely time-consuming? You'll be hard pressed to find a business partner that wants to work with you if it takes weeks on end to come to an agreement. This also means a reduction in client satisfaction, and word of mouth travels fast – so keep your business partners satisfied with agile and precise contract management!
Eliminate the pain-staking process of printing, faxing, snail-mailing, scanning, signing, and storing paper contract documents. Cut costs, save time, boost productivity, minimize turnaround times, and provide the best possible contract experience to both your clients and employees with a digital contract software.
Conclusion
Ready to take your contracts to next level? Leverage a solution built onto your Microsoft Office 365, Teams, and SharePoint environment for powerful, productive contract management. Digitize contracts and increase the security and results of your contract portfolio with us here at Dock 365.
Our solution offers secure cloud storage, single-sign on (SSO), integrations with SharePoint, Teams, DocuSign, and Adobe Sign, and reminders of expiring and auto-renewing contracts.
For more information, we would like to welcome you to schedule a free demo with us today.